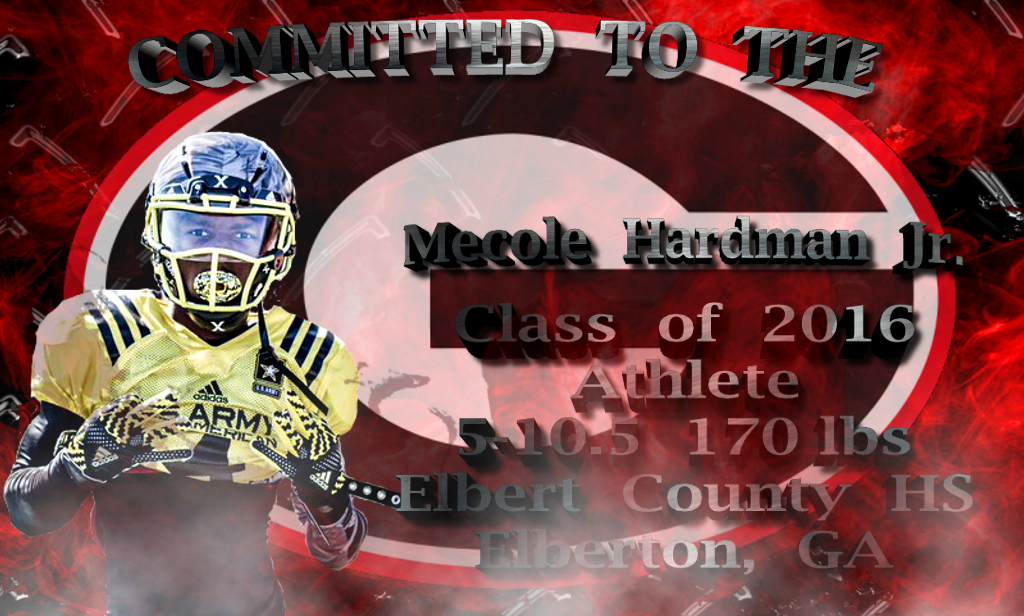 [su_spacer size="40″] Class of 2016 athlete Mecole Hardman Jr. has verbally committed to the University of Georgia.
[su_spacer size="20″] Mecole Hardman Jr. is a 5 foot 11 and 175 lbs quarterback and corner back for the Elbert County high school varsity football team from Elberton, GA. He has over 30 scholarship offers including offers from Alabama, Auburn, Clemson, Florida, Miami, Michigan, Notre Dame, South Carolina, Stanford, Tennessee, and Virginia Tech.
[su_spacer size="20″] Hardman is a consensus 5-star rated prospect by
247Sports.com
,
ESPN
,
Rivals.com
, and
Scout.com
. He is a top 247 prospect as well as a top Scout100 and ESPN300 and one of the top prospects at athlete for the 2016 class. He projects to play either WR or DB at the collegiate level, and he has the ability to also make an impact on special teams as a kick and punt returner; however, his athletic ability and speed allows to line up at most any skill position and have an impact.
[su_spacer size="20″]
Mecole Hardman Jr. Highlights:
click on video to play
[su_spacer size="20″]
---
[su_spacer size="20″]
---
[su_spacer size="20″]
---
[su_spacer size="20″]
---
[su_spacer size="40″] [su_spacer size="40″]