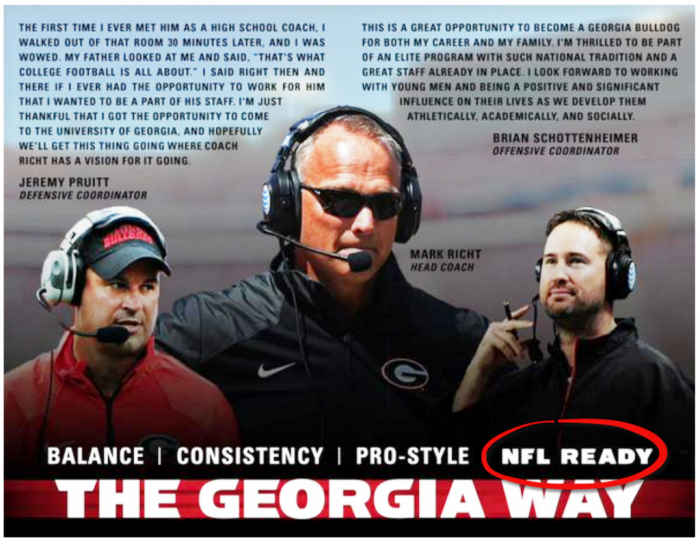 [break] Georgia has made a decision to capitalize on its NFL-type offense and its the success of former players in the League. Yesterday, Coach Richt used his introduction of former player Thomas Brown as running backs coach to reinforce the message.

[break] [break]
"These moves with two former Georgia teammates will add a great dimension to our offensive coaching staff," said Richt. "It brings back a great Bulldog running back in Thomas who has NFL playing experience and has had success as a college coach at multiple schools. He also inherits a position that has been built to an elite level by Bryan. And it gives Bryan the opportunity to return to coaching the position he played and the one where he cut his teeth serving as a graduate assistant under wide receiver coach John Eason here at UGA. It also provides him with a new experience as passing game coordinator."
[break] [break] Georgia's four-point PR mantra for 2015 includes the following.
1. Balance
2. Consistency
3. Pro-Style
4. NFL Ready
[break] [break] Do you think that Thomas Brown as well as the other staff members may be going to capitalize Georgia's status as an NFL conduit on the recruiting trail? To the extent that every prospect dreams of an NFL career, this marketing program hits the bullseye.
[break] [break] Bulldawg Illustrated publisher, Vance Leavy offered a look at the PR campaign a few weeks ago. As we move toward spring practice and the 2016 recruiting season, and with classic pro-style quarterback recruit Jacob Eason firmly committed to UGA, prospects are going to get a clear and consistent message from Athens.