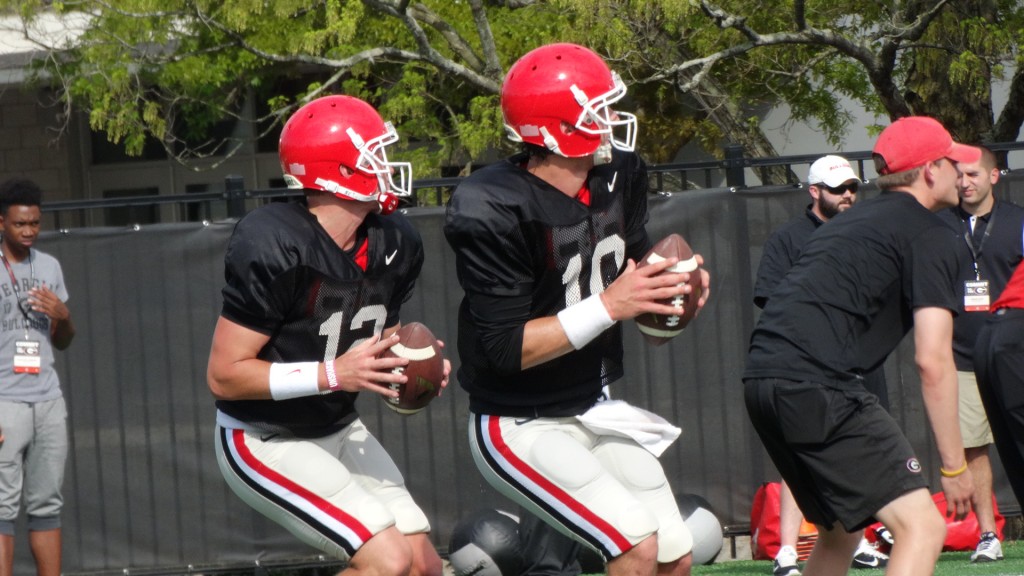 [su_spacer size="20″] With fall practice starting tomorrow, the college football season is just around the corner. Soon the heat and humidity of the Georgia summer will give way to fall, tail gating, and the cheers and jeers of football fans on Saturdays between the hedges of Sanford Stadium. It's time to take a look at this year's Bulldawg football team starting in UGA Fall Preview 2015: Quarterbacks.
[su_spacer size="20″]
Of all the position groups up for grabs on this year's Georgia squad, the battle for the starting quarterback spot is probably the most anticipated, debated, and talked about this off season by Bulldawg fans.
[su_spacer size="40″] Gone is last year's fifth year senior starter
Hutson Mason
who started all 13 games for the Dawgs and also set the record for the highest completion percentage for a Bulldawg QB in one season with 67.87 %.
Jacob Park
, a redshirt freshman and highly rated quarterback signee from the 2014 class, is also gone, deciding to transfer to a JUCO school at Navarro College in Texas.
[su_spacer size="40″] New to the Georgia roster are
Greyson Lambert
and
Nick Robinson
.
[su_spacer size="40″] Lambert is a 6-5, 220 lbs junior who announced he was transferring from the University of Virginia to UGA in June. Greyson played his high school football in the state of Georgia at Wayne County high school and was a member of UVA's 2012 recruiting Class.
[su_spacer size="40″] Robinson is a preferred walk-on freshman from Rancho Sarta Margarita, California from J. Serra Catholic high school.
[su_spacer size="40″] [su_box title="
Projected Quarterback Depth Chart Entering into Fall Camp
" box_color="#050505″ title_color="#ffffff"] 1.
#12 Brice Ramsey
(6-3, 213 lbs, RsSo.)
2.
#10 Faton Bauta
(6-3, 215 lbs, Jr.)
3.
#11 Greyson Lambert
(6-5, 220 lbs, Jr.)
4.
#2 Sam Vaughn
(6-3, 189 lbs, RsFr.)
5.
#17 Nick Robinson
(6-0, 200 lbs, Fr.)
[/su_box] [su_spacer size="40″] Out of the 5 quarterbacks on the roster, I expect the battle to mainly be between
Faton Bauta
, Greyson Lambert, and Brice Ramsey. Out of those three, I believe Ramsey has a slight edge headed into fall practice. Can Bauta or Lambert challenge Ramsey for the start versus the ULM Warhawks on September 5th? I believe so, but Bauta has to show he can take care of the ball and Lambert hasn't had as much time with Coach Schottenheimer's playbook as either Bauta or Ramsey.
[su_spacer size="40″] All three scholarship quarterbacks have the talent and ability to win the starting job; so, it should make for a very interesting and heated position battle to keep an eye on through fall camp.
[su_spacer size="40″] What about the walk-ons?
Sam Vaughn
and Nick Robinson will certainly get a shot to test their mettle, but Robinson will more than likely be redshirted. Vaughn still needs to gain some bulk to take the week to week pounding that quarterbacks face in the SEC.
[su_spacer size="40″] Tomorrow, we will take a look at the running backs.