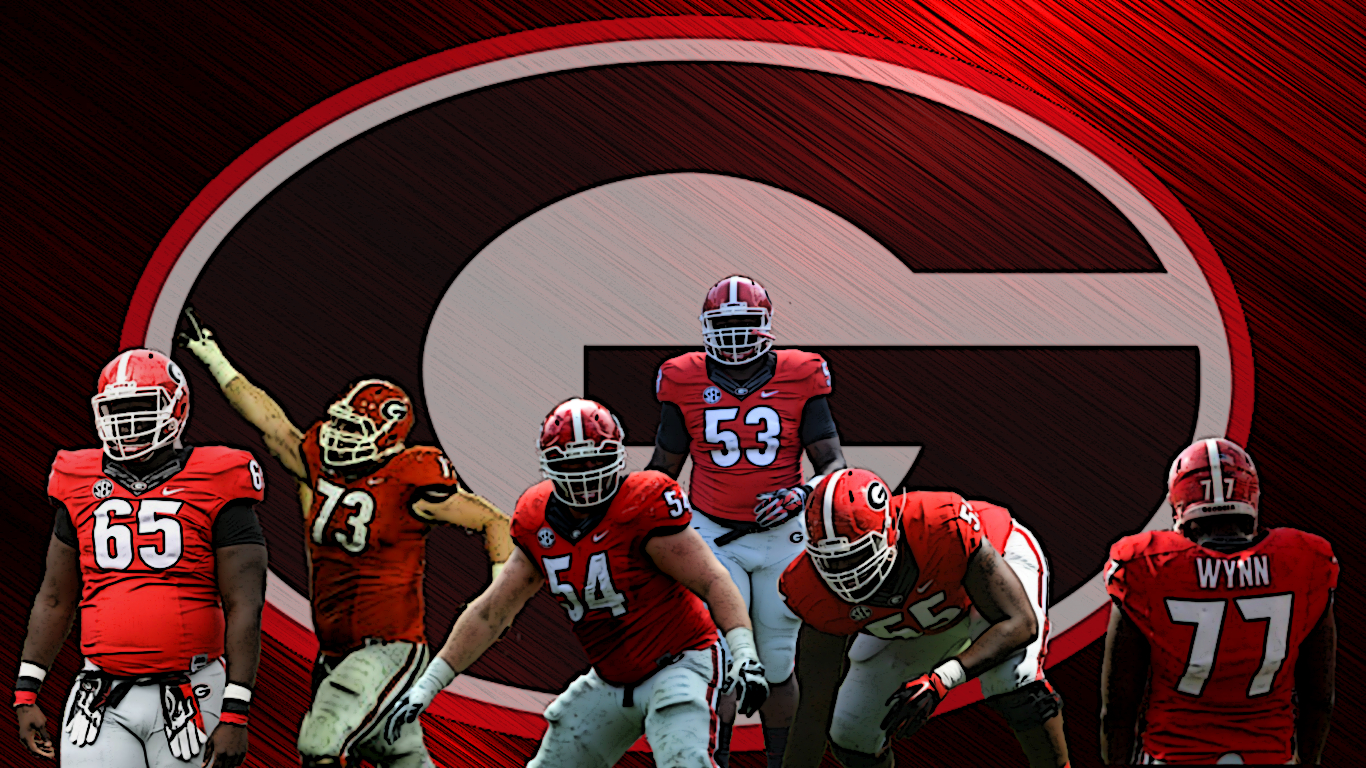 The month of March has arrived in Georgia and that means spring football camps and practices are right around the corner. In fact, UGA's spring football practice is scheduled to start on Tuesday, March 15th in less than a week. That also means it's time to take a look at this year's Bulldog team and breakdown and preview the position groups to try to get an idea of what we can expect to see as the men start to prepare for the up coming football season; so, without further ado, here is your UGA Football 2016 Spring Preview: Offensive Line.


While we could have started with any of the position groups for Georgia, as there are a number of position battles to watch this spring such as the battle at quarterback and at wide receiver, equally and most importantly will be that Bulldog offensive line. No matter who starts at quarterback, is toting the rock in the backfield at tailback, or is flying down the field at wide receiver, it all starts up front with those big hog mollies in the trenches on the o-line.


Georgia loses both starting offensive tackles in graduate Kolton Houston and senior John Theus as well as an experienced senior offensive lineman and center Hunter Long, who actually ended up starting a few game for the Bulldogs at center last year. In addition to that, Georgia has a brand new coaching staff with a new Offensive Coordinator in Jim Chaney and a new Offensive Line coach in Sam Pittman. The question is, then, who will start at those left and right offensive tackle spots for the Bulldogs, and can Georgia find depth and stability at center?


Before we try to answer that question, we need to see what Coach Pittman has to work with going into spring camp. I would like to preface that you won't see me have Aulden Bynum listed here, and it is not because he is not on the team for 2016. It is because Bynum was moved from OT to TE last year, and he was used as a blocking TE for the better part of the 2015 season. Now, it is possible that the new coaching staff could move him back to the o-line, especially if bodies are needed to get through spring camp, but until that happens, I'm going to leave him in with the TEs.


I'll breakdown the offensive linemen into two groups, returning players from the 2015 team and then incoming freshmen and transfers.

---
RETURNING SCHOLARSHIP OFFENSIVE LINEMEN
CLICK HERE TO SEE UGA'S
RETURNING SCHOLARSHIP OFFENSIVE LINEMEN FOR 2016
INCOMING OFFENSIVE LINEMEN
CLICK HERE TO SEE UGA'S INCOMING OFFENSIVE LINEMEN FOR 2016
---

THE BULLDOGS ARE YOUNG ON THE O-LINE:

As you can see, the Dawgs have 11 returning offensive linemen with 4 new offensive linemen joining the team for the 2016 season. One of the freshman o-linemen, Ben Cleveland, is an early enrollee and will get to participate in and practice with the team for spring. The remaining freshman on the o-line won't be enrolling till summer in June.


Tyler Catalina is a graduate transfer from Rhode Island University with one year of eligibility left. Since Catalina will have graduated, he will be eligible to play for Georgia immediately without having to sit a year, and he has a lot of experience that he brings to the table. However, he won't be able to join the team till summer in June.


Georgia could potentially add one more offensive lineman to the class of 2016. Allen Williams was offered as a preferred walk-on by Georgia on Monday. He is a 6 foot 8 and 335 lbs o-linemen out of Appling County where he played at both left and right tackle as well as at offensive guard.


But going into spring camp, Georgia and Coach Pittman essentially have 12 scholarship linemen to work with plus 4 walk-ons who are Alex Essex, Carson Hall, Billy Seward, and Thomas Swilley. Between the returning starters of Brandon Kublanow, Greg Pyke, and Isaiah Wynn, this 2016 unit has approximately 62 combined starts. Any way you look at it, even with those 3 returning, the Bulldogs are young up front, especially when you start looking at the 2 deep depth chart for 2016.


In addition, Coach Pittman doesn't have enough 6 foot 5 and 315 lbs plus linemen to put together two units with the size players that he and Coach Smart would ideally want to play. In other words, players like Isaiah Wynn, who are not the ideal size the new staff wants, but are athletic, have talent and most importantly have experience, those players are going to see playing time and get a shot to compete for the two deep depth chart.

---

THE BOOKENDS

Pat Allen, Kendall Baker, Sage Hardin, Sam Madden, Greg Pyke, and Isaiah Wynn are all going to get a look by the new staff at offensive tackle, and I would not be surprised to see Baker come out of spring with his name penciled into the right tackle spot. He has had a lot of work at that position, and he is SEC ready as far as his size. Plus, his teammates, including former o-lineman John Theus, have had high praise for the redshirt sophomore. As I mentioned above, Wynn is intriguing because even he lacks ideal size, he has experience and has shown he can start and hold his on in the SEC. Sage Hardin like Wynn is lighter than the new staff would like as a starter, and he doesn't have the experience that players like Baker, Pyke and Wynn have.


And what about freshman Ben Cleveland? Is he good enough to grab one of the two deep spots at either OT coming out of spring and headed into fall? It is possible. Cleveland certainly has the size, and he certainly also has strength and talent; however, he is raw. I see him really benefiting from a redshirt and having time to learn technique as well as get even stronger. But that doesn't mean he won't be competing this spring as the staff will definitely need all hands on deck. Having said that, it would not surprise me if Cleveland came out of spring in the two deep.

---

THE GUARDS

Baker, Pyke and Wynn are all going to get a look at the guard spots as well as tackle. Both Pyke and Wynn have experience playing at offensive guard. And returning starting center Brandon Kublanow also has experience playing offensive guard. Lamont Gaillard, Mirko Jurkovic, and Dyshon Sims are all candidates to compete for one of the two deep spots at guard. Sims has the most experince of those three having played in 8 games. Sam Madden is another player who is going to get a look at both tackle and guard, and Jake Edwards will have his name in the mix if he is fully recovered from his knee injury and can add some weight to his frame.

---

CENTER – THE QB OF THE O-LINE

Senior center / offensive guard Brandon Kublanow is the o-lineman with the most experience and starts returning for Georgia, and he is the odds on favorite to come out of spring camp with the start at center. Georgia does need to find a back-up center, especially since Hunter Long is gone. Lamont Gaillard is a good candidate to see snaps and work at center, and Tyler Catalina could also see some work at center when he gets on campus. Catalina was Rhode Island's backup center in addition to starting at tackle for the Rams.

---

PROJECTED 2016 SPRING DEPTH CHART – OFFENSIVE LINE

Coming out of spring camp, here is my projected three deep depth chart for the offensive line, and this line up could very well change from the end of spring and once fall camp gets underway. I would not be surprised to see graduate transfer Tyler Catalina vie for a start at either OG or OT, and at the very least, he should grab a spot in that two deep rotation. Most of the incoming freshman should end up redshirting for 2016.

CLICK HERE TO SEE UGA'S
2016 PROJECTED SPRING DEPTH CHART
– OFFENSIVE LINE –
---