Georgia's fullbacks weren't mentioned much during last season. However, 2017 should prove different. Three veterans and an incoming freshman should help the Bulldogs have another weapon on the already talented offense.

SETTING THE STANDARD:


Last season, Georgia had five fullbacks listed on the roster with Christian Payne leading the way. He started six of the 13 games last year and had a career-high five receptions and his first career touchdown in the win against Missouri. The Bulldogs also utilized FBs Glenn Welch and Nick Moore, but neither Welch or Moore had the same level of impact like Payne did in 2016.


What set Payne apart from the other fullbacks? He was a force to be reckoned with when it came to blocking for the tailbacks for the Dogs last season, a trait he established since arriving on campus back in 2014. An Athens native, the 6-1, 242 lbs senior has made a name for himself on the team through his hard work and tenacious playing style that has earned him respect from both his coaches and teammates as well as the fans. I have had the opportunity to watch him from his high school days at Prince Avenue Christian all the way through college career so far, and the guy just never quits. He is a workhorse, bringing out the best in his teammates and challenging them to give their all on the field. I think his work ethic is why he has received the nod to start so many times last season as a junior and also in 2015 as a sophomore.


Who else returns from the 2016 fullback corps? Glenn Welch graduated and will not return for 2017, but Turner Fortin returns along with Nick Moore.


Moore, a former Major League Baseball player, came to Georgia in 2015. He started out on defense as a linebacker but was asked to switch to the offensive side of the ball to help out at FB by the coaching staff back in 2015. The 6-3, 250 lbs junior hasn't hit his stride at UGA yet but did see some playing time last season. He played in four games in 2016 against Tennessee, Vanderbilt, Louisiana and Georgia Tech.




T. Fortin is a walk-on, redshirt sophomore out of Northview High School, and at 6-1, 231 lbs, he is the 'smallest' FB of the three. Fortin didn't see any playing time last season but was a valuable member of the Bulldogs' scout team in 2015 and 2016.


With Payne leading the way last season, Georiga was in good hands at the fullback position. The team never worried about having effective blockers and the occasional target for Eason. But the Dogs could use some reliable depth to emerge behind him as FBs tend to take a beating and are often dinged up as the season wears on. Hopefully, we could some depth at FB arise for the 2017 campaign.

SPRING BALL OBSERVATIONS… GRIT AND GUTS:

This spring the fullbacks looked like they slimmed up a tad and added some more muscle to their frame. From what we were able to observe during the media viewing period, all three looked very athletic. Fortin, Payne, and Moore all practiced well during workouts. Payne led the way and in my opinion, and should be the starter versus Appalachian State. I would like to see Moore step up, though. He has been at the FB position now for two years since switching sides from the defense, and Georgia needs depth behind Payne, just in case. What could shake up the depth chart is an incoming preferred walk-on.

NEW KID ON THE BLOCK: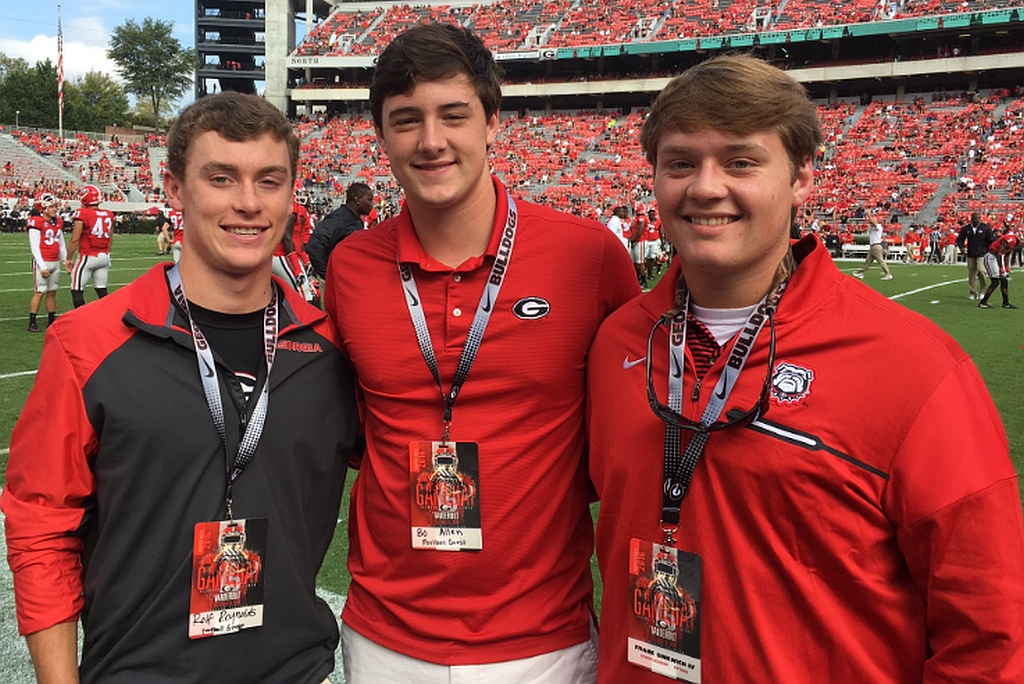 Georgia is adding a fourth fullback to the roster this summer in Frank Sinkwich IV. The 2017 preferred walk-on is from Athens Academy, just down the road from UGA. His name already makes the fans stop and take notice, being the great-grandson of UGA's 1942 Heisman Trophy Winner and legend Frank Sinkwich will do that, but it his talent that fans should keep an eye on. Sinkwich IV already has good size at 5-11, 228 lbs, and in my opinion, comes in and takes over the No. 3 or even No. 2 spot on the depth chart. His ability and work ethic should enable him to compete this fall and do well.

WHOSE GOING TO START:

The 2017 campaign for Georiga is still a few months away. I believe that for the fullback position, Christain Payne emerged as a leader over the spring for the younger guys and has kept his No. 1 spot on the depth chart. I don't see that changing this fall. Behind him, I think the battle between Moore and Sinkwich IV will go on until the end of the season. The No. 2 spot could come down to who just wants it more.


Georgia's offense has a chance to be lethal in 2017, with plenty of weapons at the RB, TE, and WR positions. However, I think offensive coordinator Jim Chaney adds one more element to the mix and will utilize the fullbacks' abilities to score in goal line situations or even surprise the defense, releasing these blue collar backs out of the backfield on a few slant routes. The Bulldogs should have plenty of options to score and put points on the board this season, and I think the fullbacks will get an opportunity to be a part of that equation. 2017 is going to be a test for the Bulldogs, but the fullback position is solid and locked down for Georgia .

UGA PROJECTED 2017 POST-SPRING DEPTH CHART: FULLBACKS

FB 1 | Christian Payne – No. 47 – SR.| 6 foot 1, and 242 lbs | Athens, GA
FB 2 | Nick Moore – No. 43 – JR.| 6 foot 3, and 250 lbs | Snellville, GA
FB 3 | Frank Sinkwhich IV – ### – Incoming FR.| 5 foot 11, and 238 lbs | Athens, GA
FB 4 | Turner Fortin – No. 49 – RS SO.| 6 foot 1, and 231 lbs | Johns Creek, GA


---
Recent Articles by Savannah Leigh Richardson


[pt_view id="8722077nva"]