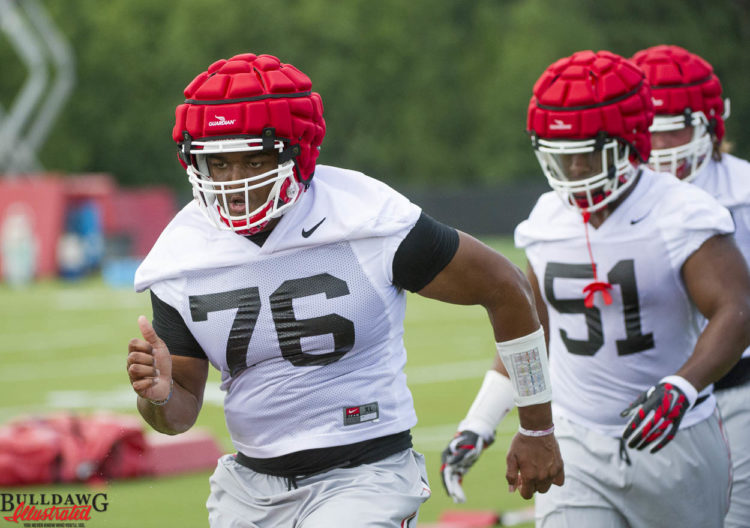 If you read the season preview magazines and/or listen to the Paul Finebaum show, one continuous narrative that repeats often is that UGA is lacking depth and talent on both lines of scrimmage.  As one guest on Finebaum pointed out to Tony Barnhardt who was hosting the show Tuesday afternoon, "UGA lacks horsepower on the offensive and defensive lines".  Barnhardt agreed.  I don't:
On both the offensive line and defensive line the Bulldogs don't lack horsepower, they lack household names.  If you only glimpse at the Bulldogs depth chart, you would see that UGA lost their two starting offensive tackles and four senior defensive linemen from last season.  I would argue that while UGA certainly lost experience, this season they will put more talent on the field. 
First, let's delve into the offensive line.  Last season, the Bulldogs started seniors John Theus at LT and Kolton Houston at RT.  Theus could not keep his job and was replaced by Isaiah Wynn after the Florida game who remained as the Bulldogs starting LT for the remainder of the season.  During Wynn's time at LT he faced the likes of Carl Lawson and Carl Nassib and more than held his own.  Houston lost his job at RT where he was replaced by Theus after the Florida game.  I would argue that Houston was one of the poorest RT's in the SEC.  I believe that any combination of Isaiah Wynn, Greg Pyke and/or Tyler Catalina is an upgrade on the offensive tackle play from last season.  In addition to the two new tackles, this will be Brandon Kublanow's second season as the starting center.  He was solid last season but his comfort level will be higher this season and his on field performance should be better as well.  As far as the guard positons are concerned, I am very optimistic about Lamont Galliard who played well in the spring and has a tremendous amount of raw ability.  Also, guard Dyshon Sims appears to have put on some very good weight this offseason and Ben Cleveland is going to be difficult to keep off the field because of his raw power. 
However, none of those are the biggest upgrade for the offensive line.  The biggest upgrade comes at the coaching position where the Bulldogs have made a tremendous upgrade with the acquisition of Sam Pittman.  There is a reason why he is widely recognized as one of the best offensive line coaches in the country.  He will elevate the play of each and every offensive lineman in a Bulldog uniform. 
On the defensive line the Bulldogs are replacing Sterling Bailey, Chris Mayes, James DeLoach and Josh Dawson.  Those four seniors appeared in every game for the Bulldogs last season and combined for 120 tackles, 7 tackles-for-loss and 1.5 sacks.  Along with true freshmen Trenton Thompson, those four defensive lineman played a majority of the snaps for the Dawgs.  This season, the Bulldogs will be relying a great deal on youth rather than experience.  The only upperclassmen expected to be a contributor on the defensive line is noseguard John Atkins.  Everyone else in either a first year or second year player.  It's all going to start along the front with Trent Thompson.  The former 5-star recruit is poised for a breakout season in his second year on campus and should be a dominant force.  Fellow sophomore DaQuan Hawkins, who suprised in 2015, had a tremendous offseason and is in outstanding condition.  Fellow sophomores Michael Barnett, Justin Young and Jonathan Ledbetter (when/if he returns from suspension) each provide quality depth.  The fun part to watch will be the play of true freshmen Julian Rochester and Michail Carter who are both grown from a physical standpoint.  Both will have to grow up quickly and will be relied upon to contribute early and often.  You also can't forget about fellow true freshmen Tyler Clark and David Marshall who have the frames to provide depth if needed. 
This group certainly does not have anywhere near the experience of the unit UGA fielded last season but I would argue that they have more size, talent and athleticism.  Their sack and tackles-for-loss numbers as a unit will likely be much higher meaning that they are going to be a more disruptive unit.
I certainly understand why, if you don't play close attention to the Bulldogs, you would have concerns about their play on the line of scrimmage.  I have concerns myself primarily because of a lack of experience, but not because of lack of talent.  Because of the high quality coaching, these units will get better with each practice this summer and every game this fall.  They may be somewhat vulnerable early but sooner than later they will be identified as a strength.