National Football Foundation University of Georgia Chapter had its 30th Annual Awards Presentation Monday night at the Athens Country Club. The keynote speaker of the event was Brian Griese, a former quarterback at the University of Michigan and he played football in the NFL for 13 years. Bob Griese, his father, was the quarterback of the only undefeated NFL team in history, (72' Miami Dolphins)  and introduced his son.
Mark Richt joined in on the fun Monday night with Bob and Brian Griese. He purchased both of their signed NFL jerseys that were offered at the auction before the awards ceremony had begun.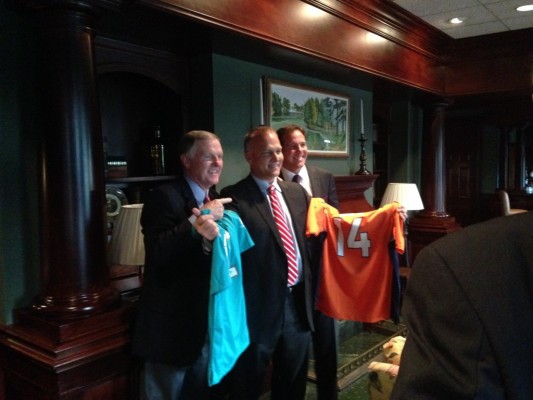 Chris Conley and David Andrews received the Jack Turner award, given to two outstanding Bulldog seniors after every season at the dinner. 
The Foundation also honored Georgia Speaker of the House David Ralston, former referee Bobby Towns, and Dr. Steve Stice. Dr. Stice is a distinguished professor at UGA who is trying to save the lives of different endangered species. The Jack Turner Award went to two outstanding senior football players from this year, David Andrews and Chris Conley.
Stephen Amason from Cedar Shoals High School and Raphael Bryan from Clarke Central High School received the Play it Smart award. The Play it Smart award is given to high school athletes who excel on the football field as well as in the classroom. Each student chosen is involved in more than just sports. They have high GPAs and are active in various groups and clubs. Amason will be going to Georgia College and State University in the fall, and Bryan will be staying in Athens to attend the University of Georgia next year.
Coca-Cola presented its Helping Hand Award to Extra Special People (ESP), which is based in Watkinsville, Georgia. The award is given yearly to an organization that helps its community. It was accepted by ESP's executive director, Laura Whitaker, and Nate, who has been an extra special person for ten years.