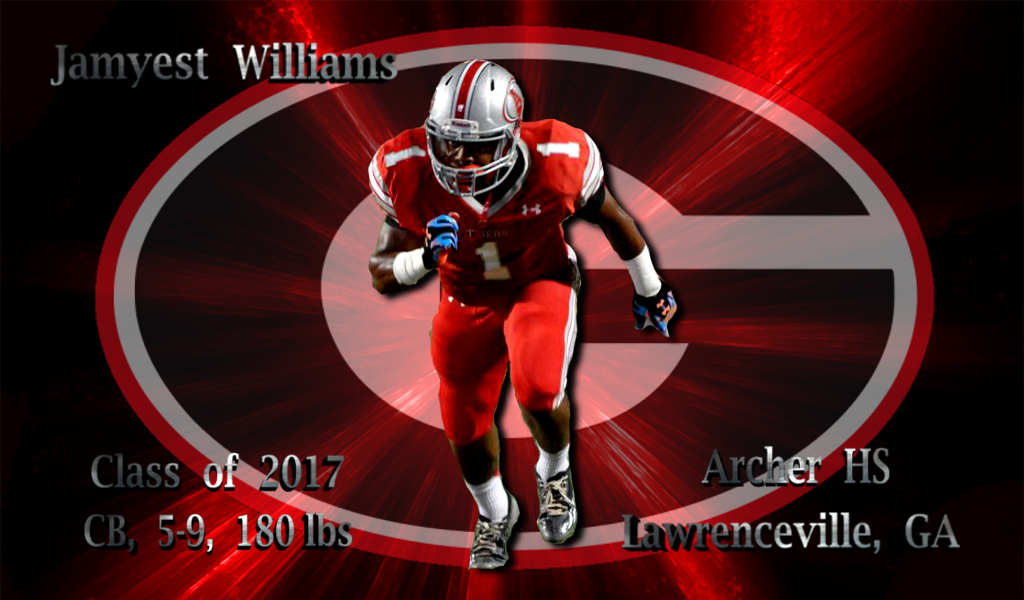 Jamyest Williams, a class of 2017 athlete and defensive back out of Archer High School, is set to visit UGA on Saturday, and while it is not his first visit to Athens, the Bulldogs are looking to make an impression on one of the top 10 players in the state of Georgia as well as one of the top 10 players in his position group.

And with two of Williams' team mates from Archer from the class of 2016 that decided to pick out-of-state programs over Georgia, it is key for the Bulldogs to continue to make good impressions on Jamyest. His recruitment is only going to heat up if he continues to progress this season and perform at a high level as he has shown he is a step ahead of many other of the defensive back prospects; most recently at the Adidas Showcase where he went through drills and workouts with an injured foot.

Williams visited Clemson back on January 30th and is coming off a visit to the University of South Carolina this past weekend.


After Georgia, Jamyest is set to visit Florida State and Tennessee. He has been offered scholarships by over 40 major FBS programs besides UGA including Alabama, Auburn, Clemson, Florida State, Miami, Notre Dame, Ohio State, Southern Cal, South Carolina, Tennessee, and most recently Nebraska to … name just a few.

So where does Georgia stand with Jamyest currently? He told 247Sports.com's Kipp Adams:

"I talk to Coach Mel Tucker almost every day," Williams said. "I like his coaching style, and I cannot wait to see how he and Coach Kirby Smart carry that over to Georgia."
"I would say Clemson is my top school right now, but I am still wide-open," Williams said. "Georgia just has to talk x's and o's. When I get there, just talk x's and o's while also showing love. Georgia, Florida State, and South Carolina are in the next group.

Georgia is definitely up high on his list of teams, but with over 40 teams vying for the talented athlete's services as well as him mentioning Clemson as his top school at the moment, the Bulldogs will continue to have to make good impressions every chance they get to stay in this race, which is marathon and not a sprint when it comes to recruiting.


---