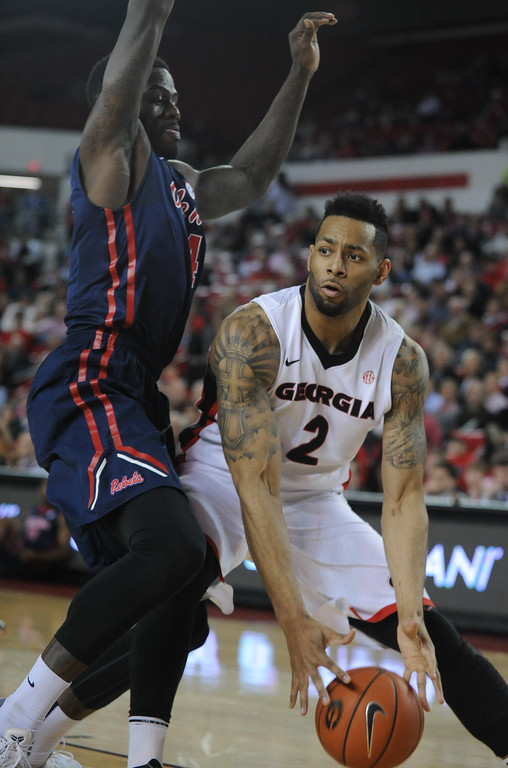 [break] [break]
UGA Today

[break] Todd Gurley is no. 46
WASHINGTON D.C., January 28, 2015 – NFL Players Inc. (NFLPI), the marketing and licensing arm of the NFL Players Association, today unveiled its first-ever " Rising 50 " list, aimed at identifying for sponsors, licensees, retailers and future partners the next crop of NFL players poised to break out and rank among top sellers of licensed merchandise.

[break] [break]
[break] [break] Football-centric Georgia making a splash in men's hoops

[break] [break] NCAA RPI Top 100

[break] [break] DaugMan's Chronicles

[break] [break] The Position That'll Make or Break UGA's Signing Day

[break] [break] Georgia Recruiting: 2015 WR Terrell Chatman Being Courted by the Dawgs – The Lady Sportswriter

[break] [break] Bernie's Dawg Blawg

[break] [break] [su_divider]

Other News
[break]
Forget 2, SEC Should Worry About 1 Team in 2015 College Football Playoff
[break] [break]
[break] [break]
Father confirms EKU lineman injured in fight; no official connections to alleged involvement of Kentucky athletes
[break] [break]
ESPN expands its National Signing Day Coverage – Awful Announcing
[break] [break]
Way-too-early SEC West Preview, Predictions
[break] [break]
VCU's Mo Alie-Cox slams against George Washington and hits the floor after
[break] [su_divider]
Dawg Treats
[break]
Music by PanicFan
[break] [su_box title="Dale Watson ~ Live In London, England~ 2002″ box_color="#3c3939″ title_color="#ffffff"][break] 1.Intro – Starts at 0:00
2.Real Country Song – 1:08
3. Can't Be Satisfied – 5:07
4.Ain't That Livin' – 8:20
5.In The Jailhouse Now – 11:02
6.Mama's Hungry Eyes – 14:04
7.Another Day, Another Dollar – 18:50
8.Legends(What If..) – 22:47
9.Bright Lights and Blonde Haired Women – 26:01
10. Heart Of Stone – 29:50
11.Nashville Rash – 33:21
12.Lee's Liquor Lounge – 36:07
13.I Hate These Songs – 38:22
14.Turn Off The Jukebox – 42:17
15.You Are My Friend – 45:46
16.How To Break Your Own Heart – 48:42
17.Country My Ass – 52:13
18.I Got Stripes – 58:32
19.A Couple Of Beers Ago – 1:01:19
20.No Fussin', No Cussin' – 1:04:52
21.Closing/Call It A Night – 1:07:04
[break] https://www.youtube.com/watch?v=Flyi2XgNqow
[break][/su_box] [break] [break] [su_divider]
.
Stuff
[break] [su_box title="Today's Video Selections" box_color="#3c3939″ title_color="#ffffff"] [break] [break]
[break] [break] https://www.youtube.com/watch?v=hyoaOOAtDI0&x-yt-ts=1421914688&x-yt-cl=84503534
[break] [break]
[break] [break] https://www.youtube.com/watch?v=GNPfWySjfV0&feature=youtu.be
[break] [break]
[break] [break]
[break] [break]
[break] [break] [/su_box] [break] [su_divider] [break] [break] [ts_fab]