[su_spacer size="20″]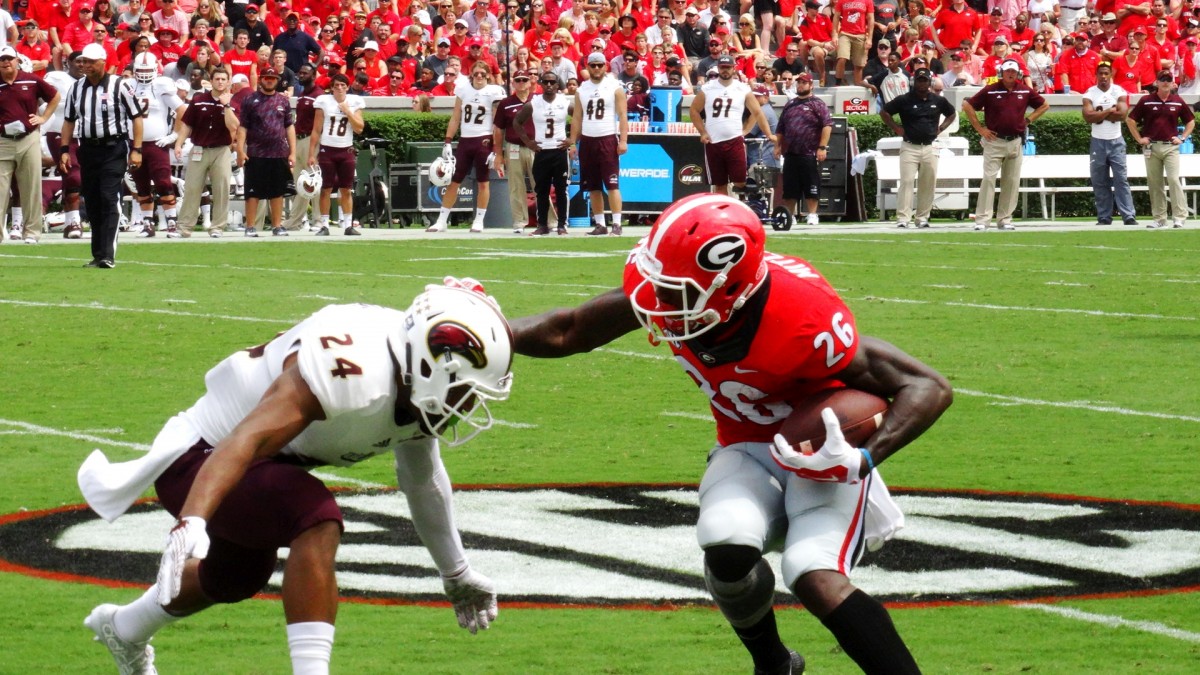 [su_spacer size="40″] As Georgia uses the bye week to get ready for their up-and-coming game versus Florida a week from Saturday on the 31st, Malcolm Mitchell reflects on his time at UGA and the Georgia-Florida Classic and his Head Coach, Mark Richt, talks about "Tampa's" performance versus Missouri this past weekend.
[su_spacer size="20″]
One of my favorite players that have played at Georgia over the years is Malcolm Mitchell. The way he carries himself off the field as well as on the field, his work ethic, and the way he plays the game. He is just a fun football player and wide receiver to watch play.
[su_spacer size="40″] Through 7 games this season, Mitchell has amassed 505 yards receiving on 35 receptions and made his way to the end zone 4 times. But it isn't just the offensive numbers he is putting up. The senior receiver is doing a lot of little things when it comes to blocking, special teams, and leadership that have helped this 2015 Bulldawg team get to a 5-2 record.
[su_spacer size="40″] Coach Mark Richt in the mid-week presser discusses one of those "non-receiver" type of plays that Mitchell made in the game versus Missouri where he caused the Tiger return man to lose concentration and fumble the ball. Normally, number 81, Reggie Davis, would have been the gunner on the punt return as well as Malkom Parrish, but for this return, Mitchell was in.
[su_spacer size="40″]
Mark Richt on Malcolm Mitchell
[su_spacer size="40″] I would like to make a correction here. Coach Mark Richt gives Malcolm Mitchell credit for making the touchdown saving tackle at the 1 yard line on the Missouri defender than intercepted Greyson Lambert's pass on Georgia's first offensive series of the game, but that play was actually made by senior wide receiver, number 86, Kenneth Towns.
[su_spacer size="40″] Part of Malcolm's success on and off the field is his approach. His effort he puts into his craft as a receiver playing football and his passion for reading and school.
[su_spacer size="40″]
Malcolm has really grown up a lot. He works extremely hard. He has tried to be a good example . . . but effort has never been a problem for him.
[su_spacer size="40″] Of course, Missouri is now in the past. Now, the Florida Gators loom ahead. If the game wasn't already big enough, it is a must win for Georgia as well if they hope to keep their race towards the SEC East Division crown and to get a trip to the SEC Championship Game in the ATL at the Georgia Dome. What does number 26 have to say about the Georgia-Florida game?
[su_spacer size="40″]
One of the biggest games I've played in. Probably the biggest in college. Cause every year the game is spectacular and electrifying; something for everybody to enjoy and watch.
[su_spacer size="40″] If my fellow Georgia fans will remember, Mr. Mitchell had a big play versus the Gators back in the fourth quarter during the 2012 Georgia-Florida Classic to help the#12 Bulldawgs to a 17-9 upset win over #2 Florida. Aaron Murray connected with the then sophomore WR for a 45 yard touchdown pass and reception which sealed the game for Georgia.
[su_spacer size="40″]
Malcolm Mitchell's 45 Yard Touchdown! Florida vs Georgia
[su_spacer size="40″] Of course, for the Bulldawg receiver, it is just another play to help his team succeed and prevail. When asked if he thought about it much, this was his response"
[su_spacer size="40″]
I don't think about it much. Cause I got more games to play. If I flash back to that play or reminisce on it, I think it would do more harm for me than anything else; so, I focus on making more plays.
[su_spacer size="40″] What I found interesting in this mid-week post practice presser is that he didn't know how big the Georgia-Florida rivalry was. He just didn't watch that much football growing up.
[su_spacer size="40″]
I didn't grow up watching football; so, I had no idea, until I got here, how big the rivalry was.
[su_spacer size="40″] My hope is that Malcolm Mitchell and his fellow Georgia seniors can go out in style with a big win against the Florida Gators on the 31st of October. I wouldn't mind seeing another big time play from "Tampa." And even if he doesn't reminisce on it, I along with a number of other Georgia faithful will remember fondly for him.
[su_spacer size="40″]
Malcolm Mitchell on Georgia vs. Florida
[su_spacer size="80″]