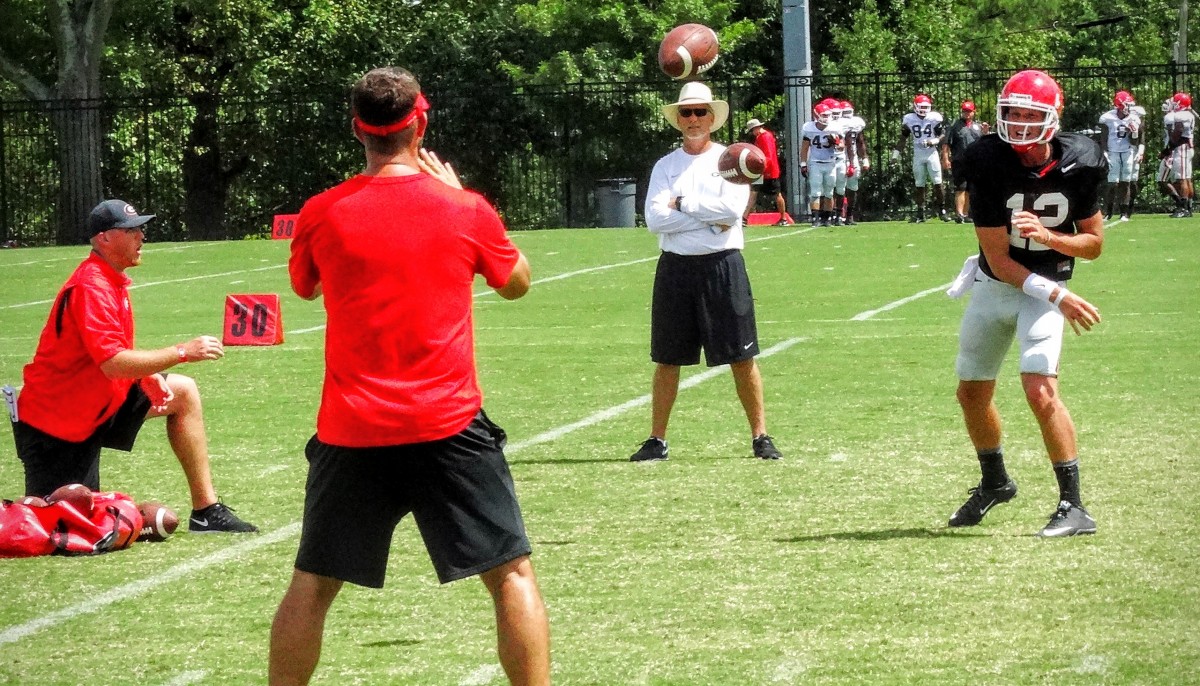 [su_spacer size="20″] Over the weekend, the Georgia Bulldawgs had their second scrimmage of the fall on Saturday. Head Coach Mark Richt talks with the media about where the quarterback competition is at 19 days into camp and just 2 short weeks to go until UGA has their first game versus ULM on September 5th.
[su_spacer size="20″]
Coach Richt discusses whether or not the staff has narrowed down the quarterbacks from three candidates to two after the second scrimmage:
[su_spacer size="40″]
I really don't know. Walking away from the practice, I feel like I know less about what to do then going in. That's just my first impression of that. We will watch the film and will make a determination … Coach Schotteheimer and I will have a nice discussion on what we think the next best course of action is and we'll just see.
[su_spacer size="40″] Coach Richt is asked if it is frustrating that there hasn't been a decision made at this point on naming a starting quarterback:
[su_spacer size="40″]
A little bit. I'd like to know and have peace. I'm waiting for some peace. When I make big decisions and I have a little time to make it … I like to pray about it. I like to think about it. I like to have some peace that this is the right thing to do. I don't have that peace right now. I'm a pretty patient guy, but the clocks ticking.
[su_spacer size="40″] Coach Richt is asked how does the decision to pick a starter at quarterback for 2015 compare to other decisions he has had to make over his coaching career:
[su_spacer size="40″]
It's a big one. I got a feeling it is going to play out in fields in games … If there is a big gap between the number one guy and the two guy, there's probably a little more grace for that one guy; but if it's like this (Richt gestures with his hands moving them closer together), if the one guy struggles mightily , maybe you make a change. I've never been a quick trigger pull a guy out of a game coach because I've played the position and I've just seen guys working through things they've got to work through. It's just part of the process of becoming a quarterback.
[su_spacer size="40″] Coach Richt talks about the quarterback competition when he was hired as Georgia's head coach back in 2001 between David Greene and Cory Phillips:
[su_spacer size="40″]
Is there a chance that we have 2 guys that rotate some reps … I'd rather not do that … We did it in 2001 with Greene and Cory Phillips. Greene played exceptionally well that day and that really solidified his starting position at that time.
[su_spacer size="40″] Mark Richt when talking about "that day" in 2001 is referring to the opening game versus Arkansas State on September 1st that season. Both Greene and Phillips played. David Greene went 21-29 for 285 yards and a TD while Phillips, who didn't look as comfortable, went 5 for 9 for 101 yards and 1 TD.
[su_spacer size="40″] Coach Richt addressed whether or not the rest of the offense is concerned or distracted by the quarterback battle and the fact that there is not a named starter at this point:
[su_spacer size="40″]
I don't think they're thinking about that. I really don't. I think they're just used to everybody rolling in and out of there. I think they know they've got to work on their own assignments and things that are important for them to have success at their position.
[su_spacer size="40″] Coach Richt is asked to elaborate on the quarterback competition and the situation in 2015 compared to what it was in 2001 and if it is like the Cory Phillips – David Greene battle:
[su_spacer size="40″]
It was a situation where we weren't sure. Right now, right this minute, I'm not sure. Coach Schotty may feel different.
[su_spacer size="40″] Mark Richt is asked about the level of quarterback play so far during Fall Camp:
[su_spacer size="40″]
I think guys are having their moments … I wouldn't say anyone's been horrible by any means … I haven't seen a clear front runner yet.
[su_spacer size="40″]
Mark Richt on the QB Race after the Second Scrimmage
[su_spacer size="40″] How concerning is it that Coach Richt and Coach Schottenheimer haven't narrowed down the quarterback competition to two or have not found a starter out of Bauta, Lambert, and Ramsey with the first game of the season fast approaching? I think there is definitely some concern, but it isn't time to hit the panic button … yet. Yes. It would be comforting to know who the starter is; although, depending on who is named from your perspective, maybe not so much; but the other side of the coin is that whoever comes out of the competition should be tested through and through.
[su_spacer size="40″] I think at this point, we might have to look at the staff narrowing down the quarterbacks to two candidates for the opener versus ULM and let them play to decide who the starter is going to be. I will be more nervous and concerned if there is no defined starter by the week of the South Carolina game on September 19th.
[su_spacer size="40″]