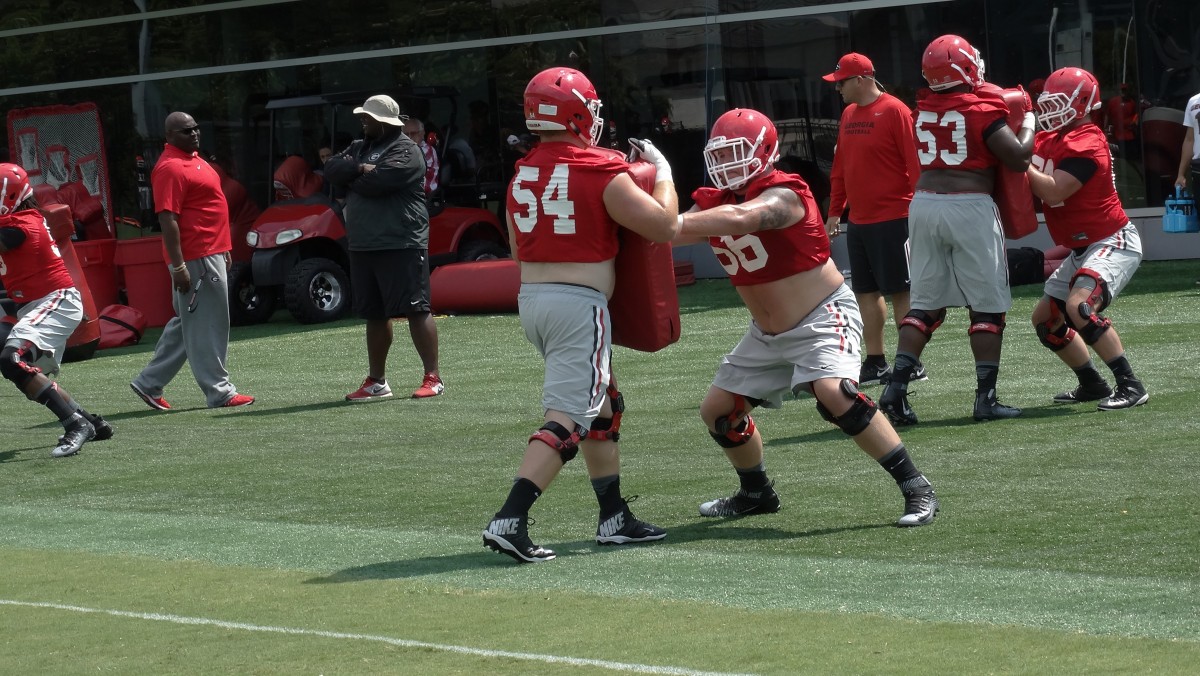 [su_spacer size="20″] UGA's Head Coach Mark Richt talks to the media after Friday's first scrimmage of Fall Camp 2015 about junior offensive lineman and center Brandon Kublanow, and how he is progressing snapping the ball.
[su_spacer size="20″]
Vance Leavy: "You mentioned a fumbled snap; how has that gone for most of the camp? Is the center position pretty locked down?
[su_spacer size="40″]
I'll say this; this is kind of a funny story, but you may have already heard this; Kublanow as a snapper, well, he snaps under center pretty good. No problem. The shotgun snap is kind of rough on him. I don't know if he really ever learned to throw a ball quite frankly. He's a lefty so it's a little bit different.
[su_spacer size="40″]
Most snappers grab it like a passer would and snap it like a passer would kind of pass the ball. That is how they snap it. Well, he was just struggling doing that because he really cannot pass it very good. We started trying to teach him how to throw so he'd know how to snap.
[su_spacer size="40″]
Finally, one day, he shows up with a new technique, and it started working. Some people use it across the country where you grab more of the nose of the ball, the top part of it, and bring it straight through, snapping it back more like a punt. He controls that better. He snaps it better. There is no wrist action that makes the ball go up, right or left. It's been a straight, firm snap. It hasn't been a spiral like you see a lot of people do, but it's been very effective.
[su_spacer size="40″]
I've been trying to figure out how he figured out how to do it. I don't know if this is true or not; apparently, he got on the internet and started looking at different ways of shotgun snapping it. Somebody had some video on that technique, and he started using it. I became a believer in about 2 practices.
[su_spacer size="40″] Vance Leavy: " So is it an end over end?" (referring to the way the ball travels through the air when snapped)
[su_spacer size="40″]
Sometimes it is kind of a slow end over end. It's not spinning like a kick, but it's kind of like my back flip. Kind of slow. Not rotating real fast.
[su_spacer size="40″] Mark Richt was asked if there were any issues with the quarterbacks getting the ball from Kublanow's snap:
[su_spacer size="40″]
No. It's been good. It's been firm. It's been right in the middle of their belly button; where we want it. It changed my sleeping habit. My sleeping pattern. I was worried about those snaps.
[su_spacer size="40″] Vance Leavy: "You think he's the guy at center?"
[su_spacer size="40″]
Well, right now, he's the number one center. He's been getting most of the work with the number one group. Hunter has gotten some work with the ones as well.
[su_spacer size="40″]
Mark Richt discusses the center position and Brandon Kublanow