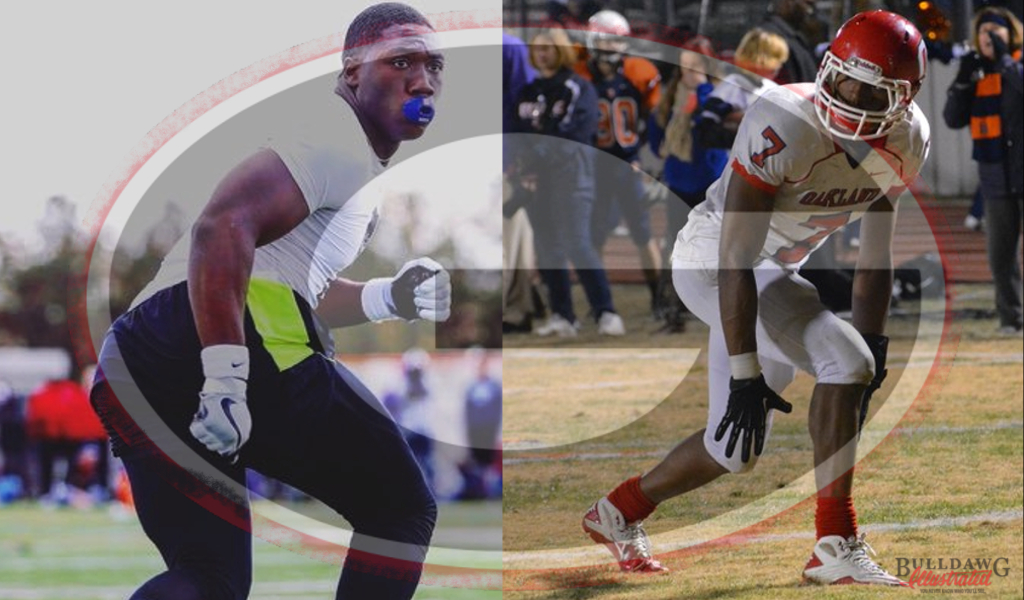 The Bulldogs already had a good weekend on the college football recruiting trail over the weekend with 2017 inside linebacker Will Ignont and 2017 athlete Keldrick Carper putting the Dawgs near or at the top of their top schools. And UGA's recruiting momentum continues to chug along with two more 2017 prospects, Kenney Britt and JaCoby Stevens, having good things to say about their visits to Athens, also putting Georgia at the front of the line in their lists of top schools.




Kenney "K.J." Britt is a class of 2017 inside linebacker from Oxford, Alabama, and like Will Ignont, he is an imposing player in the middle on defense at 6 foot 2 and 232 lbs.


And don't let "K.J.'s" 3-star ranking fool you. #10 can play some football, and he has been impressing on the camp circuit as well, recently being named the MVP at Nike Football The Opening Regional in Atlanta, GA. If he continues to tear it up on the camp circuit and then back that up with solid play this fall, he should grab a 4th star and climb up the rankings. If Georgia could pull off nabbing Britt from the state of Alabama along with Will Ignont, it would be a big coupe for the Bulldawgs and first year head coach Kirby Smart on the recruiting trail, especially considering schools generally do not poach top talent from the Yellowhammer state.


Jacoby Stevens, one of the country's top athletes for 2017, visited UGA earlier in the year, and he has had nothing but good things to say about the Dawgs since then. It certainly didn't hurt that he an current 2017 Georgia commit Richard LeCounte III hit it off during JaCoby's visit. Furthermore, JaCoby has developed a good relationship with Georgia's Defensive Coordinator, Mel Tucker. He thinks very highly of Coach Tucker, and told the AJC's Jeff Sentell that he thinks he is one of the best secondary coaches in college football:


"Coach Tucker coaches the defensive back skill guys great," Stevens said. "He's the best 'DB' coach in college football right now."


And JaCoby has also been impressed with Head Coach Kirby Smart:


"What I like about coach Smart is he is a hands-on head coach," Stevens said. "He's not one of those laid-back managers … You really see Coach Smart active in practice. I really like to see that in a head coach." (Jeff Sentell, AJC)


What that means for the Bulldogs is that Stevens has them in his list of top schools.




With Georgia starting safety Quincey Mauger headed into his fourth and final season at UGA and the Bulldog's other starting safety, Dominick Sanders, looking to build upon his interception total for his junior season, JaCoby Stevens is an athlete that could help Georgia out in the secondary going forward. Could he and Richard LeCounte potentially be Georgia's future starting tandem at safety?


It's still a ways till NSD 2017, but right now, the University of Georgia recruiting train is smoke'n hot and full steam ahead with a lot of momentum.

---
Kenney Britt's highlights:
click on video to play
---
JaCoby Stevens' highlights:
click on video to play
---