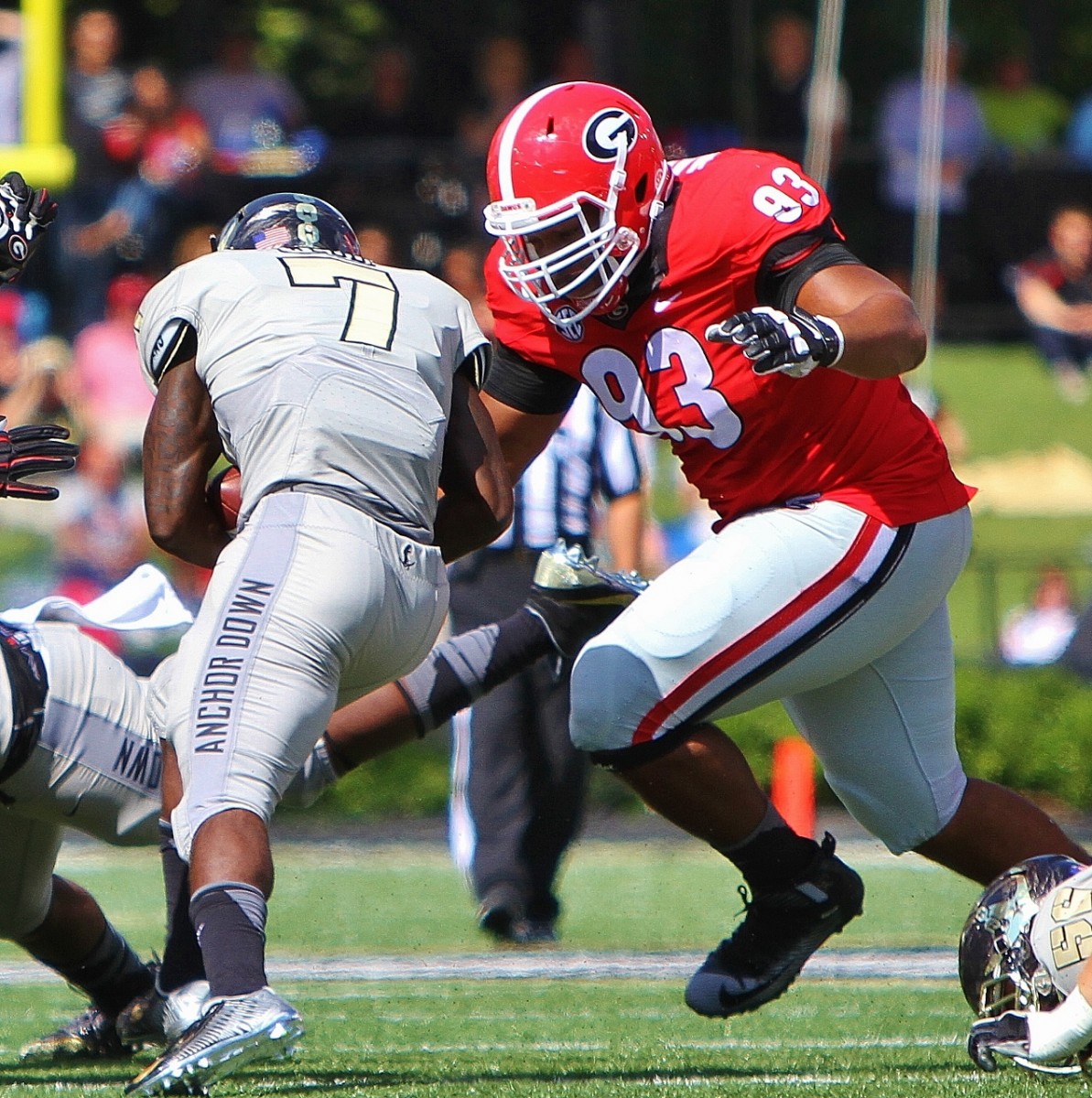 [su_spacer size="20″] Georgia beat Vanderbilt 31-14 this past Saturday in Nashville but the way the Bulldogs won was anything but pretty.
[su_spacer size="20″] And it surely wasn't as easy as that final score might indicate as Georgia found it has many things to clean up before South Carolina arrives between the hedges next Saturday evening.
[su_spacer size="20″]
On a day when the offense sputtered throughout the four quarters and special teams play was also erratic, the Bulldogs' defensive unit had to fight like mad to keep the Commodores out of the end zone. And that, the Georgia defense did, limiting Vandy to one touchdown, two field goals and a two-point PAT conversion.
[su_spacer size="40″] Capturing their first SEC outing and going to 2-0 on the season, the Bulldogs will face Steve Spurrier's Game-cocks at 6 p.m. Saturday in Sanford Stadium.
[su_spacer size="40″] "We had some huge interceptions at the end and it was one of those games where we did enough good things on both sides of the ball to win," said head coach Mark Richt. "We also did enough things to get us beat. But we're thankful for the victory and now we go back and get ready for South Carolina. No doubt," said Richt, "there are things we've got to clean up and it starts with coaching.
[su_spacer size="40″] But we'll all look at the video and raise our hands and see the mistakes we made and go and correct them."
[su_spacer size="40″] Certainly, the stars for the Bulldogs on this day in the Music City were senior outside linebacker Jordan Jenkins on defense and that man Nick Chubb on offense. Jenkins posted a team-leading and career-high 11 stops, including 5.5 tackles for loss and two sacks. Jenkins stood tall in taking up the slack when his fellow outside 'backer, sophomore Lorenzo Carter, was ejected from the contest early on as the result of a targeting call. Jenkins is the SEC active leader with 18 sacks and 35.5 tackles for loss in his career.
[su_spacer size="40″] And Chubb surged over the 100-yard rushing mark for a 10th consecutive game as he rumbled for 189 yards on 19 carries. Sophomore Sony Michel tacked on 56 yards on 12 carries including a 31-yard TD gallop. Junior quarterback Greyson Lambert had a dismal first half throwing the football but came on in the second half and finished the day with 11-of-21 completions for 116 yards. Sophomore Brice Ramsey played only one series in the second quarter and was 2-of-4 for 25 yards.
[su_spacer size="40″] "Jordan had a big day and Nick made his share of good runs," said Richt. "We didn't throw and catch good in the first half and we can't be one dimensional in this league, especially against a good defense like Vanderbilt. We've got to keep them off balance. But we had key picks, key turnovers when we needed them the most."
[su_spacer size="40″] "I think we showed we're one of the best run defenses in the country," said Jenkins. "We worked hard all week and came out here and showed it. We're just going to have to go into the South Carolina game with the right mindset, focus hard and come out and play our game."
[su_spacer size="40″] With starting quarterback Lambert starting the con-test 0-for-5 through the air, the Bulldogs had to rely almost entirely on the running attack in the early going. But even with a 68-yard jaunt by Chubb, the Bulldogs failed to get on the scoreboard on that early series as Marshall Morgan shanked a 37-yard field goal attempt.
[su_spacer size="40″] But thanks to a darting, across-the-field, 77-yard punt return for a touchdown by sophomore Isaiah McKenzie, Georgia finally got on the board with 4:33 left in the first quarter. After the Commodores got a 47-yard field goal from Tommy Openshaw, the Bulldogs pushed their lead to 14-3 when sophomore Michel dashed 31 yards to the Vanderbilt end zone. The Commodores then notched a 41- yard field goal from Openshaw to keep Vanderbilt within eight points, 14-6, at the halftime break.
[su_spacer size="40″] It would be past the halfway mark of the third quarter before the Bulldogs could add to that lead. After a Reggie Wilkerson pass interception gave Georgia the ball at the Vandy 42, Georgia marched down to the Commodores' 3-yard line before having to settle for a 20-yard field goal by Morgan, thus blinking the scoreboard to 17-6 with 6:47 left in the third.
[su_spacer size="40″] Shortly thereafter, getting a 24-yard run on a flanker reverse by McKenzie, the Bulldogs drove 67 yards to push their advantage to 24-6 with just 1:47 remaining in the quarter. Lambert, who would begin to find his passing touch in the second half, got the touchdown on a 5-yard keeper.
[su_spacer size="40″] But the Commodores weren't quite dead just yet.
[su_spacer size="40″] They scored on a 7-yard pass from Johnny McCrary to Latevius Rayford with 4:33 left in the final quarter, after which McCrary ran over for two points on the PAT to pull Vanderbilt within 24-14.
[su_spacer size="40″] Things got even more hairy for Georgia on the ensuing kickoff as Vanderbilt's pooch kick got away from Reggie Davis and the Commodores pounced on the loose ball at the Georgia 16. A half-the-distance unsportsman-like call on the Bulldogs placed the ball on the 8-yard line but two plays later, senior linebacker Jake Ganus saved Georgia's hide by intercepting a McCrary tipped pass (by Dominique Sanders) at the edge of the end zone.
[su_spacer size="40″] Then, as the clock ticked inside the game's final two minutes and Vandy driving again, the Georgia defense rendered still another big play, sophomore strong safety Sanders picking off a McCrary pass and speeding 88 yards down the right sidelines to salt the game away for good at 31-14, now just 1:11 left to play.
[su_spacer size="40″] Georgia rushed for 281 yards on the afternoon and passed for 141. Sanders, in addition to his 88-yard pick-six touchdown jaunt, recorded eight tackles while Leonard Floyd and Aaron Davis stepped up with seven tackles each. The Bulldogs limited the 'Dores to 105 yards net rushing while, with McCrary putting the ball up 50 times, added 295 yards through the air.
[su_spacer size="40″] Malcolm Mitchell paced Georgia's receiving corps with four catches for 36 yards.
[su_spacer size="40″] [su_spacer size="80″]