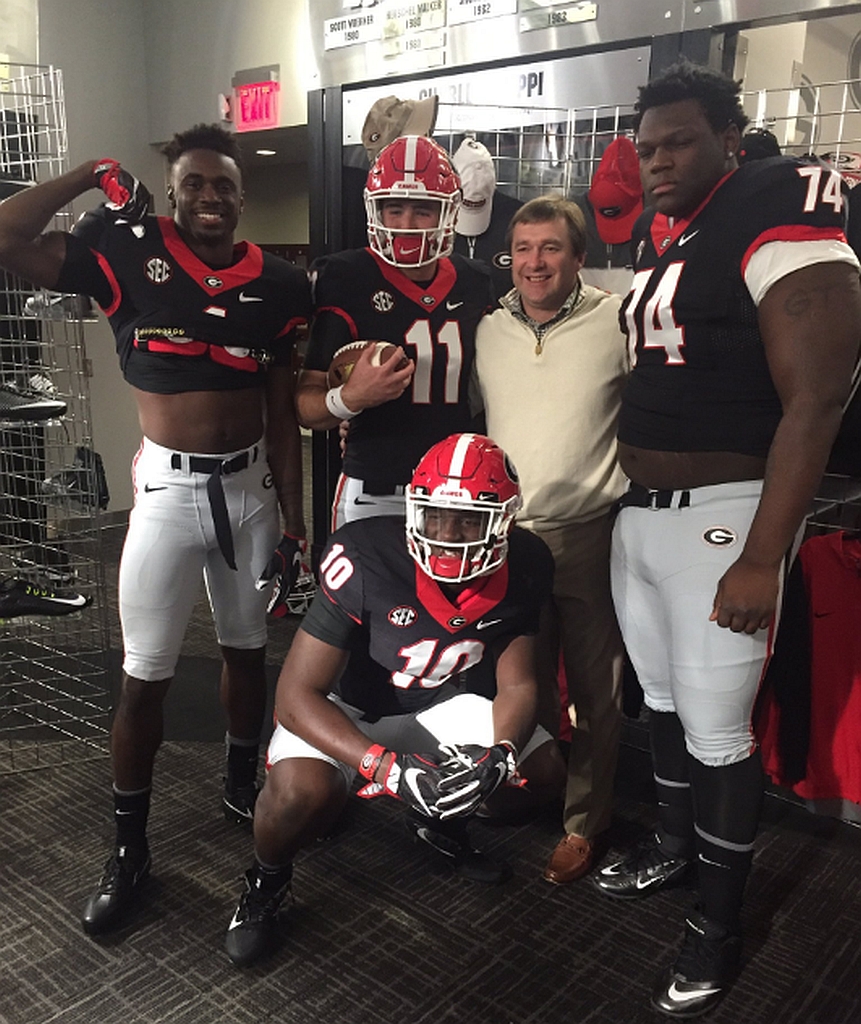 Georgia continues to be a red and black recruiting mean machine, steaming full-speed ahead for National Signing Day 2017.


In the last 32 days, the Bulldogs have picked up eight commitments. Malik Herring and Jeremiah Holloman got things started on December 1st with a slick commitment video also starring Georgia commits Jake Fromm and Richard LeCounte III. A couple of weeks later on Monday, December 12th, 2016, D'Marcus Hayes said UGA is the place to be. He signed his letter of intent just a couple of days later. Hayes would not be the only big man the Bulldogs would score that week either.

On Friday, December 16th, 2016, Georgia added a sixth offensive linemen to the 2017 class when Isaiah Wilson announced his decision to play for Head Coach Kirby Smart and Offensive Line Coach Sam Pittman. Bulldawg Nation awoke on Christmas Day and got a gift wrapped inside linebacker from Vidalia, GA when Nate McBride announced his decision in another nicely done commitment video starring Jake Fromm and Richard LeCounte. And as LeCounte likes to say, UGA was still not done.

New Year's Day flashed onto the scene all shiny and brand new and the Bulldogs got a double helping of commitments from Tray Bishop and DeAngelo Gibbs. And as a bonus the Bulldogs picked up another commitment by flipping Monty Rice from LSU on Monday, January 2nd. If you are keeping count, Georgia's recruiting class for 2017 now stands at 23 commitments plus one preferred walk-on commitment.

---
UGA 2017 COMMITS – (23 scholarship) (1 PWO)

Name, Pos., Ht., Wt., Star Rating, High School, Hometown
Robert Beal Jr. – DE 6-3.5 230 lbs, 5-star, IMG Academy, Bradenton, FL
Tray Bishop – ATH 6-2 198 lbs, 4-star, Terrell County HS, Dawson, GA
Trey Blount – WR 6-2 196 lbs, 4-star, Pace Academy, Atlanta, GA
D'Antne Demery – OT 6-6 319 lbs, 4-star, Brunswick HS, Brunswick, GA
Jake Fromm – QB 6-1.25 229 lbs, 4-star, Houston Co. HS, Warner Robins, GA
DeAngelo Gibbs – DB 6-2 205 lbs, 4-star, Grayson HS, Loganville, GA
Walter Grant – LB 6-4 236 lbs, 4-star, Cairo HS, Cairo, GA
D'Marcus Hayes – OT 6-5 330 lbs, 4-star, Mississippi Gulf Coast C.C.
Malik Herring – DE 6-3 259 lbs, 4-star, Mary Persons HS, Forsyth, GA
Jeremiah Holloman – WR 6-1.25 195 lbs, 4-star, Newton County HS, Covington, GA
Jaden Hunter – LB 6-2.5 218 lbs, 4-star, Westlake HS, Atlanta, GA
Netori Johnson – OT 6-3.25 341 lbs, 4-star, Cedar Grove HS, Ellenwood, GA
Matt Landers – WR 6-5 182 lbs, 3-star, Admiral Farragut Academy, FL
Richard LeCounte III – DB 5-10.25 183 lbs, 5-star, Liberty County HS, Hinesville, GA
Nate McBride – ILB 6-1 223 lbs, 4-star, Vidalia Comprehensive, Vidalia, GA
William Poole III – CB 6-0 180 lbs, 4-star, Hapeville Charter HS, Atlanta, GA
Monty Rice – ILB 6-1 228 lbs, 3-star, James Clemens HS, Madison, AL
Justin Shaffer – OL 6-5 356 lbs, 3-star, Cedar Grove HS, Ellenwood, GA
Jake Skole (PWO) – ATH 6-1 185 lbs, 3-star, Blessed Trinity, Roswell, GA
D'Andre Swift – RB 5-9 222 lbs, 4-star, St. Joseph's HS, Philadelphia, PA
Andrew Thomas – OT 6-5 335 lbs, 4-star, Pace Academy, Atlanta, GA
Mark Webb Jr. – WR 6-2 195 lbs, 4-star, Archbishop Wood HS, Warminster, PA
Isaiah Wilson – OT 6-7 354 lbs, 5-star, Poly Prep, Brooklyn, NY
Devonte Wyatt  –  DL 6-4 300 lbs, 3-star, Towers HS, Decatur, GA

---

Five of the twenty-two are set to enroll early here in the month of January in just a few short days and include Jake Fromm, DeAngelo Gibbs, D'Marcus Hayes, Jeremiah Holloman, Richard Lecounte III, and Monty Rice.

On top of those twenty-three commitments, the Bulldogs have six juniors that could have declared for the NFL returning. Running backs Nick Chubb and Sony Michel along with linebackers Davin Bellamy and Lorenzo Carter announced they would be returning back on December 15th. Safety Dominick Sanders announced he would be returning for his senior season at Georgia as well right after the Bulldogs win over TCU in the Liberty Bowl on December 30th. Just a day later, defensive back Aaron Davis also announced he would be returning for 2017. Those six returning juniors who have either been full-time starters or major contributors over their collegiate careers at UGA are like picking up six 5-star prospects in and of itself.

Of course, the Bulldogs will be losing their leading receiver and punt return weapon Isaiah McKenzie to the NFL draft; so, his production will not be easily replaced. And there are five other Bulldogs that have announced they will not be returning to Georgia and transferring. Those players include DB Juwuan Briscoe, DB Kirby Choates, OLB Shaun McGee, DB Rico McGraw, and WR Shaquery Wilson. All-in-all, though, it has been a very good month and a great start to 2017 for the University of Georgia.

Right now, the Bulldogs sit with the 2nd ranked recruiting class in the country according to ESPN, Rivals and Scout, and the 3rd best class according to 247 Sports.

CLICK ON IMAGE TO ENLARGE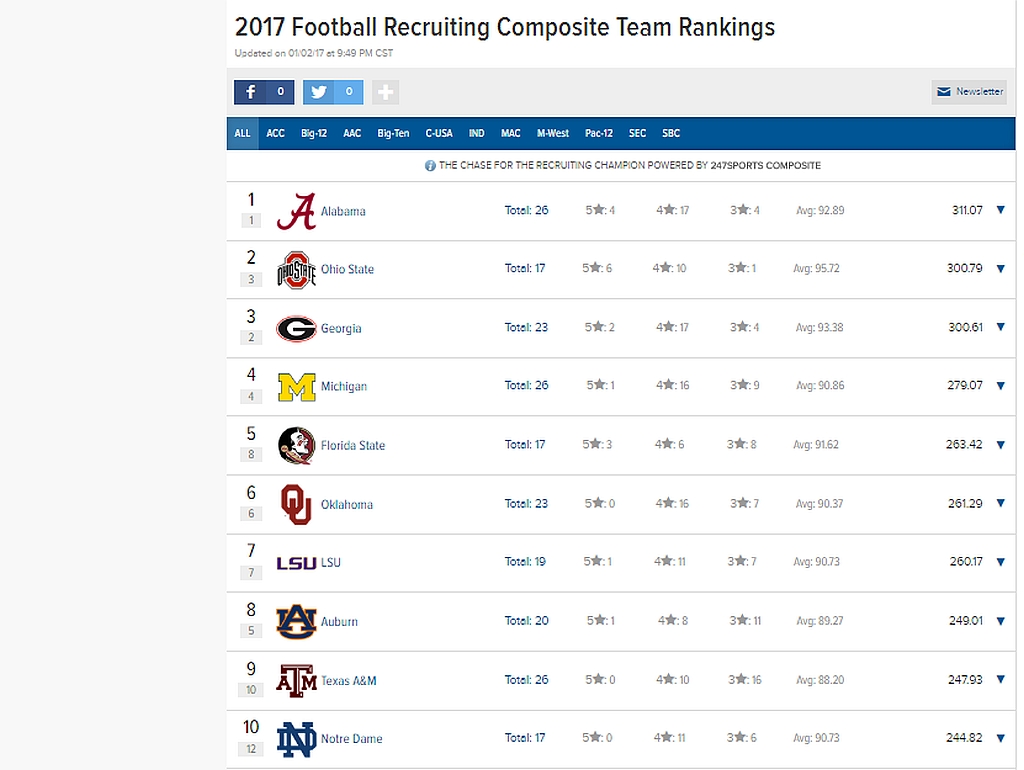 ---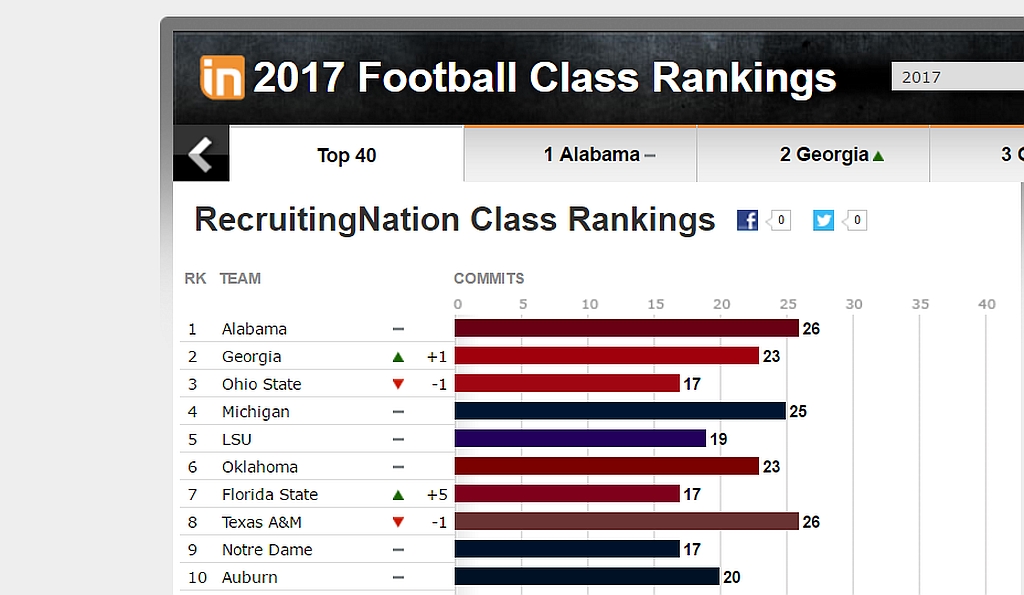 ---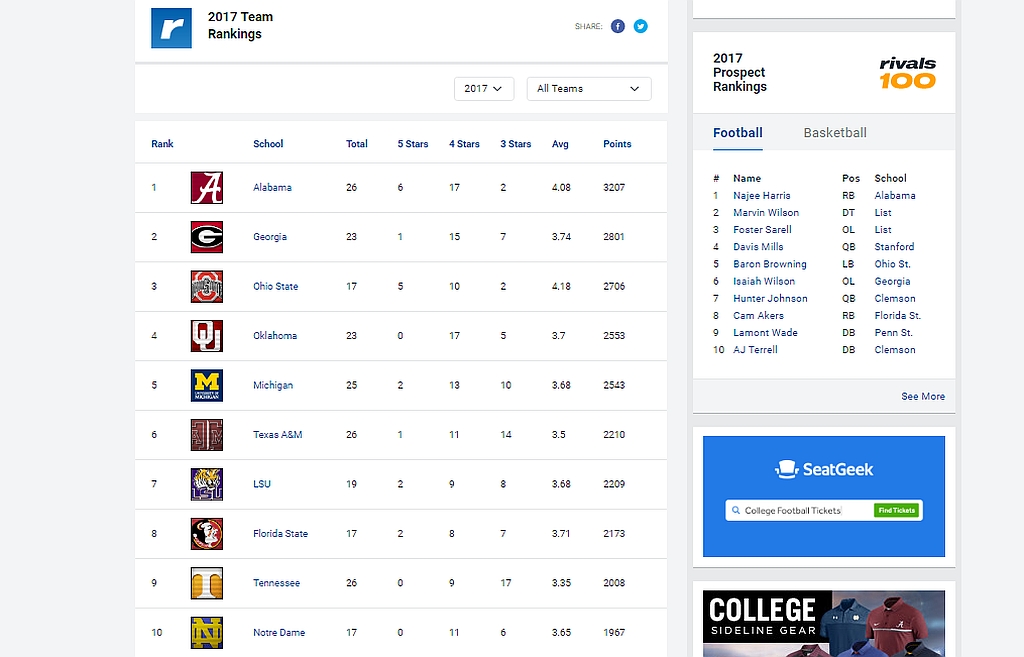 ---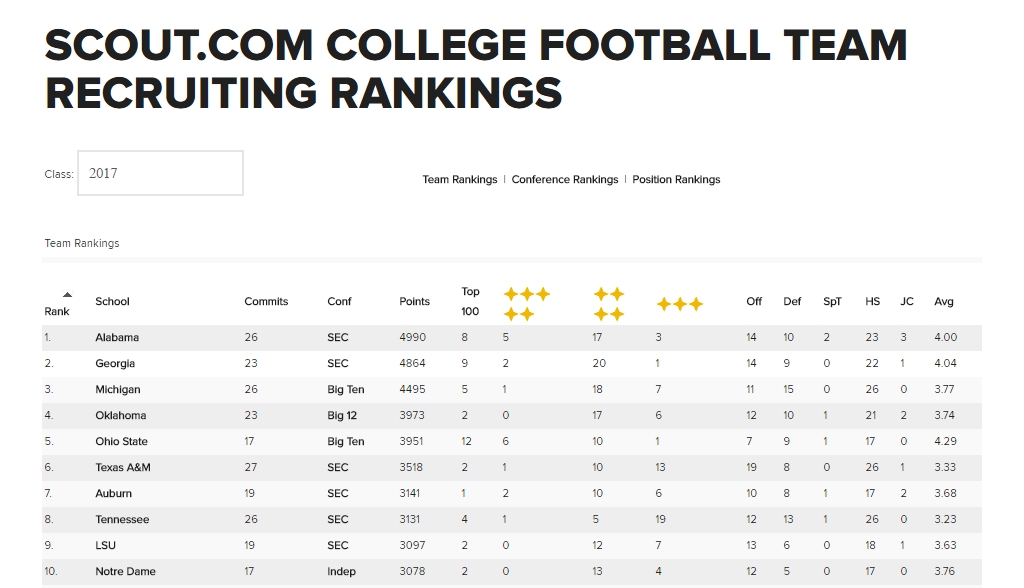 ---

Who will Georgia close out this 2017 recruiting class with between now and NSD on February 1st? Back in December's article I wrote for Bulldawg Illustrated's Liberty Bowl Preview issue, The Georgia Bulldogs are A Red and Black Recruiting Mean Machine For 2017, I thought the Bulldogs would finish with 25 to 27 in this class, and I still think that is very possible; even though there is some concern that South Carolina might flip DT commit DeVonte Wyatt and there is at least one prospect that maybe on the bubble to qualify academically. As far as possible additions, keep your eye on weakside defensive end / outside linebacker Markaviest "Big Cat" Bryant, defensive tackle Aubrey Solomon, and inside linebacker Leonard Warner. If Georgia finishes with those three, that would give them 26 commitments, and there actually might be a surprise or two additional ones from some of the hints that have been dropped by UGA's current commits like Jeremiah Holloman and Richard LeCounte.

So Bulldawg fans, fasten your chin straps and hold on tight because the Georgia red and black recruiting machine isn't slowing down or stopping anytime soon.