[su_spacer size="20″]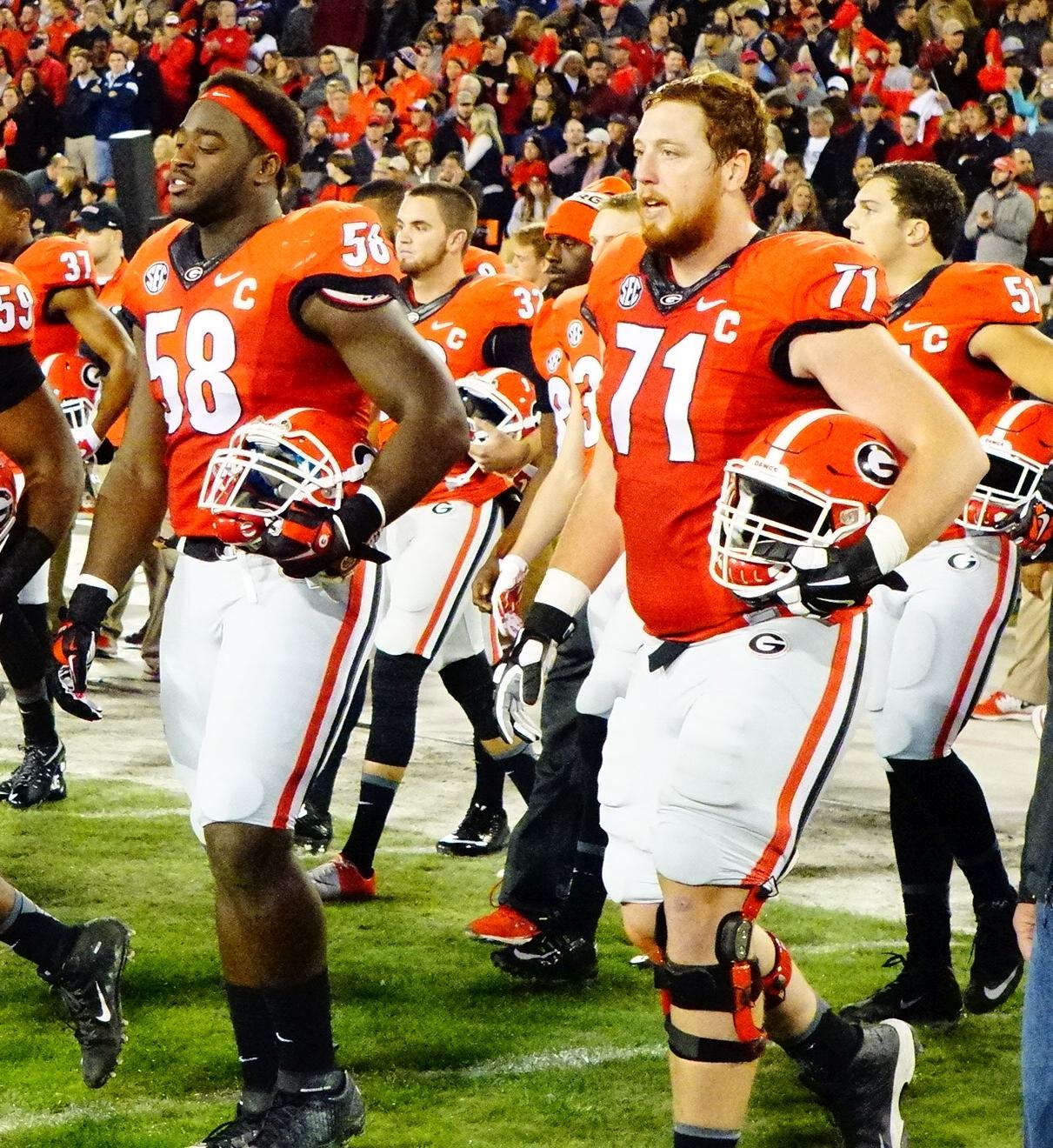 [su_spacer size="40″] Mark Richt became Georgia's head coach as a direct result of Tech.
[su_spacer size="40″] Blown calls on a Tech fumble that was and was recovered by the Bulldogs wound up costing Georgia a heartbreaking 21-19 loss in 1998. The following season, Jasper Sanks didn't fumble. It was ruled he did. Tech recovered retreated into the end zone and a safety wasn't called either. The Dogs lost another heart-breaker, this one in overtime. An excellent Yellow Jacket team raced out to a big first half lead and defeated the Bulldogs 27-12 in 2000. Jim Donnan, with a record of 35-13 in his final four years at the helm — a period which featured Southeastern Conference East Division foes Tennessee and Florida at the eight of their power, when both were amongst the top five programs in all of college football — was let go.
[su_spacer size="20″]
On the day after Christmas 2000, Richt was announced as Georgia's new head football coach. Clearly, beating the Yellow Jackets was, is and always will be the top priority for any Bulldogs coach. There may be other teams, like Florida, that the Georgia people would rather beat. But Tech is the team the Bulldogs have to beat.
[su_spacer size="40″] Heading into his 15th meeting against The Enemy — so dubbed by The Greatest Bulldog Ever Dan Magill — Georgia is 12-2 against the Yellow Jackets in the Richt era.
[su_spacer size="40″] The two is too many. In 2008, riding a seven game winning streak against the Jackets, 9-2 Georgia had a 28-12 halftime lead, but lost 45-42. Like in 1998 when the Bulldogs were also riding a seven game winning streak against the Jackets, Georgia had a double digit lead end in heartbreak. Evaporating with those losses was the opportunity to win eight in a row against Tech, matching the infamous drought of 1949-56 when the Bulldogs lost eight in a row in the series — the ultimate depths in the tradition rich history of the Georgia program.
[su_spacer size="40″] Beginning with an upset victory on the flats in 2009, Georgia was riding a five game winning streak against Tech before last season's utterly maddening, crushing loss. The ill-fated squib quick and timeout, and two fumbles on the one yard line in the first half will forever haunt the red and black faithful. Instead of looking for a seventh straight win, the Bulldogs are looking to prevent the Yellow Jackets from posting consecutive victories.
[su_spacer size="40″] Richt's teams of 2008 and 2014 won bowl games that the Georgia people were largely dispassionate about following those crushing losses. What might have been? 11-2 seasons became three loss ones.
[su_spacer size="40″] Pain can be a great motivator.
[su_spacer size="40″] Trying to avoid that pain of back-to-back losses to Tech will certainly light a fire under every Georgia player, coach and fan.
[su_spacer size="40″] There is also something quite special that can be accomplishes.
[su_spacer size="40″] Georgia is trying to win for the 12th time in the last 13 meetings with Tech at historic Grant Field. The lone loss of this era in Atlanta to Tech came on the aforementioned infamous Al Ford officiating crew scandalous blown call on the Sanks play in '99. That 11-1 mark since 1991 has been quite a feather in the collective cap of the red and black faithful.
[su_spacer size="40″] Whenever Richt's time as Georgia's head coach is up, two of the shining accomplishments of his tenure will be the record against Tech — though those two bitter losses will always sting — and an 8-2 record against Auburn from 2006 through this season.
[su_spacer size="40″] Getting back on the winning side against Tech is essential.
[su_spacer size="40″] For the Georgia people, living in this state with the shadow of a loss to the Yellow Jackets looming makes for a very long year. The air doesn't feel nearly as nice, the food doesn't taste quite so good, and the majestic smells of spring, summer and the ensuing autumn polluted by a loss to Tech.
[su_spacer size="40″] All of last season, you could feel it, that Tech was really gunning for Georgia. Their fans, their players, coach Paul Johnson, they saw an opportunity and cashed in. Their players took pieces of the hedges and posed for pictures holding the small branches in victory-clinched fists and between the teeth of smiling faces.
[su_spacer size="40″] Suddenly, in Atlanta, the Golden Isles, or wherever Jacket fans had been in public hibernation, those Old Gold flags with the big white T, in Cicada-like fashion began popping up with more frequency.
[su_spacer size="40″] Tech would follow that win in Athens up with a near miss against defending national champion Florida State in the Atlantic Coast Conference Championship Game.
[su_spacer size="40″] The Yellow Jackets then rolled past Mississippi State in the Orange Bowl.
[su_spacer size="40″] That sick feeling in the bellies of the Bulldogs was that it should have been Georgia that won in Athens. It should have been Georgia playing for a conference championship.
[su_spacer size="40″] It should have been Georgia in Miami or another major bowl, not the Belk Bowl.
[su_spacer size="40″] Expectations were high for both the Bulldogs and Tech this season. Georgia suffered through a horrid October that knocked the Bulldogs out of contention for a special year. After a 2-0 start, Tech then hit the skids. The Yellow Jackets will suffer a losing season and miss a bowl game for the first time since 1997. Both Georgia and the Jackets started a string of consecutive bowl appearances that year. The Bulldogs will be heading to the postseason, but not where the red and black faithful dreamed before this campaign began.
[su_spacer size="40″] A lot more Georgia fans will have interest in, and make that bowl trip with a victory over the Yellow Jackets.
[su_spacer size="40″] The pain of last season's loss, followed by the disappointment of October has left Georgia thirsting for something greater.
[su_spacer size="40″] That greatness must begin with defeating Georgia's greatest rival. It is the foundation upon which all else in the program must be built.
[su_spacer size="40″]
---
[su_spacer size="40″] Make sure to check out
Bulldawg Illustrated's
latest print edition:
Get the Cup Back
, digital issue available for free online. CLICK
HERE
.
[su_spacer size="80″]