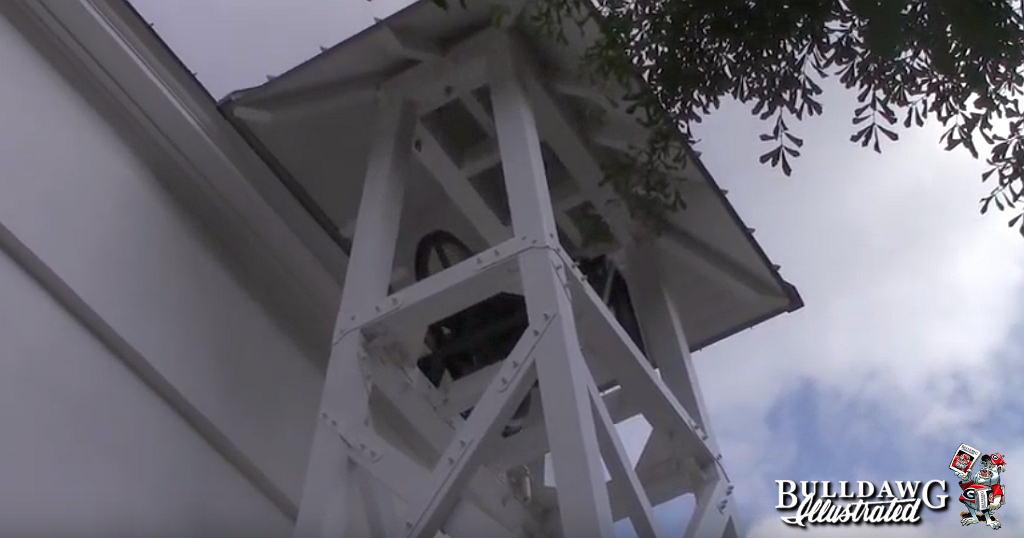 This past summer, if you walked on UGA's North Campus and noticed that the historic Chapel Bell wasn't there that's because it was being refurbished. At the start of the 2019 football season, it was put back in its place, and now it rings again.
Ringing the Chapel Bell after a UGA victory is one the most popular and oldest traditions at the University of Georgia. Students, fans, and alumni alike all wait behind the Chapel on North Campus for their turn to ring the bell after victories.
The first time the Chapel Bell was rung in celebration after a victory dates back to Dec. 1, 1894. A week earlier, the UGA football team defeated Auburn 10-8 in a game played in Atlanta. This was the second meeting ever between the two schools, and Georgia was eager for revenge after they were defeated 10-0 by the Tigers two years prior.
After that 10-8 victory, The Red & Black describes the celebration that took place that night:
The Varsity Special left at 7 o'clock and the people of Athens awaited the arrival of the party at the Athens depot with a brass band and plenty of enthusiasm. Merchants opened their stores and told the boys to help themselves to boxes. Soon a large bonfire lighted up the campus, the college rang o t (sic) on the night air and the college yell was heard on every hand. The night had far spent itself when the last echo of the bell was heard and the dying embers of the great bonfire was all that was left to remind the passer by (sic) that the great day was over. Georgia had triumphed! Three years had she waited and now the defeat that had once befallen her by the hands of the Alabamians was blotted out.
After that victory, ringing the bell became a tradition and since has not been forgotten.