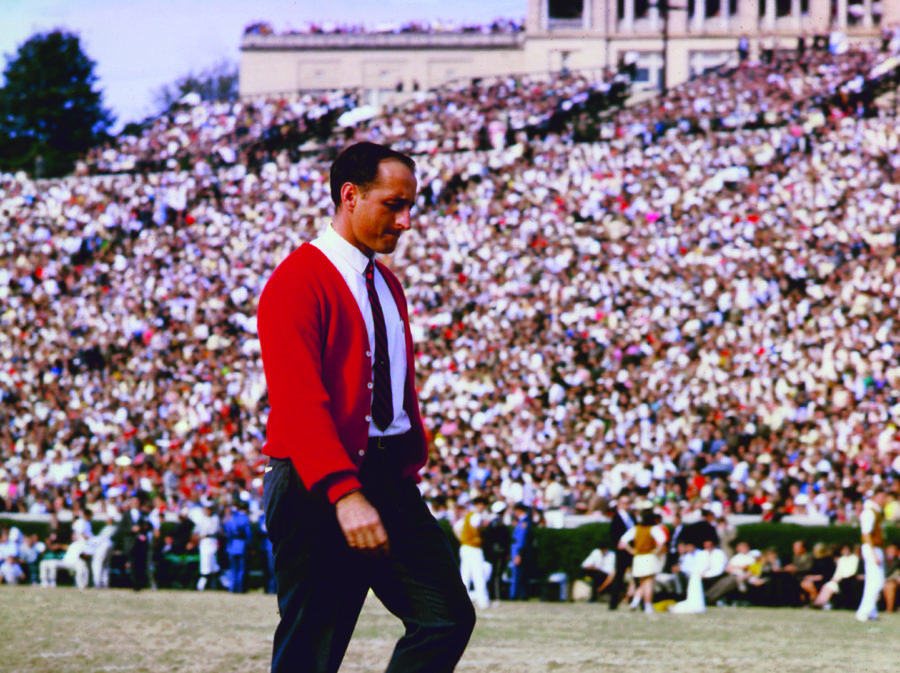 It was December 1963 in Athens and as I and my roommate and several other students at Joe Brown Hall huddled around a small radio, we anxiously awaited the announcement of Georgia's new head football coach.
With the 1961, 1962 and '63 Bulldog seasons having resulted in dismal records of 3-7, 3-4-3 and 4-5-1 under beleaguered Johnny Griffith, the UGA athletic administration had decided a change was needed and in our dormitory on North Campus, we were all certain and surely hopeful Georgia was about to bring in a big-time, name coach to begin guiding the team back to championship contention.
That said, you can imagine the puzzlement, and yes disappointment, we felt when the news came that the Bulldogs' new head coach was somebody named Vince Dooley. All we learned from the announcement was that new Georgia athletic director Joel Eaves had hired a former colleague from Auburn, then Tiger freshman coach Dooley, to assume the reins of the red and black. It seemed at that precise moment all Bulldog Nation was surprised, downright skeptical on 31-year-old Dooley getting the UGA job. Indeed, the next morning many headlines on the sports pages blared out, "Vince Who?"
Says Dooley today of his hiring: "I tell people when back then they heard the new coach was named Vince, they thought it was Vince Lombardi (Green Bay Packers coach). But they said 'who in the hell is Vince Dooley?'"
The University of Georgia and its fervent fan base is eternally thankful that Joel Eaves didn't go with a big-name coach back then because that unknown Vince Dooley carved out a legendary career in Athens, both on the coaching sideline and in the athletic director's office.
As head UGA coach from 1964 to 1988, Dooley posted a record of 201 wins, 77 losses, and 10 ties. He won one national championship, in 1980, and six SEC championships. Dooley took his teams to 20 bowl games and coached a Heisman Trophy winner (Herschel Walker), a Maxwell Award winner (Walker), an Outland Award winner (Bill Stanfill), 40 first team All-Americans and 10 Academic All-Americans. Named NCAA National Coach of the Year by every poll in 1980, Dooley was named SEC Coach of the year seven times.
Now, Dooley will be receiving the ultimate honor at Saturday's Murray State game when UGA names the field at Sanford Stadium after him. From that moment on, the official name of the Bulldogs' picturesque facility will be Dooley Field at Sanford Stadium.
"I'm happy for the family because it will be something for their generations in the future and, after all, the wife (Barbara) and the family had a lot to do with it as well," said Dooley of the honor. "But the players primarily, all the players, it's something they will celebrate and be part of and be proud of. And then the Bulldog Nation, some loyal supporters over a long period of time and then everybody that played on that field," he said. "By played I mean they were either managers or trainers or the band, the cheerleaders — whatever they were — they should feel a point of pride in it themselves because they were a part of it and performed on that field."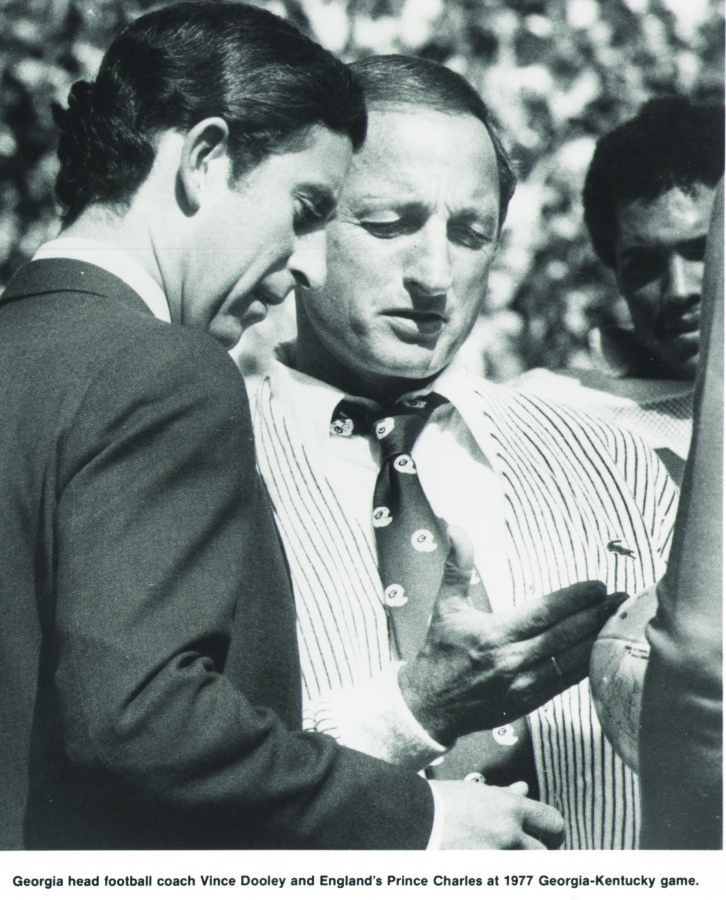 Evolving as a Coach in His 25 Years Guiding Georgia
"I certainly grew in a lot of ways," Dooley said. "It would be bad if I didn't grow as a coach but I always thought about the poem 'Ulysses' by Alfred Lord Tennyson that said, 'I am part of all I have met.' It's a poem about the travels of Ulysses and it's really good. And so all of those … the assistant coaches, the players and anybody else that I worked with were a part of me. I had a great staff to start with starting with my brother, Bill Dooley, and Erk Russell who were the main coordinators. About two-thirds of our coaches were ones I either knew before or played for me and the other third were coaches that came from the outside because you didn't want to get totally inbred. By having two-thirds of your coaches from inside they knew the system, they believed in it and were loyal," he said. "And the outside people brought new additions to what you were learning.
"Guys like Bill Pace, Fred Pancoast, Bill Lewis and many others that were not part of Georgia but they made a significant contribution. But two-thirds of the staff had a Georgia background. Either I knew them real well or they played for me. As a head coach, you want to have great people under you and I think we did."

Dooley's Sideline Antics
One thing that didn't evolve through the years was the coach's frequent dancing and skipping on the sidelines when Georgia would make a big play. "I always kid that those running backs didn't do it by themselves, they had a little help from me on the sideline," Dooley mused. "But actually, I always did that but you have to remember early on they didn't have the cameras that they had in the middle of my coaching career where later they started focusing a camera on a coach all the time. People would focus their cameras before the play and after the play but during the play, they were watching the teams. But when they got to where they had so many cameras and put one on the coach is when people started finding out that I had been doing that all along, but they didn't have a camera on it. I was doing it back in 1964 also but nobody knew it."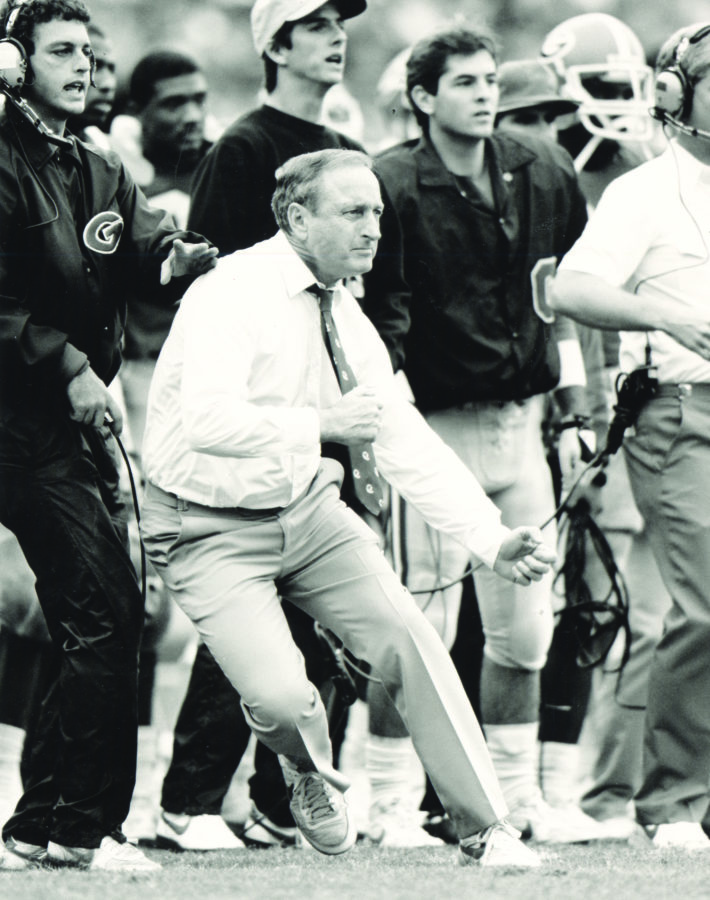 Military Background Contributed to Athletic Director Success
Vince Dooley was Director of Athletics at UGA from 1979 to 2004. Under his watch as AD, Georgia teams won 20 national championships (10 in his final six years) including an unprecedented four during the 1998-99 year (women's swimming, gymnastics, men's tennis, men's golf). And during Dooley's tenure, Georgia athletic teams won 78 SEC team championships and numerous individual titles in both men's and women's sports. Dooley won many honors in the AD chair, including a most recent one, the 2010 Bear Bryant Lifetime Achievement Award, and also the 2004 James J. Corbett Memorial Award presented annually by the National Association of Collegiate Directors of Athletics (NACDA), the highest honor one can achieve in collegiate athletics administration.
"I think that my military service was a big help to me … two years of active duty and 11 or 12 years of reserves," Dooley said. "The military officers are about leadership and organization so that was a big help to me that I drew on quite a bit in my experience (as athletic director). I think we were well organized in our approach with good leadership qualities. I also had a real interest in overall sports programs. I played basketball in college and liked the sport and liked any sport. But I learned to appreciate women's sports. I think that was challenging because right when I became AD we had the challenge of Title IX and I think our approach by involving people, we got ahead a little bit on women's sports. I remember sitting down with Liz Murphey and at that time we didn't know what the interpretation of Title IX meant but we approached it this way: We're not sure what it means but one thing I do know is fairness. So every male sport, whatever we did for a male sport the goal was to have the same thing for the female sport … basketball, tennis, track, whatever it was, we tried to have both male and female sports on an equal basis."

Should There Be Statues for Herschel, Trippi, and Sinkwich on Campus
All Georgia football fans have surely seen the statue of Coach Dooley, located on South Campus just off Lumpkin Street and right down from the Butts-Mehre Building. It depicts two Bulldog players carrying the coach off the field after a big victory.
"That sculpture was taken from a photograph after the Georgia Tech game in 1980," Dooley pointed out, "which was the last home game before the national championship game. But a lot of people used the picture as a photograph and for the sculpture because it was Jeff Harper and Tim Morrison, two big linemen, who were carrying me off the field. That game was when Herschel broke the (NCAA) freshman record for rushing."

Dooley doesn't think his statue should be the only one on the Georgia campus.
"Herschel certainly deserves to have a statue but there are others who were great players as well … not as current as Herschel," he said. "Charley Trippi was one of the greatest all-around players, ever, and Frank Sinkwich was also a Heisman Trophy winner like Herschel. So I mention those two as being extraordinary along with Herschel and it would certainly be a great tribute to have their statues on campus."

First Team in 1964 One of Dooley's All-Time Favorites
It's not easy for Dooley to call just one team his favorite, in his 25 years of pacing the Georgia sidelines. But that first Bulldog team he mentored in 1964 has to be thrown in the hat with his powerful championship editions that followed. After three consecutive losing seasons at Georgia, those Dawgs compiled a 7-3-1 record including a 7-0 win over state rival Georgia Tech and also a 7-0 win over Texas Tech in the Sun Bowl.
"There's no question, those guys had gone through a tough time … the juniors on that ballclub," he said. "And they were hungry and I always felt like they were aggressive. But maybe they were not as organized as they ought to have been so we gave them a little organization and some support and some coaching. And they played hard, they were a reckless group. And we jumped ahead a little bit I thought on some people because while we did not go completely to two-platoon football, each year the rules committee was opening the substitution rule more toward that. So what that enabled us to do we saw we could play specialized football 80 percent of the time. So we had an offensive team we worked 80 percent on offense and 20 percent on defense. And we had a defensive team we worked 80 percent on defense and 20 percent on offense in case they got caught in there. And as it turned out I think we jumped on some teams early and it really helped us and we became really a good team toward the end of that first year. Again, with that group of hungry players and then being able to specialize at least 80 percent of the time.
"Somehow, someway, of course, the 1980 team won them all," said Dooley. "They just found a way to do it. But we had other teams that were extremely good and other teams that maximized their potential. I think the 1975 team was an example of it. That's when we kind of got into the Junkyard Dogs and while they didn't win the championship, they actually beat Florida, Auburn and Georgia Tech in a row and usually if you did that, you won a championship. And they did that. So they were certainly a favorite team. The '71 team was one that was 11-1 and went to the Gator Bowl. That year we kind of helped (Auburn's) Pat Sullivan become the Heisman Trophy winner. We were all over Sullivan (in 35-20 loss with both teams being unbeaten at the time) and he was throwing off his back foot and they made some great plays and it was a game we lost but outside of that, the team won 11 football games. They were a favorite.
"But all of them were special to start with because they were all the ones you coached," Dooley said. "And like I say, some of them that maximized their potential didn't win a championship but they were awfully good."

Size of Players Today and More Great Athletes
Dooley's starting offensive tackles on his 1964 Georgia team were Ray Rissmiller and Jim Wilson, who were listed at 225 and 245 pounds, respectively. In Georgia's 2019 offensive line all five starters tip the scales at well over 300 pounds … or roughly 100 pounds each more than Rissmiller and Wilson weighed 55 years ago.
Dooley marvels at the size of college football players today but notes that players getting much larger has been a pattern since the game was invented.
"You could almost go back another generation because you could take the 1929 and '30 Georgia teams and compare them to the size of our first teams and they would be a lot smaller," he said. "You take that 1929 team that played Yale and look at their weights compared to our team and, even more so now… but the question is, how much more are they going to weigh?
"But there's no question that there are more athletes that are skilled than ever before. And they're bigger and stronger and coaches are more sophisticated because of the study of offense and defense in order to measure up to the offenses and their skills. The skills in the passing game and receiving, the athletes that we have, it's so much better than it's ever been. The same way with defensive backs. So it's a much better game in that respect because there's more great athletes. I don't think any particular athlete is better than some of the great ones in the past but there's just more of them."

"On Paper, It's Kirby's Best Team"
Vince Dooley has nothing but praise for the coaching job Kirby Smart has rendered in his four short years at Georgia.
"I think it's a tribute to Kirby, first of all, for him in a short period of time to build to a point of consistently competing at the highest level," said Dooley. "At Alabama, (Nick) Saban has been the one coach that every year has competed at the highest level because, every year, his recruiting has been at the highest level. And if you take Kirby, every thought and decision that he has is based on recruiting. I've never seen anybody quite like that. And as a result of that in the first three years, he's had a second place, a first place and a third place (in national recruiting ratings) and even in his fourth year right now I think it looks like he's going to be a top-four again … four years in a row!
"Because of that, I think this team, on paper, is potentially his best football team. But not only this year, I think it's going to continue consistently competing at the highest level. I don't see any real downturns. We had some downturns," Dooley said. "Ours never did get too low, we always fought back. But I think Kirby, based on recruiting and what he's done, has the potential to compete every year at the highest level. And I think this is his best team on paper."
Vince Dooley, not only a great football coach and athletic director, but also a man of great class through the years. Since Wednesday of this week is the coach's 87th birthday, he will be getting quite the present on Saturday afternoon when Sanford Stadium's title will also include Vince Dooley Field … again, an honor long overdue!