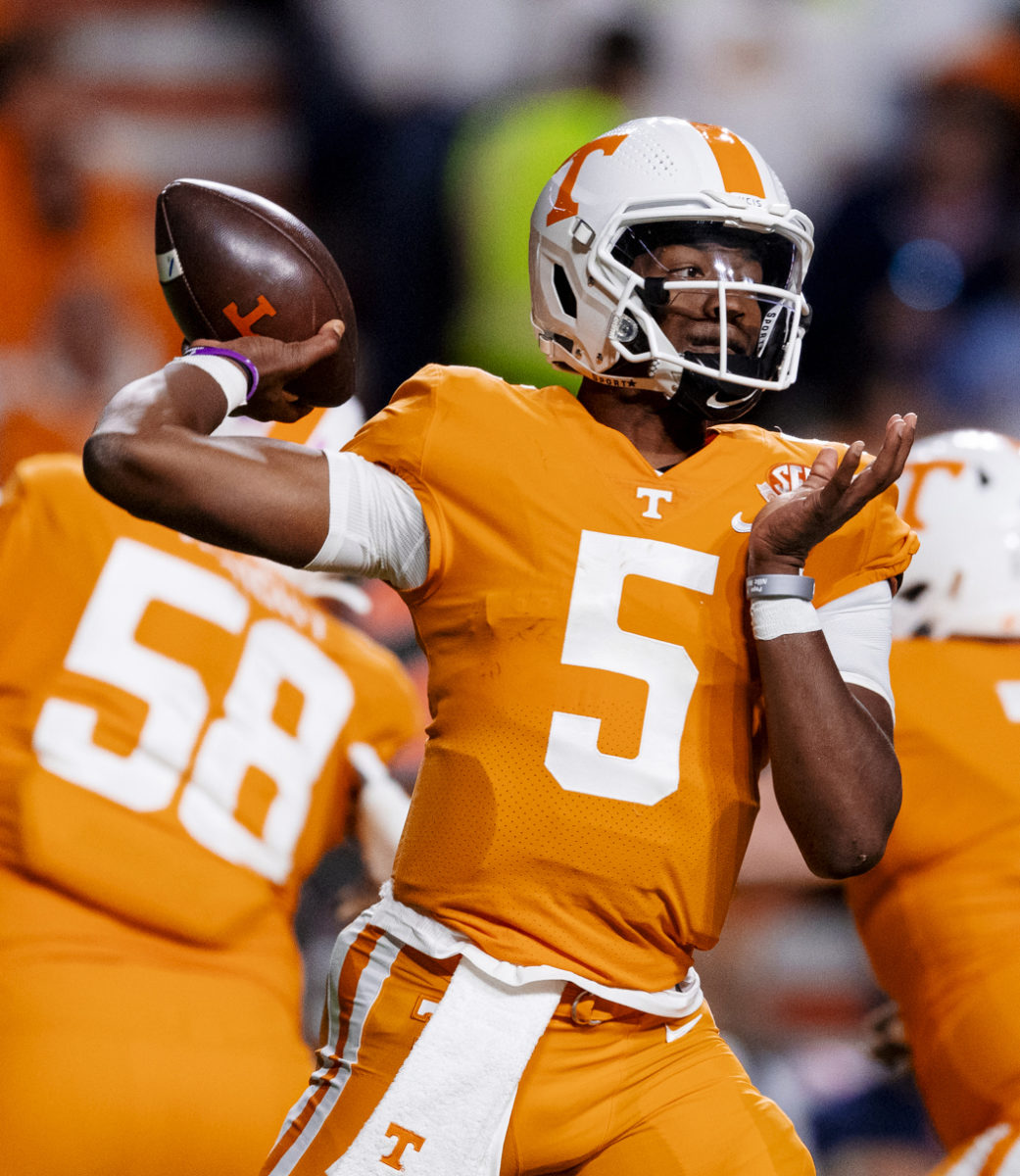 HENDON HOOKER (QB #5) – It finally seems that the Vols have found a solid quarterback. Hooker did not begin the season as the Vols' starter, but has played in all nine games. He's seventh in the SEC in passing yards with 1,894 this year. That does not tell the whole story because he has over 500 rushing yards, making him a true dual threat quarterback. He has 21 touchdowns to just two interceptions. Stopping the quarterback run was a problem for Georgia against Missouri. The Dawgs will need to tighten up to face Hooker and the Tennessee offense.
TIYON EVANS (RB #8) – Evans missed most of the Vols' win over Kentucky with a reported ankle injury, so his status against Georgia is up in the air. However, when he has been healthy this season, he has been an X-factor for Tennessee. Evans has 525 rushing yards on the year with six touchdowns to add as well. He also has big-play ability with a 92-yard touchdown run this year. Georgia's run defense is as good as you will find; it will be tough for Evans.
VELUS JONES JR. (WR #1) – Jones is the Vols leading receiver with 553 yards this season. He also led them with five catches for 100 yards and a touchdown against Kentucky. Georgia's defense has limited some of the best receivers in the SEC like Arkansas' Treylon Burks and Kentucky's Wan'Dale Robinson. Jones will have to be active down the field for Tennessee to be successful on Saturday against Georgia.
CADE MAYS (OL #68) – Mays is a former five-star that most Georgia fans know very well. He played his first two collegiate seasons before heading back to his hometown of Knoxville and transferring to Tennessee. He now plays with his brother at UT, where his father also played. There is no bad blood for Mays in Athens, but his departure was a bit odd. He will probably be jacked up to face his old teammates, but it will also be a very tough challenge for the Vols' offensive line.
JEREMY BANKS (LB #33) – Banks has been arguably Tennessee's best player on defense this year. He has a team-high 74 tackles, which is tied for third-best in the conference. Georgia has been very-well balanced this year between running and passing so Banks will need to stay patient to contain the Dawgs.
JAYLEN McCOLLOUGH (DB #22) – McCollough is the Vols leader in interceptions with three this year. Stetson Bennett and JT Daniels have done a sufficient job of not turning the ball over this year, so that could be a storyline to watch.