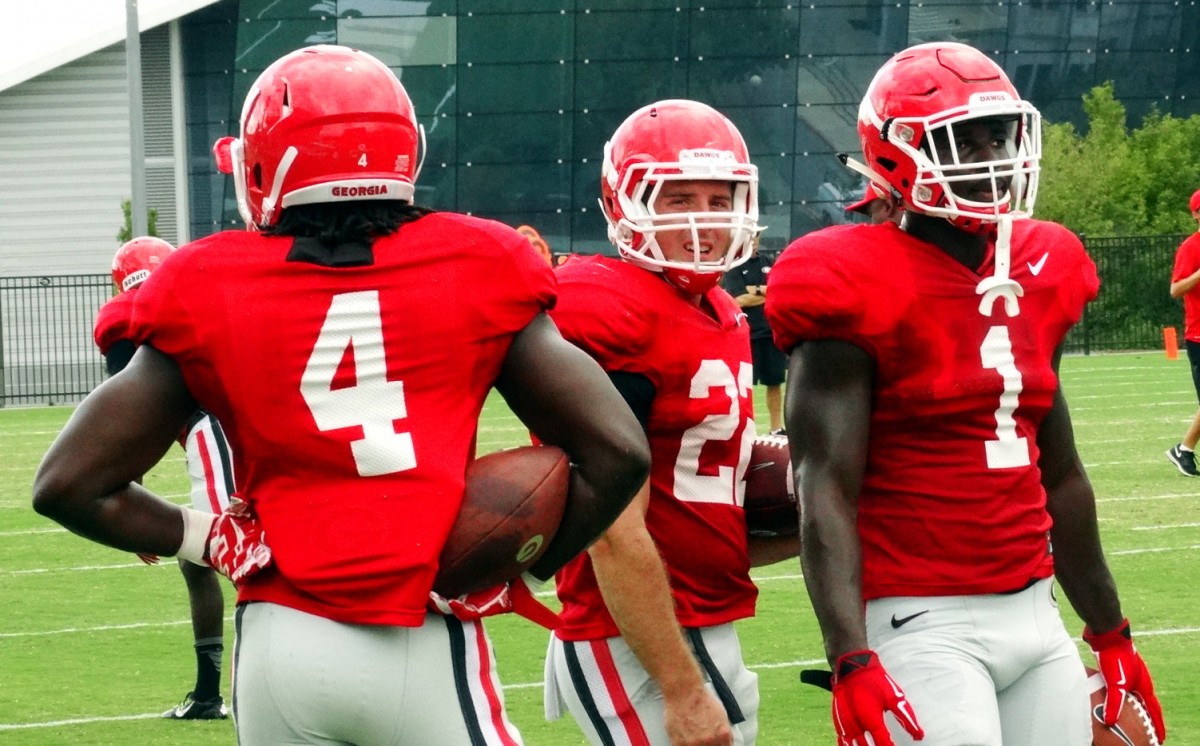 [su_spacer size="20″] With the third scrimmage of UGA's Fall Camp 2015, Head Coach Mark Richt discusses the running back depth chart as it stands now going into next to prepare for the Dawgs opening match-up versus the ULM Warhawks on September 5th.
[su_spacer size="20″]
[su_spacer size="40″]
Nick would get the most … Sony would probably get the next most … Keith and Brendan have both played very well. I think they both have earned the right to be the third guy. Keith as of right now would be the third guy and Brendan the fourth.
[su_spacer size="40″] Of course, no matter how good a team's running backs are, the backbone of a good running game is a consistently good offensive line which will open up gaps, holes, and lanes for those backs. Coach Mark Richt takes a moment in the presser to address where the offensive line is and specifically talks about how much the number two offensive linemen have improved since the beginning of fall practice and the first two scrimmages.
[su_spacer size="40″]
Of all the units, the two line was the one that scared me the most, but they have probably improved the most.
[su_spacer size="40″] It is comforting to hear that the number two o-line guys have made strides during fall camp. The coaching staff as well as fans and media knew that the number one unit was a good, solid group, but there are and were questions regarding the o-linemen behind the starters. While talented, they are a young and inexperienced group.
[su_spacer size="40″] Unless things change over the weekend and during next week's practices for the up-and-coming ULM game, based on Richt's statements in the post-scrimmage presser, the running back depth chart is as follows:
[su_spacer size="40″] 1. Nick Chubb
2. Sony Michel
3. Keith Marshall
4. Brendan Douglas
[su_spacer size="40″] We can only assume that redshirt sophomore A.J. Turman and true freshman Tae Crowder are 5th and 6th currently on the depth chart at this current time.
[su_spacer size="40″]
MArk Richt: Tailback Pecking Order
[su_spacer size="40″]