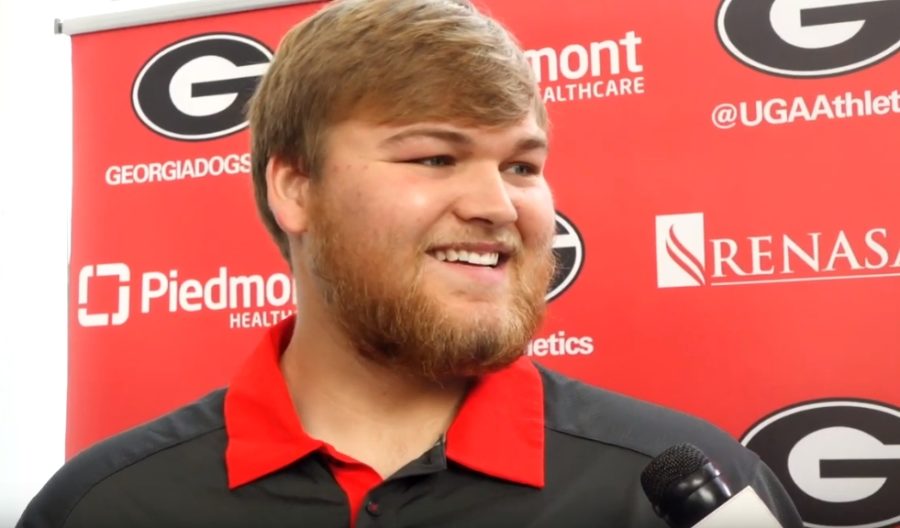 On Monday, the Bulldogs put the previous nine games in the review mirror and turn their attention to this weekend's upcoming one versus Auburn. This will be offensive lineman Cade Mays' first trip to Jordan-Hare Stadium, but the sophomore understands the significance of the rivalry.
"It's a really big matchup. It's the oldest rivalry, so it's definitely a big game," said Mays in Monday's interview. "We really just have to come out and play hard."
When asked if he had talked to any of his teammates who have played Auburn at Jordan-Hare, Mays said: "Absolutely. I've heard that it's a crazy atmosphere. I've heard it may be the best in the country."
And Mays and the rest of the Georgia offensive line will have their hands full with Auburn's defensive line which features an athletic 6-foot-5 and 318 lbs Derrick Brown who has 37 tackles, 8 for a loss, and 4 sacks. The Bulldogs head coach, Kirby Smart, commented on Brown during Monday's Noon press conference.
"Derrick (Brown) is an extremely good athlete. I mean, first of all, when you put athleticism in a person's body that is that size, I mean, he was a great basketball player. He's a great athlete," said Kirby. "You can see him when he gets — he has ball skills. He gets interceptions. He gets fumbles. He's around the ball, and he's explosive. You got that kind of twitch and you're as big as he is, it's hard to block, and he's been a very disruptive player in this league for a long time."
Marlon Davidson is another senior on the Tigers' d-line. Like Brown, he has been a force this season getting in the backfield and causing mayhem. Davidson has 34 tackles on the year so far, 9 of them for a loss, and 5.5 sacks.
When Mays was asked about the veterans on Auburn's defensive front, specifically Brown and Davidson, he stated that being in the SEC, the Dawgs face great opponents every week.
"Every week in the SEC, you know you're going to draw a great opponent if they're playing in the SEC. We see great opponents week-to-week," said Mays. And every team brings something different to the table."
But Mays did acknowledge the challenge that Brown and Davidson present for the o-line given not only their talent but experience as well.
"Brown and Davis are big, physical, hard-nosed football players," said Mays. "They're very experienced veterans, so they've played a lot of ball."
Mays added, "Definitely a great player (Derrick Brown), but for me, you know, no matter who is lined across me front me, I just try to focus on my technique, my assignment, and just try to get it done."