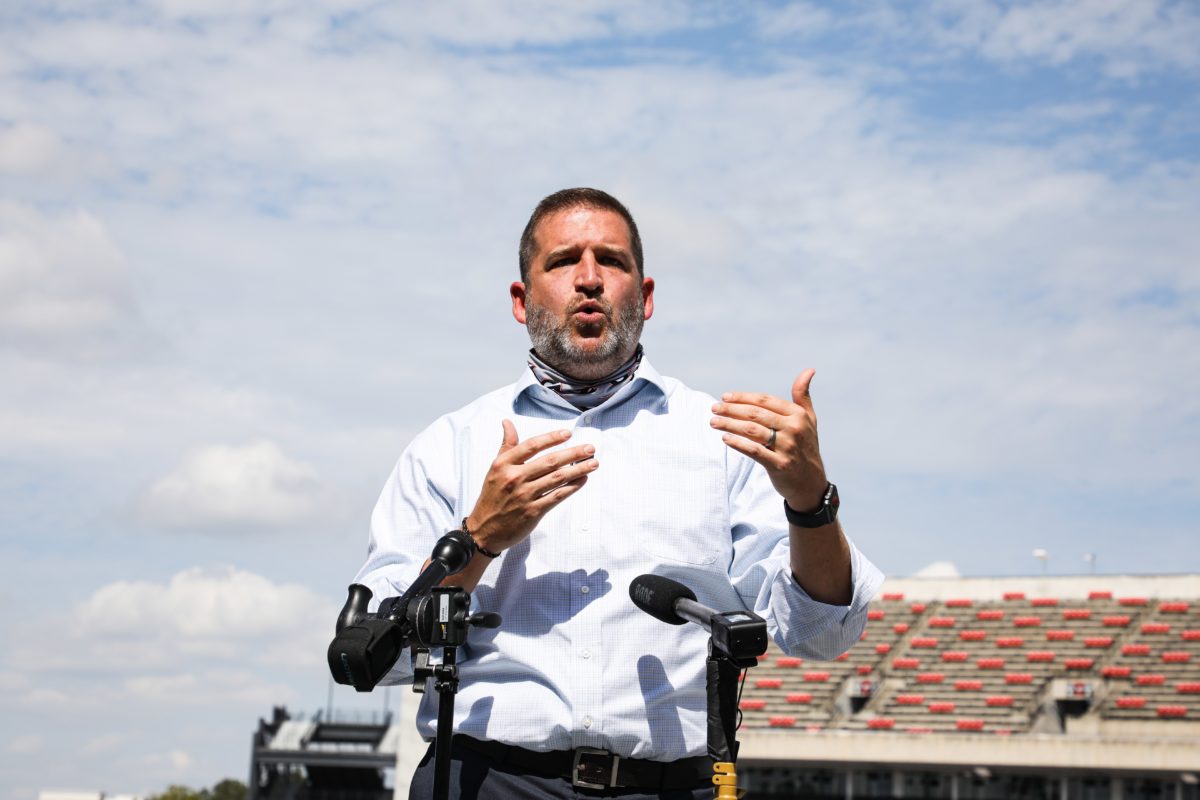 2021 began with big news for Georgia athletics as Josh Brooks took over the reins as the J. Reid Parker Director of Athletics. Beginning in 2008, Brooks started at Georgia as the Director of Football Operations until 2011 when he was named Associate AD. Following his first stint at Georgia, in 2014, Brooks went to Millsaps College where he served as their AD for a year, and he continued his journey at Louisiana-Monroe as the Deputy AD for another until finally returning to Georgia. In December 2016, Brooks rejoined the UGA staff as Executive Associate AD. Two years later in May 2018, he was named Deputy AD, and in January 2020, he was promoted to Senior Deputy AD. After Greg McGarity resigned from the position at the end of 2020, Brooks took over as the Interim AD, and on January 6, 2021, he was named the 12th AD at UGA. Without further adieu, to begin the 2021 season here in Athens with a little taste of spring upon us, this is Josh Brooks, Athletic Director at the University of Georgia.
On surprises of the AD job…
I have been at Georgia for 11 years of my career, and I know the passion, the love, and the support; however, after meeting one on one with donors and fans more often, the new love and support that I have now been exposed to has taken me back. It has humbled me, and it is an honor to serve in this role knowing how many people love this university, this athletic department, and our student-athletes.
On the biggest challenges of Covid-19…
It is hard to pick on one thing. Our biggest priority, what we take the most seriously, and our biggest challenge is the safety and health of our student-athletes. We have families who are trusting us to take care of their sons and daughters, and maintaining that trust by keeping these young men and women healthy has always been our number one focus, especially throughout this pandemic. Right now, it is not just the virus we are keeping them safe from; it is the effects of the virus: their mental state, their ability to train, and everything else that ties into the pandemic. College is a tough time, so making sure these student-athletes are both physically and mentally healthy will always be our greatest focus.
On being the youngest AD in the SEC…
I have not given it too much thought. I have been in this industry for twenty-plus years, and I don't really feel like I am the new guy in the league or the young guy in that regard. I think about my job, the task at hand for me, and how I can make this university better.
On the negative aspect of social media that can affect an athletic department…
From my standpoint, I think if we promote the good things about the University of Georgia, then the good things will be published and focused upon. I can't worry about the negative stories and opinions that will be told. Those negativities may get more attention, but in my role, if we promote the victories, student-athletes achieving accolades on the field, in the classroom, or in the community, then people will understand how many great things are really going on in our program.
Favorite sports movie…
Brian's Song. Not the remake but the original. It has to be the original.
Favorite quote…
There are a few that I go between, but one I always tell my children and have even carried through my career is "Give others the grace that you want and you need." I tell my kids, 'we always need that grace when we mess up, but are we willing to show that grace when someone else messes up?'
On sometimes being labelled a football school…
It is definitely a challenge to not be labelled as that because our other athletes are so talented at what they do. Whether it is hitting a baseball or softball, riding a horse, serving a tennis ball, or anything else, our athletes are some of the best in the country. In my position, it is my job to promote that and help people understand that these student-athletes at UGA are some of the best at what they do in the entire country.
Athens and UGA in a few words…
The best description I have heard is that 'It is all here!' It is everything you want in a college town.
On the upcoming Top Golf event in Sanford Stadium along with other fan experiences…
Top Golf has recently travelled the country and set up ranges at different venues. For us, we will set up in the West End Zone, and the fans will hit into the stadium. With the way it is set up, we think that Sanford could be one of the best venues they have set up at, and it is another great way to utilize our stadium. For other fan experiences, we are hoping to book some concerts like we had in 2013. That was a huge success with great support from the fan base, and we really would like to do something like that again.
Predictions for the 2021 season…
I never focus on the predictions; I focus on the process. I let the predictions and the results speak for themselves. The process is what makes those happen.