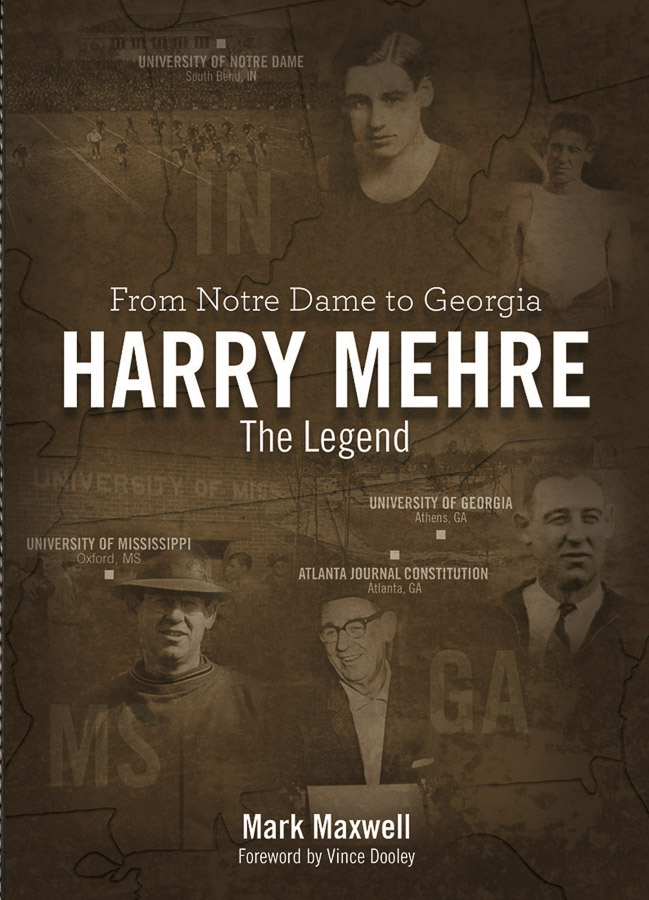 Recalling coaching legends of the past is always memorable, and the new book, "From Notre Dame to Georgia HARRY MEHRE The Legend," captures the essence of the former Notre Dame, Ole Miss and Georgia coach.


While today's world, at least for the most part, doesn't care much for the past, it is always good to reminisce about the way it was—particularly when lore showcases the colorful legends of college football.
It is refreshing to hear those in the mainstream who hark back to the past as with Kirby Smart who reminds everybody that his teams are enjoying a rich tradition which was brought about by those who came before him. More times than I could count, I have heard someone at another school talk about a new coach on the scene, saying, "He thinks football started at our campus when he arrived."
Sage wisdom is in short supply today. Colorful coaches are, in most cases, only for historians and writers with a nostalgic bent. I came along when the big names were Bud Wilkinson, Duffy Daugherty, Wallace Butts, Frank Howard, Peahead Walker, Darrell Royal and John McKay.
They always had something clever to say or in the case of Wilkinson spoke with such eloquence and simplicity, you understood that they were all effective teachers and the biggest winners were those who could get their point across the easiest. I could tell you a story about all of the above and have a collection of vignettes which would fill a book. Maybe I will get around to writing about them one of these days.
It was Duffy Daugherty who once said, "Football is not a contact sport. Dancing is a contact sport." When John McKay left the USC Trojans to take over the expansion Tampa Bay Bucs, he dealt with the misery of defeat for the first time in an ultra-successful career.
After a day in which both his offense and defense failed miserably, he met the press with nothing much to say. The first question was, "What do you think about the execution of your team?" McKay responded, not so much in jest: "I'm for it."
If all the stories told about Frank Howard and by the colorful Clemson coach were organized for print, there would be several volumes. My head is chockfull of memories from conversations with him and with many of his former players and coaches.
He was so entertaining that I have about a half dozen favorites, from which a No. 1 could hardly be determined. This one would get the highest of marks. Virginia and Clemson began playing in the mid-fifties and it wasn't until 1990 that the Cavaliers were finally able to defeat the Tigers.
One Saturday in the mid-sixties after pre-game warm-ups, the team repaired to the dressing room when Howard summoned his assistant head coach, Don Wade, and said, "Bout time for me to give 'em a pep talk ain't it buddy?" With that, Wade got the team settled down from their pre-game chatter and with rapt attention heard Coach Howard remind them that "Virginia ain't ever beat us, 'cause they don't like it tough." He pounded his right fist into his left palm for emphasis and continued.
"Fasten your chin strap and show'em who's boss from the first snap. Virginia don't like it tough." As he underscored the "Virginia don't like it tough" theme, Wade is sidling up to where Coach Howard was pontificating and whispered, "Coach we are playing Wake Forest." With that, Coach Howard yelled, "Well hell, Wake Forest don't like it tough either."
The first colorful coach I knew was Georgia's Butts. About the same time I became acquainted with his predecessor, once removed, Harry Mehre. Coach Mehre was clever, but he also had sage wit, which resulted from his affiliation with countless luminaries including his coach Knute Rockne at Notre Dame and the Four Horseman.
A sought-after banquet speaker, he once summoned me pre-game in the old Sanford Stadium press box after Vince Dooley had become Georgia's coach. "Listen," Mehre said," as he cupped a hand to his ear. "They still remember the ole coach. Hear that, Coach Mehre, Coach Mehre." It took a minute for me to realize it was the carrier boys, shouting out, "Cokes here, Cokes here."
Mark Maxwell, in association with Coach Mehre's granddaughter, Mary Ann Mehre, has produced a book about Coach Mehre, titled, "From Notre Dame to Georgia HARRY MEHRE The Legend."
A Bulldog letterman of distinction, Trav Paine, served as an advisor and consultant. The book, printed by Neil Deedy, covers Mehre's years at Notre Dame, Georgia and Ole Miss. Vince Dooley, who was a Mehre favorite, wrote the foreword. With QR codes, Coach Mehre's caustic voice comes to life.
"Mary Ann is pleased with Mark's determination to get the book completed, and she is excited about the book coming to market, Paine said. "I think readers will appreciate its content and organization."
Maxwell, who manages the video archives for the Georgia Athletic Association has collected audio and video tapes from the past and is digitizing everything for the UGA archives (available via the UGA Vault app). His work will be invaluable for Bulldog history enthusiasts. In the process, Maxwell, who produces video highlights for the Touchdown Club of Athens for its flashback series, has become a passionate historian.
Those with a historical bent will refer to some classic Mehre material, such as "The Football Review." Ole timers will enjoy recalling the Sunday Show, hosted by Furman Bisher, sports editor of the Atlanta Journal, with a panel of AJC sportswriters, which included Coach Mehre who could always put things in perspective. "Coach Mehre," says Jim Minter, former Atlanta Journal Executive Sports Editor, "could hit the nail on the head better than anybody."
The publishing of this book, which includes some of the ole coach's spicy columns, brings about a brush with melancholy. In his final days Coach Mehre, by choice, became a shut-in, but I was able to talk to him and had arranged to bring a film camera by his house in Atlanta to record his reflections on his career.
The day before our scheduled interview, he passed away.