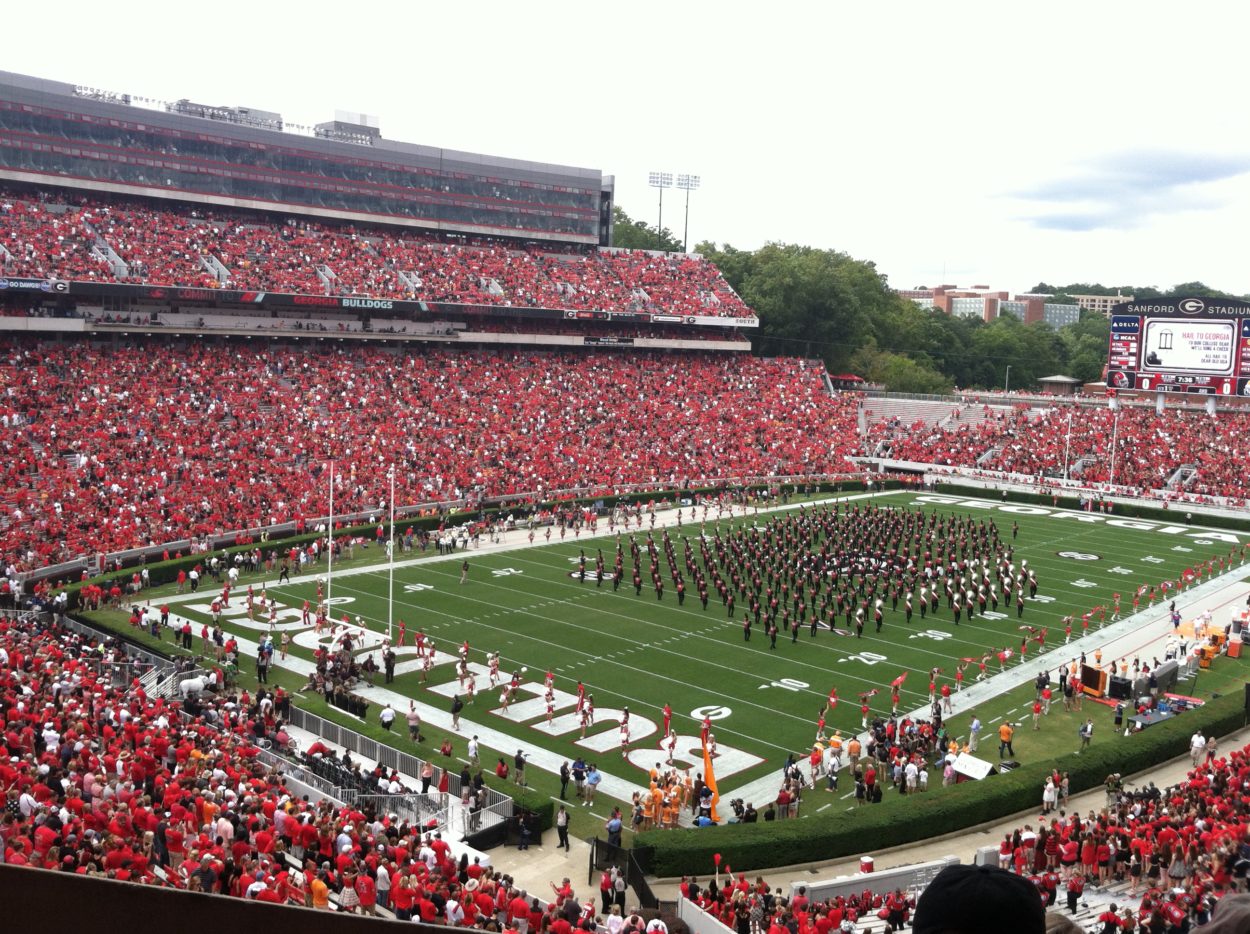 Here are a few new things the Bulldog Nation can look forward to when attending games 'tween the hedges this season.
>  HAS THE STADIUM RESTROOM PROJECT STARTED LAST YEAR EXPANDED?
Yes, the second phase of the multi-stage project to renovate stadium restrooms will be complete. In 2015, the 100 Level restrooms on the East, South and West sides received new fixtures and amenities. For 2016, this project renovated the restrooms on the South side of the 300 Level. The other phases of the project will be completed over the upcoming seasons.
>   ANY CHANGES WITH THE CONCESSIONS STANDS THIS YEAR?
A number of enhancements have been made for the upcoming season, with the goal of making concession transactions occur as quickly as possible.
The following changes have been to ALL concessions stands at Sanford Stadium:
No longer offering free refills on beverages and popcorn
Streamlined all menus
Concessions pricing on all items has been rounded off to the dollar (.00)
VISA, Mastercard, Discover and American Express are accepted at all concessions stands
The following changes have been made to the concessions stands on the 100 Level:
South Side 100 Level
Adding 60+ hawkers (vendors) and at least 20+ exclusively on the South Side 100 Level to push out items such as beverages and snacks. These additional hawkers will increase our total to over 150 throughout the stadium.
Chick-fil-A portable stand with sandwiches & bottle drinks will now be located at the top of Section 137
The following "concept stands" have been added to the concessions lineup:
Gate 6 Plaza — Papa John's Pizza
Section 139 — Subway
Line formers (stanchions) will be experimented with at selected stands in Reed Plaza and Gate 6 Plaza during the home opener vs. Nicholls
The following changes have been made to the concessions stands on the 200 & 300 Levels:
All screens have been removed and replaced with roll down windows
300 Level Gate 7 Plaza — adding a "Grab-n-Go Super Portable"
Fans will be able to serve themselves by grabbing items they want and proceeding to the first available register
Items available will include Chick-fil-A, Subway, Papa John's, Sonny's BBQ sandwiches, packaged snacks and bottle drinks
>  THOSE EARLY SEASON GAMES CAN BE HOT. IS THERE ANY PLACE INSIDE THE STADIUM WE CAN COOL OFF?
Misting tents will be available for fans at Gates 7, 10 and Reed Plaza at the following home games:
September 10 vs. Nicholls
October 1 vs. Tennessee
>  I DON'T WANT TO CARRY MY OWN SEAT CUSHION TO THE GAME. CAN I STILL RENT ONE FROM THE STADIUM?
Stadium seatbacks will be available for lease as a full season package for $60. On gamedays only and subject to availability, seatbacks can be leased for $10 on a single game basis.
Returning for the 2016 season is the MVP Seatback available for all seats located in the Club Level sections of Sanford Stadium.
Season packages can be ordered www.ugabulldogseats.com or by calling 1-866-910-9293.
On gamedays, fans wanting to lease seatbacks for a single game or season and needing assistance with their seatbacks, can visit any of the customer service locations at Gates 2, 6, 7 and 9.
>  I FORGOT MY HAT. WHERE CAN I BUY ONE AT THE STADIUM?
Sanford Shops will feature officially licensed merchandise and be located near Gate 7 and throughout Reed Plaza. An additional stand will be located outside the stadium on Sanford Drive Bridge and will be open pregame and postgame.
>  IF SOMEONE IN OUR GROUP GETS SEPARATED FROM THE REST, HOW CAN THEY FIND US?
You can always use one of the many CSC stadium staff or law enforcement officers inside the stadium to help locate lost guests. New this year, all patrons will have the capability to register themselves, children or other guest for the Tag-A-Fan program. Located at all in-stadium Bulldog Information Stations (located at Gates 2, 4, 6, 7 and 9), the guest will receive a wristband with space available to write their name, seat location and contact information. If the guest becomes lost, the wristband will give an event staff employee or police officer the necessary information to escort the guest back to his/her seat.
>  IF I NEED SOME HELP AT THE STADIUM, HOW CAN I FIND SOMEONE?
Law enforcement and CSC staff will be on hand inside the stadium to answer questions and handle any concerns. Distinctive Stadium Response Teams will be pairs of CSC staff roaming the stadium and will be visible by their green and black uniform. If at any time you need assistance, please find the nearest CSC staff member.
You can also text your question or issue to the stadium's Command Post. Simply text "DAWGS <space> the issue and location of incident" to 69050. Please note that standard SMS rates apply.
I'm a UGA student and have to use my UGAID to enter the stadium. How do I know where to go in the stadium or sit to watch the game?
In 2015, changes were implemented for student ticket entry into the stadium, and the Athletic Association will use these policies again for 2016. Stadium staff will be enforcing student ticket only entry to Gate 1 and Gate 3. General tickets will be accepted at select lines of Gate 4A.
UGA Students using their UGA ID for entry into the game must enter a specific student gate to sit in one of the general areas allotted for student seating.
Enter Gate 1 to sit in Sections 138-143, the West Endzone under the videoboard
Enter Gate 3 to sit in Sections 109-114, near the Redcoat Band
Enter Gate 4A to sit in Sections 307-313
>  I JUST GOT TO ATHENS AND MY NORMAL PARKING LOT IS FULL. HOW CAN I FIND OUT WHERE TO PARK?
To better answer questions of our guests on gameday, you can call our parking helpline to get information related to campus parking lots. The operator will not be able to help with selling of open spaces or questions related to Hartman Fund allocations. But the operator will assist with items such as, directions, public handicap lot availability, the East Campus game day shuttle and other gameday information.
The operator will be available on gameday ONLY and can be reached by phone at: 706-425-3052.