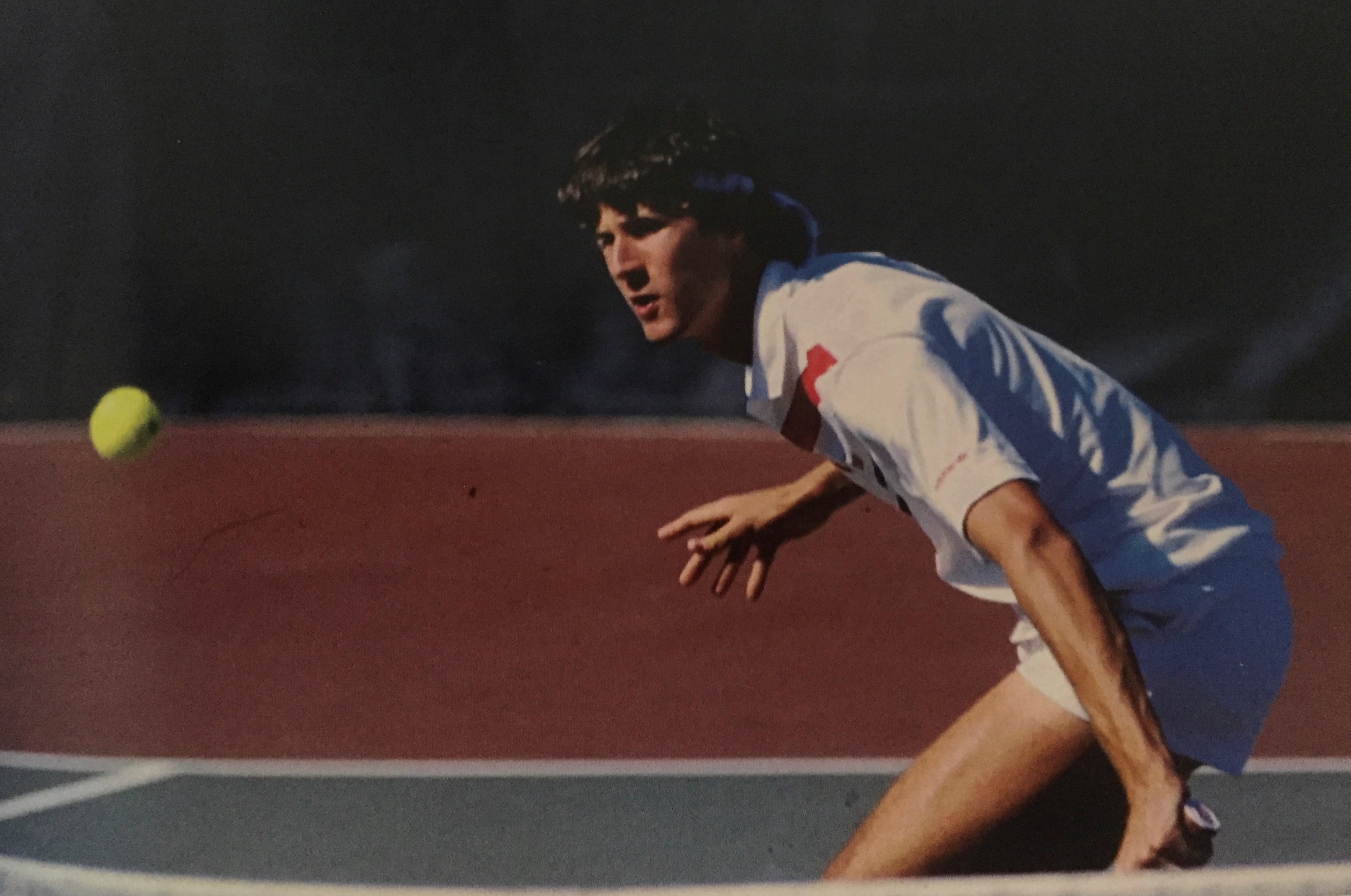 Allen "Ace" Miller is one of the greatest past University of Georgia athletes and current Bulldog fans. He is the ultimate ace in tennis and the ultimate traveler when it comes to Georgia football. The man, the myth, and the legend himself, Allen Miller, was the 1983 NCAA doubles champion alongside Ola Malmqvist. In 1985, he helped carry the Men's tennis team to their first national title over UCLA (5-1) playing the Number 3 singles and Number 1 doubles positions. Allen is now in the Intercollegiate Tennis Association Men's Hall of Fame. The accomplished athlete is a dear friend of mine now, and I cannot tell you how excited I am to have this interview under my belt. Thank you Ace!
A tennis beginning
"Open tennis started back in 1968, so the tennis boom started shortly thereafter," said Ace. "My parents went out and bought racquets and got me one. Then, I really started learning when I was eight, so that was about 1971."
Was UGA the dream?
"Georgia was certainly my dream growing up. I grew up going to all of the home football games," stated Ace. Moving onto his recruiting trail, he said, "I was recruited by a couple of other schools too, and quite frankly, they offered a little more scholarship money than here. Somebody dear and close to me talked some sense into me, so I came here."
Coach Dan Magill in one word
"That is almost impossible to describe him in one word," struggling to find the word that fit Coach Magill, a list sufficed. Ace continued, "Humor, competitive, and loyal. Those are the three best. He was a very competitive person; he had a great sense of humor; and he was incredibly loyal to his school, his country, and his players."
Sweetest victory in 1985 tournament
There was a blockade separating the Georgia tennis program from a national title, and it was the California trio. Southern California, Stanford, and UCLA were three universities that kept Georgia on the outside looking in. In the '85 tournament, in front of the home crowd, Georgia finally overcame the adversity beating Stanford in the quarterfinals, USC in the semis, and UCLA in the finals. "The final was obviously the best one. We had been knocking on the door a couple of times," claimed Ace. "We had beaten those teams individually but not in a row."
Home crowd in '85
"We'd seen big crowds. When we had individual tournaments with guys like [John] McEnroe, those crowds were really big." Ace continued, "I think, for sure, with us being in the finals, that crowd was the biggest to date. The atmosphere was really electric. To me, it just makes it a ton of fun!"
Ultimate doubles partner
"I had two great ones [Ola Malmqvist and Mikael Pernfors]. There is no way you're going to trap me into saying who's better," said Ace. "They were different in so many ways except they were both Swedish. Played differently, and one was tall, one was short. They were both tremendous doubles partners, and I was very fortunate to be paired with both of them."
Toughest opponent
Ace claimed, "The team that we could never beat, that was just so good, was the doubles pair from Auburn, Bud Cox and Dan Cassidy. They just owned us. We were not very successful against them."
The story of "Ace"
"It actually came after college. I was playing, what you would basically call the minor leagues of tennis, a circuit in Richmond [Virginia]. I was playing in a qualifying round against this local Richmond guy. We were just chatting in a changeover, and he started calling me Ace. Wade McGuire, a great Georgia player, was at that tournament and made it sort of stick after he heard it. Then Wade McGuire brought it to Georgia."
Favorite football away game
After pondering the question, Ace said, "I guess I probably like the Auburn game the best on the road. I don't know why, but I do." After I remarked that it is a sweet victory when we beat them on the Plains, Ace stated, "It is a great place. I like the fun of going places when you're in the minority. It is a beautiful town, and it reminds you a lot of Athens in many ways. To me, Georgia Tech and Auburn are among our top rivals, so that is my most treasured place to go on the road."
Best Georgia victory
"Very easy, Rose Bowl! Great experience!"
2018-19 Georgia Tennis
"I really haven't been able to see them play much in the fall. I think that we are going to be a little bit better than last year. We've got some of the same players but with more experience. We just had some bad breaks, and sometimes seasons just get away from you, which is what I think happened last year. I am sure we will bounce back and compete this year."
Georgia football?
"We just couldn't ever get a toehold against LSU, and they really played well. It's similar to Auburn last year. I am hoping the same thing happens, and it starts in Jacksonville," answered Ace. "I think you can have a great season if you win out. Everything is ahead of you, which I know is cliche. I think we can do that though. A little bit of inexperience is present on this team, so I think they probably grew up a lot in Baton Rouge."