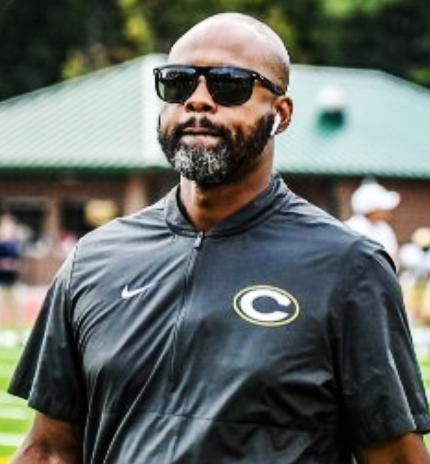 What a weekend for the Georgia people! A fantastic win for the Dawgs over arch nemesis Florida was a great cap to our trips down to the Golden Isles. I say this every week, but the people I keep interviewing get better every week; this week's feature was too kind to take time out of his schedule to speak with me, so I would like to thank Damien Gary for the unbelievable interview. Without further adieu, this is the punt return leader in Georgia history, 2002 SEC Champ, current offensive coordinator for the Clarke Central Gladiators, father, husband, and so much more, Damien Gary.
Why is Athens special to you?
This city raised me. I grew up in Rocksprings here in Athens, and coming from a rough area like that molded me into who I am today. Dealing with some of the struggles that are a part of living in that area, I learned how to persevere not only in academics and athletics but life in general. Then, attending one of the most historic high schools in the world – Clarke Central, and that experience added another few layers to who I am today. Coming to the University of Georgia following high school was just a cherry on top.
Your education
I went through what I like to call the Baxter St. education. I started at Alps Road Elementary, then Clarke Middle, then Clarke Central, and finally Georgia. I just moved right down Baxter St. for my whole education. The crazy thing is the differences between each part of my life. The resources offered and known to me at Georgia were so much more accessible, but growing up, those resources weren't always present or known. The demographics of the two communities vary, but I've enjoyed each stage of my life here in Athens.
Your role model
Before I knew I would become anything in athletics, I turned to my first coach, Charlie Dean. He was that figure to a lot of kids, but I knew I could turn to him in anything or at any point in my life. If I see him delivering in the UPS truck today throughout Athens, I always go out of my way to speak with him because he really was that special of a person to me.
Favorite Clarke Central moment
As strange as this sounds, I loved the Jekyll Island experience (football camp in August). When we were there, we did not want to be there; it was tough, but looking back on it, I appreciate it more and more. I don't know what Jekyll slang stories you have heard from Clarke Central alumni, but believe every single one you hear. It was hard. Now, when I talk to my old teammates, some of the fondest memories are the ones on that island where we bonded as a team.
Recruiting journey
When I realized that I was actually not a bad football player and that I could potentially go play at the next level, I always thought I would go to Florida State. That was my school, and I was going to go play in Tallahassee. They were my first recruiting letter, and I was like 'recruiting is over, I'm shutting it down.' More schools started reaching out, and I was getting a lot of attention from everyone. Then I got hurt, and some of those schools fell back, but Georgia turned up the intensity and made sure I did not leave Athens, and thank goodness they did.
Did you prefer special teams as a returner or offense as a receiver more at Georgia?
I think special teams came naturally to me. I loved catching the ball, and I loved offense, but I was a team player, and I knew there was only one ball. I can name trillions of guys on that offense who we could spread it out too, and if the ball needed to be in their hands on offense then I wanted them to have it. Like I said, there is only one ball and as a punt returner, I knew I would have to get the ball. I was the only one back there, and they had to kick it to me, so I loved special teams, and I thrived in it.
How did the coaching transition to Mark Richt affect you?
I think the guys who were there were afraid of the unknown. The staff that had been let go was the staff that recruited us, but once Coach Richt got here, that fear vanished, we bought in and played in some pretty historic games.
Favorite memory from 2002 SEC Championship season
It would have to be the Sugar Bowl. Going to New Orleans and our experience on and off the field in the city was unforgettable. We went on to beat Florida State, my first school of choice, so that made it all the sweeter."
What lessons did you learn as a college coach that you tell your players now at Clarke Central?
Those guys that have aspirations to play at the next level have to understand the work it takes to get there. There are a lot of kids going for a limited number of positions on the field. The recruiting world is crazy, so I tell them 'what separates you from the next person?' The next kid you're competing with to get the offer is talented too, so what separates you: the classroom, your work ethic, your behavior off the field. These coaches spend thousands of dollars on scholarships, so you have to show why you're worth their time and effort.
How do you coach knowing you are like a father figure to a lot of these kids?
You have to understand their situation off the field. Whether it's their family or their living situation, some of these kids' lives are not the ideal set up for them to succeed. My job is to be understanding but to also be fair and hard and let them know life isn't always fair. It is going to punch you in the mouth sometimes, but you gotta stand back up, and that is my job: to help them navigate the adversity in their lives.
How has the transition back to Athens been for your family?
My wife is from Athens, so her family is here, and she is happy to be back with them. It is really cool for my kids though. I get to watch them grow up in my hometown. It is especially awesome for my youngest and to see him grow up like I did. He is in elementary school, but he is already a die-hard Gladiator and die-hard Dawg. The transition has been great for all of us, and my entire family is so glad to be back in Athens.
Favorite sports movie
The Longest yard. I watched it with my son Jalen every night. We would fall asleep to that movie as our background noise. It never gets old.
Favorite quote
Nothing is impossible.
One person in the world you would love to have lunch with
LeBron James.
Predictions for Georgia and Clarke Central in 2021
I see championships in both their futures.