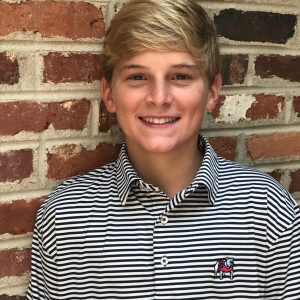 These awards honor the top talent in our beloved college football. I have celebrated college football's best athletes and position players for the past five years with The Hammys. This issue is always special to not only me but the entire Bulldog Nation. It's the bowl preview, and this was my start with the supporting family of Bulldawg Illustrated. Cheri and Vance along with many others have cared for me and nourished my young journalism career, and for that, I thank all readers and mentors who have helped me along the way. These awards are named after all interviewees from this season along with some mentors. This is my way of thanking them one final time for their time they spent with me. Without further ado, the 2018 Hammys:


Andy's Arm


The quarterbacks of this season have been nothing less than unbelievable. Heisman candidates across the nation are slinging the ball. From Will Grier at the helm of West Virginia to Dwayne Haskins and Ohio State, over to Kyler Murray with Oklahoma and Gardner Minshew leading Washington State, but taking the cake and the Hammy is none other than Alabama's Tua Tagovailoa. Struggling with Georgia in the SEC Championship and leaving the game with an apparent ankle injury did affect his Heisman status but, his Hammy status leaves him as the top QB. His numbers are unmatchable with 3,353 passing yards on 199 completions out of 294 attempts leaving him with an amazing 67.7% completion percentage. Need I say, he's thrown 37 touchdown passes with just four interceptions. Stats aside, everyone needs to understand he is a freak. Similar to our one and only Andy Johnson, Tua is breaking records and taking this Hammy.


Beau's Beast Back

Like a kid running towards the Lil' Ice Cream Dude's cart, unstoppable and hungry, Memphis' Darrell Henderson is running through college football as the best back in the nation. He's a beast! Racking up a whopping 1,909 rushing yards, this Heisman candidate is second to only Wisconsin's Jonathan Taylor in rushing yards this season and the winner of this Hammy.


Massaquoi's MIGHTY RECEIVER

Andy Isabella, tiny but mighty, and the winner of the greatest wide receiver in the 2018 college football season. Leading all of college football in receiving yards with 1,698, this 5'11, 190-pound senior for UMass is terrific. He is a monster on the field terrorizing secondaries just as Mohamed Massaquoi did years ago for the University of Georgia.


Kevin's Kicker

The kicking competition has been much like the quarterback competition, talent everywhere. No kicker has been better than LSU's Cole Tracy though. On 29 field goal attempts, he's nailed 25 of them, also making every single point after attempt (38-38). He's accounted for 113 points this season and drilled a long 54-yarder. Not as good as the great Kevin Butler's 60-yard kick, but he can have the Hammy.


Dantzler's Defensive Player
Entering this season, the two top players in all of college football were defensive end Nick Bosa and defensive tackle Ed Oliver. After an injury to Nick Bosa and leaving college football to focus on the draft, Ed Oliver would be the presumingly best defensive player, but Kentucky's senior linebacker Josh Allen came prancing into the race like Secretariat in the Kentucky Derby stealing this Hammy. This Wildcat has 14 sacks along with accumulating 18.5 tackles for a loss. My good friend Jeff Dantzler is all about defense, and Josh Allen is the epitome of an excellent defender.


Bateman's Big Man

Whether it's on offense or defense, everyone loves the big guy. I mean bigger is better. Well, Bama's defensive lineman Quinnen Williams is pretty much better than anyone who tries to block him. He's disrupting backfields by day and climbing in NFL mock drafts by night. This big, more like huge, guy weighs in at 6'4, 289-pound. He's terrifying with 66 total tackles, 18 tackles for a loss and eight sacks. He is a mass that is not guardable.


Coach Taylor's Tandem

Last year, this award went to the backfield tandem of Nick Chubb and Sony Michel. Their names might ring a bell; nonetheless, this terrific tandem award can go to any two athletes who support another teammate very well. Head coach of the Lady Dogs, Joni Taylor loves sharing the ball. No duo has done it better in college football than Gary Jennings Jr. and David Sills V. The West Virginia Mountaineers duo have combined for a total of 1,813 receiving yards on 115 receptions for 28 touchdowns.


Loran's Looks

A look that spread like wildfire across the nation, the specs! Our rockstar kicker, Rodrigo Blankenship has struck the nation with a noticeable look, and he is balling out on the field. His talent and looks earned him a segment on College Gameday, and the nation has coined a phrase that fits so well, "Respect the Specs!"


Roquan's Rookie

Roquan Smith leads the Chicago Bears defense with 81 tackles as a rookie, and yes, first year student-athletes in college are not called rookies but freshman. With this being said, this Hammy goes to freshman Rondale Moore. Throughout the season he has been an explosive freshman lighting up a high-powered Purdue offense. Accounting for 13 touchdowns (12 receiving and 1 rushing), Rondale Moore is the leading receiver on this Boilermaker squad and ranked 10th nationally with 1,164 receiving yards.


Sony's Stellar Play

A play that will be ingrained in all of the Bulldog faithful's memory was the final play of last year's Rose Bowl. Sony running it in the endzone out of the wildcat formation is a play I will never forget. This year's Hammy of greatest play might be considered a little insignificant, but in my books it's one for the ages. Citadel played Alabama in week 12 of the regular season, and it was expected to be a blowout and nothing less. The Tide went up early (7-0) as expected, but the Citadel forced Bama to punt their very next possession giving them great field position at Alabama's 45-yard line. It took one play and 10 seconds and the Citadel tied the game. Dante Smith took the option play to the house, burning every single Bama defender. After another Alabama field goal followed by a Citadel field goal, the Bulldogs of blue and white entered the locker room at the half tied with the #1 team in the nation. Trolling Alabama, LSU, and Mississippi State, the Citadel tweeted, "We scored! @LSUfootball @HailStateFB it isn't that hard guys." The Tide held the Tigers and the Bulldogs of Mississippi State to zero points, but the Citadel scored more. I won't mention that the Citadel was held to just seven more points in the second half, and Alabama tacked on 41 more, but let's just focus on that it is still the greatest play this season.


Miller's Match

Our friend Allen "Ace" Miller has come out on top of many great tennis matches, but in the 2018 college football season, the top matchup was No. 10 Ohio State hosting No. 4 Michigan. It was statistically the most important game in all of college football, and it did not disappoint. Michigan was in the top four with a win here and one over Northwestern, but Urban Meyer and Ohio State had other things in mind. Michigan had been credited as having the top defense this season, but Ohio State made them look silly. The Buckeyes prevailed 62-39.


Wynn's Win

Texas A&M – 74, LSU – 72. Enough said … this was not a basketball game. The highest combined score in FBS history and tied for the longest game as it reached the wee hours of the morning and seven overtimes. It was the win of the century. A mental, emotional, and need I say physical battle that left the Aggies as the victors. A big part of Georgia's wins in the SEC Championship and Rose Bowl was because of play in the trenches. Senior Isaiah Wynn led an unforgettable season, and his performance will not be forgotten. Outstanding performances on both sides of the ball made this shootout a game to remember, but Kendrick Rogers' two receiving touchdowns (both in overtime) and Kellen Mond's six touchdowns and 287 passing yards helped lift the Aggies to the W. A game filled with crazy calls, trick plays, lots of overtimes, and multiple broken records gives A&M this Hammy.


The Leavys "Dam" Good Player

There are no abilities that match those of Oklahoma's junior quarterback Kyler Murray. He is the winner of this award for not only his dominance on the football field but also for his freakish play on the baseball field. On 241 completions, Kyler Murray passed for 4,053 yards with 40 touchdowns. On OU's diamond, he hit .296 (56-for-189) with 46 runs, 13 doubles, 3 triples, 10 home runs, and 47 RBIs. He signed a deal with the Oakland Athletics for $4.6 million after they drafted him in the first round of the 2018 MLB Draft. He does plan to pursue baseball, but his numbers on the football field will be in the record books forever, and his name will be engraved as the Leavy's "Dam" Good Player.