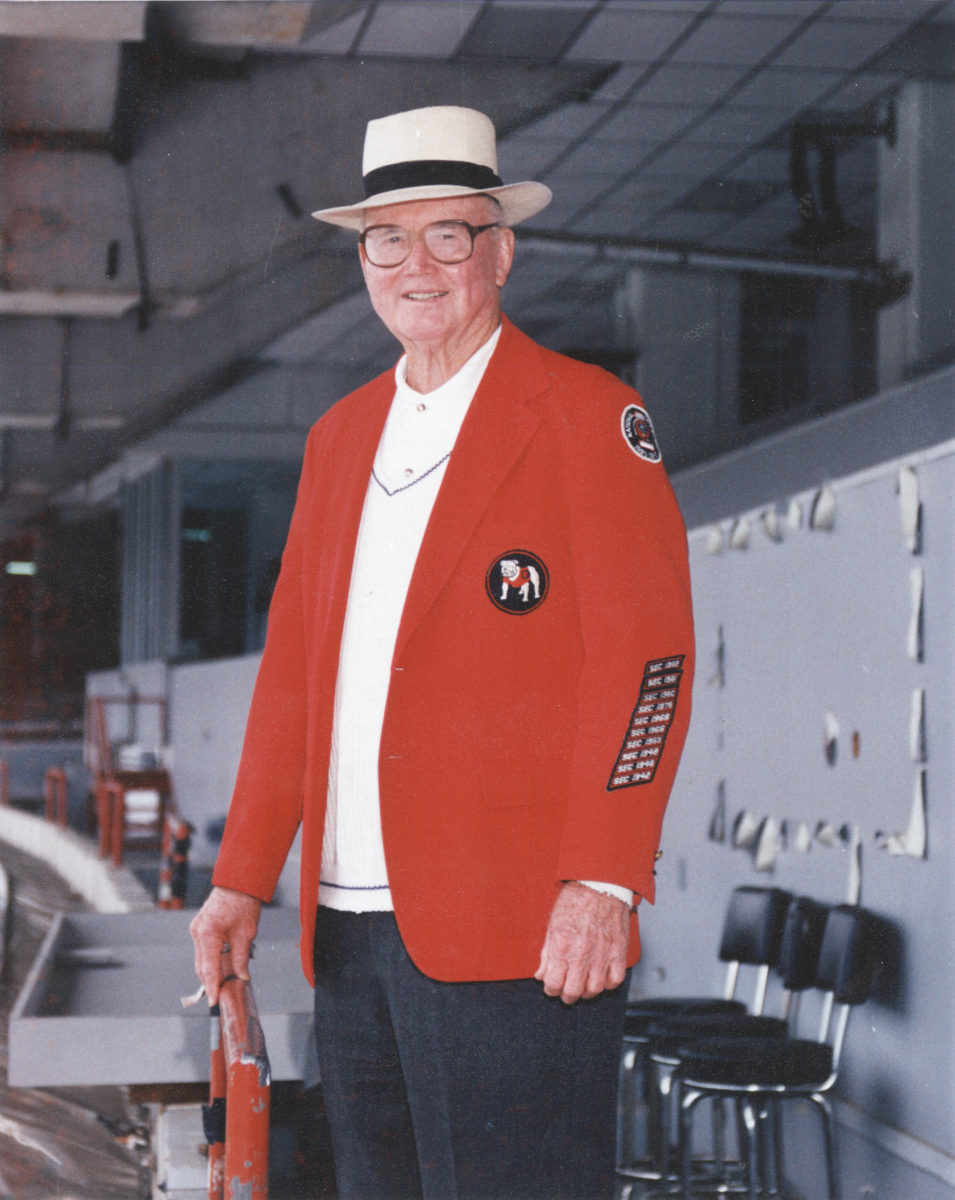 I received a text following the national championship game that the Dawgs up in heaven may not have been there physically, but they had the best seats in the house and alongside "Ol' Lady Luck" they helped bring our first title in 41 years. I knew I had to write a piece on those who came before and paved the way for the 2021 Dawgs. The truth is this team won that game with grit, determination, physicality, discipline, and a little help from above.
There are many greats that I'm sure we all know who were gathered around a big screen wearing their red and black garb in Heaven, but some of the greatest former Dawgs to walk this earth gave it something a little extra on that Monday night. Legends like Larry Munson and Erk Russell; former teammates and All-Americans, Bill Stanfill, Jake Scott, and Steve Greer; great Georgia contributors like Jack Davis, Bill Hartman, Leroy Dukes, and Dan Magill; even Heisman winner Frank Sinkwich looked down on us and smiled from the other side of the pearly gates. These men gave their minds, bodies, and souls to Georgia. Those sweet souls may no longer be here physically, but on January 10 in Indianapolis, they were with us.
The most recent passing of Steve Greer (see tribute on page 158) put into perspective how short and sweet life really is, but how one can make the most of it by giving back to others. Steve Greer was a former player in the 60s who contributed to many great wins in that time. Coach Dooley once said, "In my opinion, pound for pound, the greatest player I ever coached." Erk Russell, as noted by Jeff Dantzler, said Greer was the toughest player he ever coached. Though his talents on the field measured how great of an athlete he was, his actions as coach, mentor, father, and husband measured how great of a man he was.
Dan Magill gave everything he had to the University of Georgia, He gave 34 years of his life to the tennis team, two national titles in that sport; furthermore, he sacrificed even more time as the sports information director. As the 50s seemed to be struggling times for the Georgia football team, Magill traveled around the state, setting up Bulldog Clubs to increase interest in the state school's team. He even brought the ITA Collegiate Tennis Hall of Fame to Athens, now named for him. However, he gave so much more to his athletes, to the fans, and to anyone around him. He showed them, love, took care of them and was always willing to have a good conversation about Georgia athletics.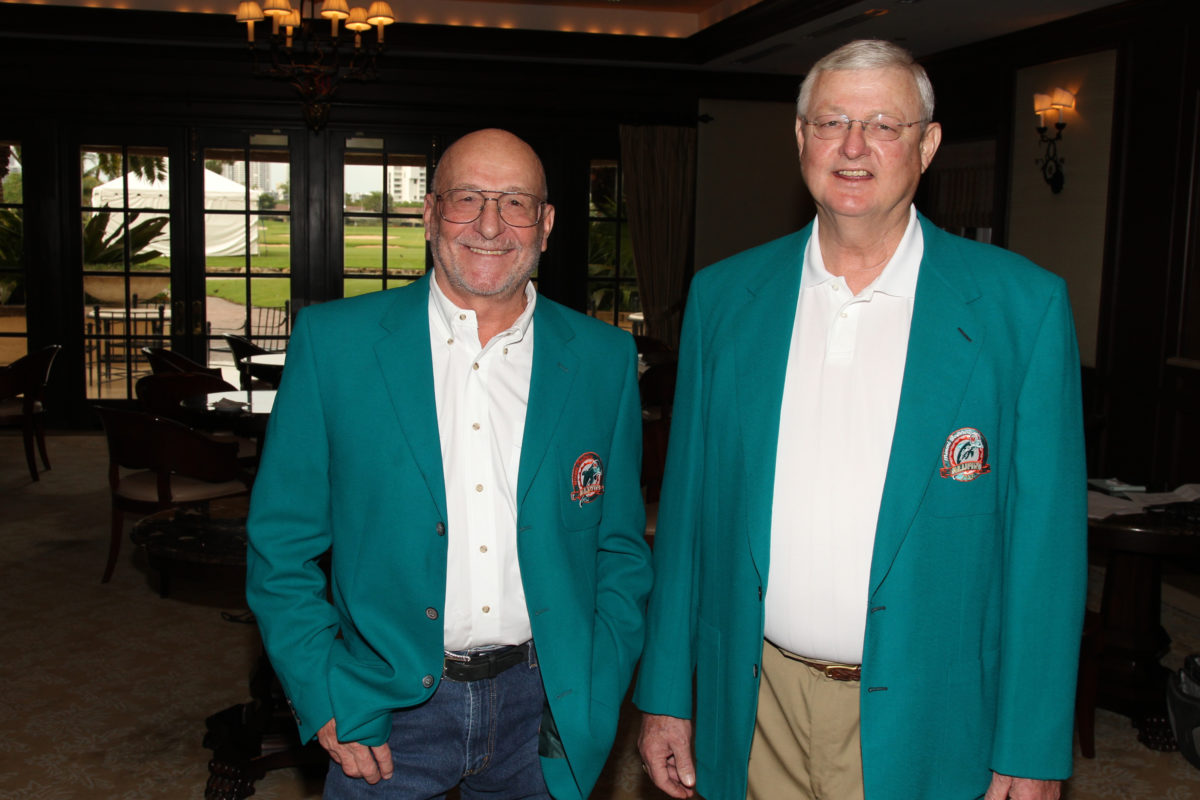 The list goes on with Bill Stanfill and Jake Scott, teammates at Georgia and in the NFL. These two really bled red and black, laid their bodies on the line, and remained friends through it all. The two were mean machines on the gridiron but great friends to their teammates. After football, Scott's free spirit took him to Hawaii where he lived the good life. When Stanfill was inducted into the College Football Hall of Fame, the University couldn't get in touch with Scott to notify him of Stanfill's great honor, but Scott later said at his friend's ceremony, "I was out fishing and about three days later I came back in to where the cell phone works — I was way out past where the cell phone works — there was about 15 messages. Usually I have about two messages. I said, 'Oh hell, somebody's died.' Then when I found out, tears came into my eyes." The two were best pals, best teammates, and now two of the best Hall of Famers in Georgia history. (Continued On Page 164)
Jack Davis was the same as the previous four. Loved Georgia and loved people. The University used Davis' artwork throughout his life: on stadium cups, t-shirts, posters, and even our very own BI covers. But have you ever looked closely at his work? He would somehow incorporate his children's names and later his grandchildren into his art. He was a Damn Good Dawg but a family man at heart.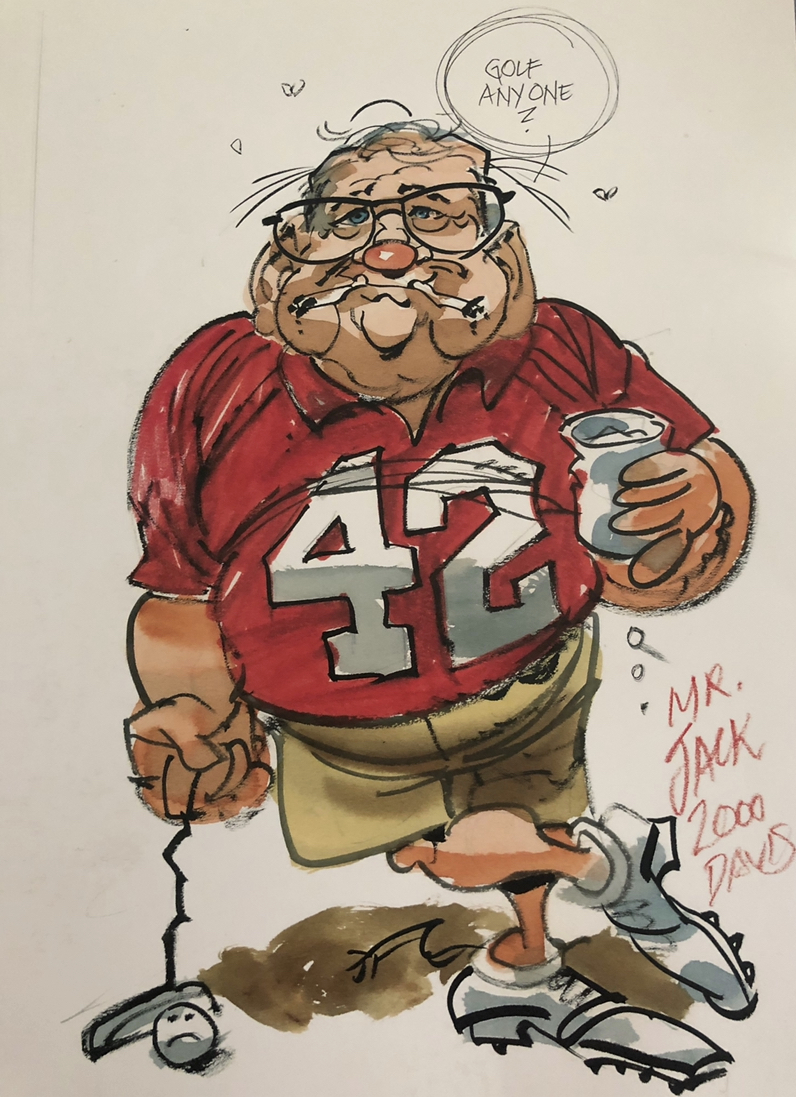 A smile unlike any other, a laugh louder than any other, and a personality greater than most, our next honored Dawg who aided in the Dawgs' title run was the one and only Leroy Dukes. Graduating in 1964, Leroy was on Coach Dooley's first team, but the Athens icon never strayed too far from the Classic City after his graduation. Like many of the others I've mentioned, Leroy was a leader in the community, one who put others before himself. If you walked into Hilltop Grille, there was always a booming voice coming from the bar; it was Leroy with a cold beverage in his hand.
Bill Hartman and Erk Russell were, in my book, two of the top five Georgians in history. Two coaches for one team who gave it all to their players. Discipline but loving. Strict but funny. They knew how to coach but they really knew how to be role models or father figures or anything their players needed them to be. I've interviewed many of their athletes, and every one of them says their humor is what made them great coaches and so enjoyable to be around.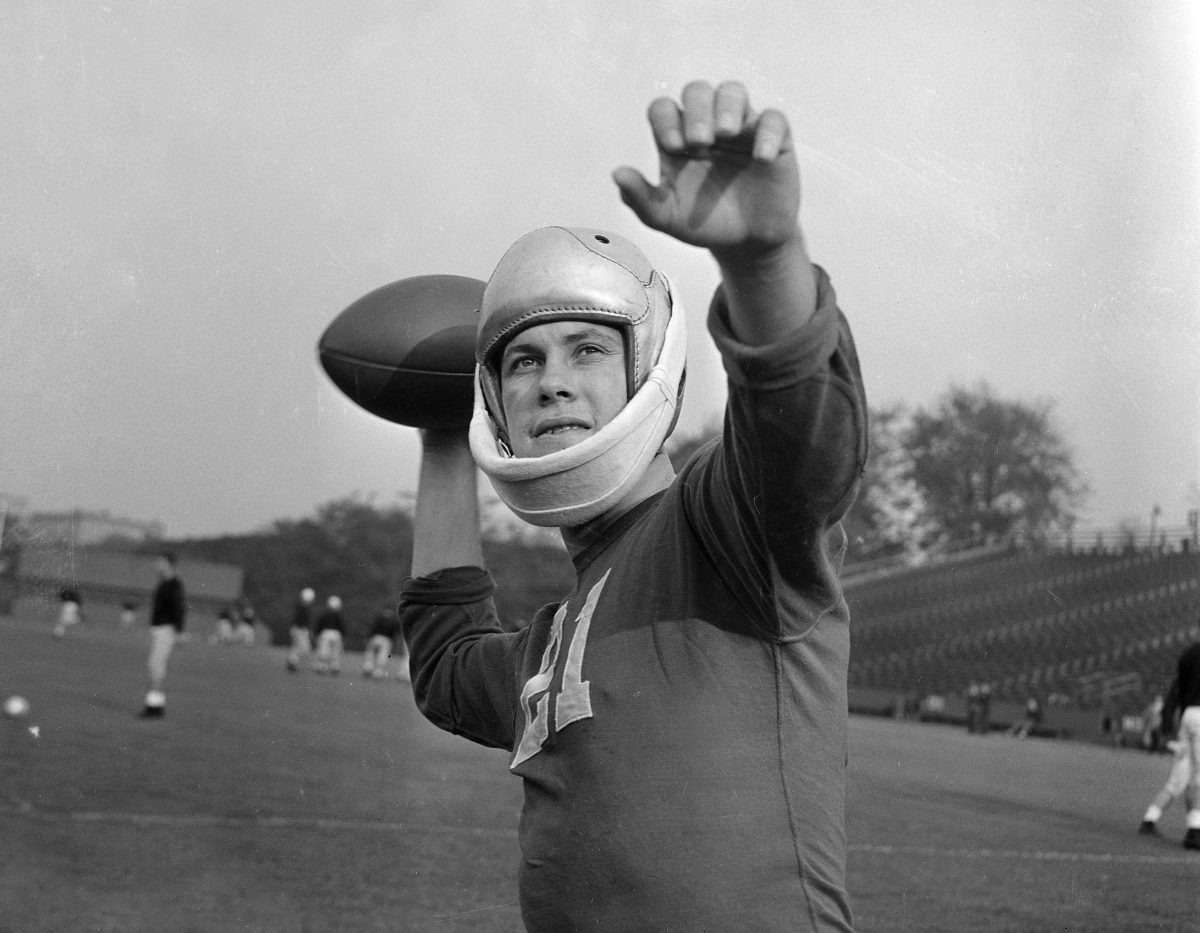 Then, there's Heisman winner Frank Sinkwich. That alone should speak for itself. He brought something to Georgia no one had ever done to date, a Heisman Trophy and a Rose Bowl win. When he died, Coach Dooley remarked, "He was not only a great player but a wonderful person and citizen of Athens." A true community man. He did more for Athens and this school than most, and he did that while just in college, but he continued to give back even after his playing days, making him the kind man he was.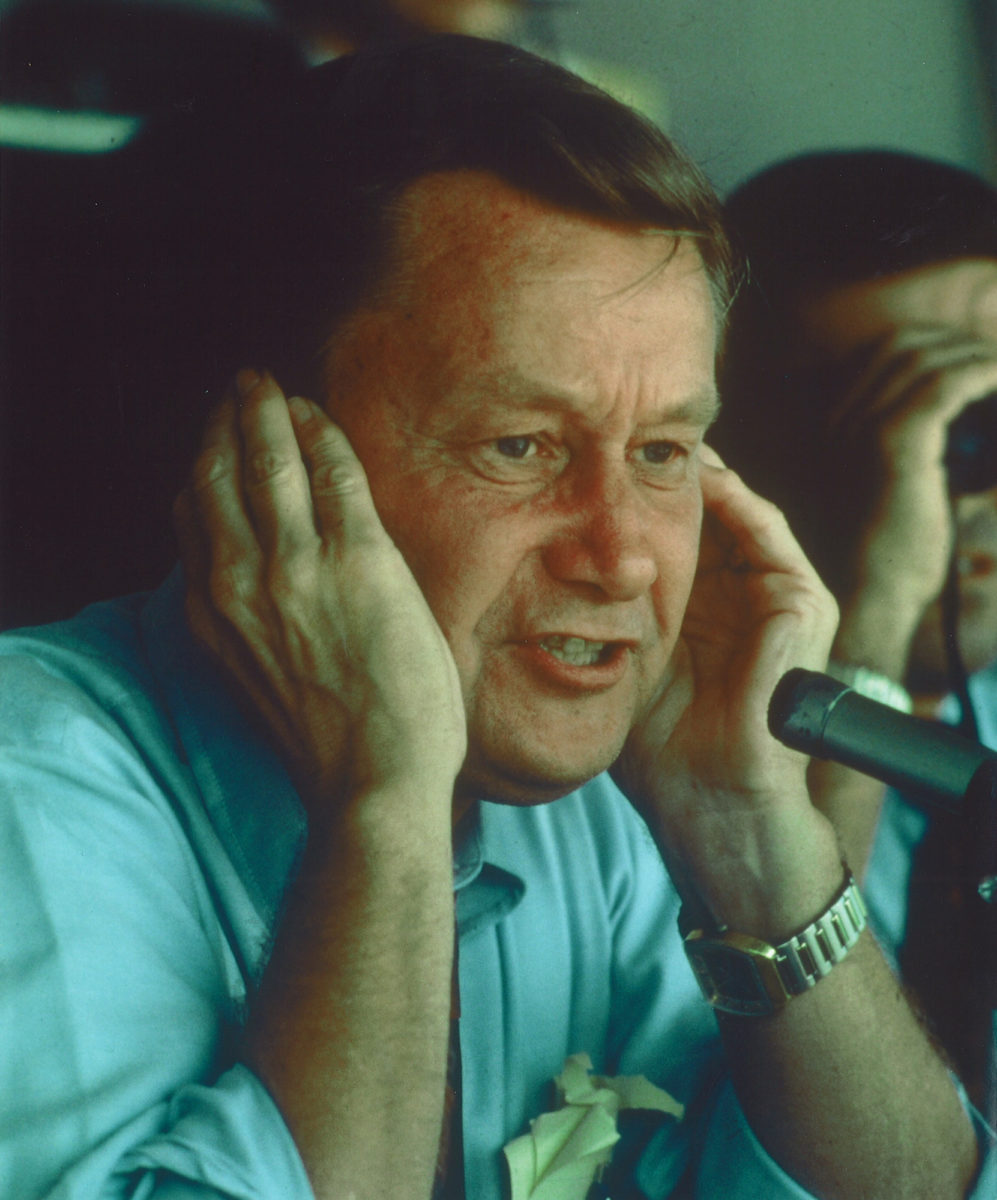 Finally, good ol' Larry. The voice of the Dawgs. His voice rings throughout the Classic City; his calls are unforgettable. He gave us something to savor every Saturday, a few words that we remember throughout generations. I can't even put into words his impact on not only our football program, but the University, Athens, and all of Dawg Nation. As he states, "Two words, two simple words," all 93,000 and a million more rally behind the one many who united us all through a radio. Larry, you gave us more than we could've ever dreamt of, and I hope when the rest of us meet you in Heaven, you have a file of all your calls for the games you've witnessed from beyond the clouds.
Aside from their love for Georgia football, the men I mentioned had one more thing in common, a giving attitude and a love for those around them. When I think about this historic win we just witnessed, I could only think of these great souls sitting in the rafters of Lucas Oil Stadium smiling down on the men below. I never knew any of these Georgia forebears, but from stories and interviews, I know these are the men we should aspire to be. We want to love the Dawgs as they did, but we also need to strive to give like they did. These Damn Good Dawgs had one more gift for us, a national title, and I speak for all when I say thank you for what you did while you walked this earth and thank you for your help from above on that chilly January night.
Heroes are remembered, but legends never die.