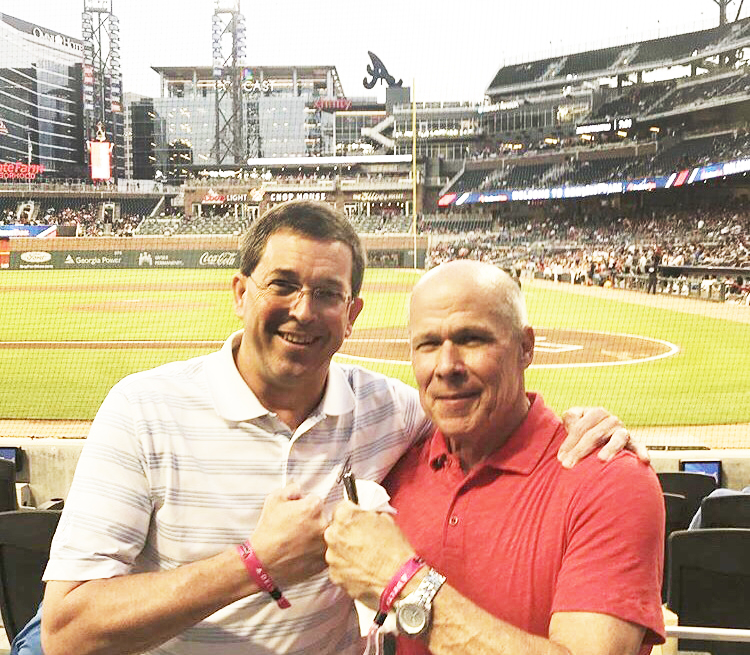 John Bateman, a Bulldog through and through and an Albany, Georgia native, is the one and only Mayor Milledge. His days in Athens have been characterized by his energetic enthusiasm and an unceasing love for the Georgia Bulldogs. With basketball season underway along with the Tom Crean era in full swing, there could be no more fitting person to talk to than John Bateman. He is the sports facilitator for the men's basketball program, the coordinator for ticket sales plans, venue concessions and merchandise contracts, marketing and promotional activities on georgiadogs.com, and the gameday print operations.


To kick off this interview, why not discuss the major changes the Georgia men's basketball program underwent? With Bateman's involvement in the program, I wanted to hear the process of hiring our new coach. "We wanted to move as quick as possible to find the right person," stated Bateman. "We approached Thad Matta initially. When we found out he wasn't going to take the position, then we were on the phone within hours with Coach Crean. That next day, that Thursday, Thursday, March the 15th, Greg McGarity and President Morehead flew down there [Florida] and met with Coach Crean and his family. I spoke with Coach Crean for the very first time on that Thursday evening after he had accepted the job and the athletic board had confirmed it. We spoke for a good while on the phone. That Friday, the 16th, was the first time I got to meet him when I flew down there to pick him and his family up to get them to Georgia for the press conference that afternoon. I had to take him home later that day also. It was just a good time. He had questions for me, and I had questions for him, and his family had questions for me. That was about three hours coming and going that was a chance for us to help each other understand each other better."


I wanted to know if there were defining characteristics of Crean that made him the perfect hire, and he commented, "You could tell the energy he's got and the passion he's got to just take on any challenge a new coaching position brings." Bateman continued to elaborate on his enthusiasm for the University of Georgia and his love for the game of basketball.


I asked Bateman which players he was looking forward to throughout the season, and almost everyone one the roster seems to have potential in his eyes. Tyree Crump should have a big year along with Nicolas Claxton as both return for their sophomore and junior seasons. He's expecting big number from the big man, Derek Ogbeide as he looks to make one last statement upon his decorated college career in his senior season. Crean's first recruiting class that Bateman is very excited for which includes Tye Fagan and JoJo Toppin. Toppin is an electrifying athlete who will gash teams in transition, fast-breaks, and back-door/alley-oop type plays according to Bateman. Fagan is a player who will grow into his own and become a dangerous guard.


25 years ago, Bateman created a branch of his job, promotional activities with the Greek life on campus. This field of his work is probably one of his favorites because of the relationships he's built with many different sororities and fraternities. Following the death of Bateman's dad in 1998, he returned home to find a package from the Alpha Chi Omegas filled with gifts to show that their sorority was thinking about him. He said this was the moment he knew he was doing something special. That sorority later initiated him as a Lyre Brother and fraternity, Sigma Phi Epsilon, initiated him as a brother because he wasn't apart of a fraternity in college. Nicknamed the "Mayor of Milledge," Bateman's twitter name and what he's known by is because of his involvement with the Greek system. The chairs of some of the houses started the name, and it stuck. The relationships he's formed are unparalleled, and they show the support the Greeks give to athletics and vice-versa.


Through the years of Georgia basketball, Bateman has been around the program for the past 30 years. Although the multiple games he's witnessed, there had to be a favorite, and it was against LSU in 1990. The Dawgs fell 19-points down in the first half, and they gained their first lead on a free throw with two or three seconds left in the game. The lead stuck and the Dawgs walked away with a win and one conference game closer to their Southeastern Conference title that year. His favorite overall season was the 1986-87 season. Known as the miracle workers, this team lost their starting center to a stress fracture, 6th man, and their leading scorer to academic ineligibility. Seven scholarship athletes remained, yet they still beat Kentucky in Freedom Hall in Louisville along with beating them at home for the final game in Stegeman Coliseum that season. A tradition that was expelled because of obvious reasons was the throwing of toilet paper after every first basket of the game scored by Georgia. People would try and sneak it in, but the toilet paper throwing became very minimal, so before this game, Bateman went and bought tons of toilet paper after campaigning for it and raising money. Prior to the game, he placed all rolls of toilet paper in every seat, so when the first basket was scored, the Coliseum was snowing with toilet paper.


Willie Anderson, one of the miracle workers, earned the title of Bateman's favorite player. The 6'7 point guard was not highly recruited but still made serious waves at Georgia and had a long-lasting NBA career. He and Bateman are still in touch.


I asked Bateman a message that Coach Crean has for everyone. He answered, "Everyone matters!" We need every player and every fan to buy in. Whether a fan is the first to enter the Steg or the 10,523rd, we need them to be excited. Whether we are on a 2-3 game losing streak or a however long winning streak, we need the support from all fans. Home-court advantage is made by the fans, and that's what we need.


Finally, the sign-off, expectations… first football. Bateman believes that this team has not exceeded expectations, but they have made the most of everything. This coaching staff has turned a young team into something special according to Bateman. While some guys have been dinged up, a healthy Georgia team come SEC Championship is a dangerous squad. Basketball, on the other hand, will see improvement. It will cool to see how the chips fall Bateman remarked. He said that the team will face some bad breaks but also the much needed good ones. The Bulldog faithful have reasons to be excited. This new era of Georgia basketball is something to look forward to. Beat UMass!