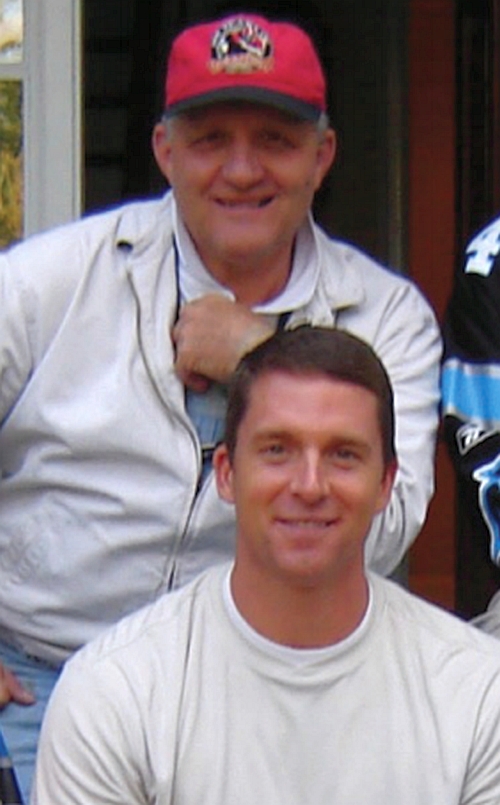 LIKE FATHER, LIKE SON
This past week I had the opportunity of interviewing one of the greatest father son duos in Georgia Football history. The Kasays go way back with the University of Georgia.
The father, John Kasay Sr., was on Coach Vince Dooley's first Bulldog team in 1964, and he was a standout on Dooley's first Southeastern Conference championship team in 1966. Kasay Sr. holds one of the longest coaching careers ever at Georgia. The son, John Kasay Jr. attended Georgia from 1987-1990, and he went on to be a professional kicker for the Seattle Seahawks, the Carolina Panthers, and the New Orleans Saints. He is the Panthers all-time leading scorer and played in Super Bowl XXXVIII. He also holds one of the National Football League's longest playing careers (22 years).
TELL ME ABOUT YOUR PLAYING DAYS AS A KID AND HOW YOU ENDED UP AT GEORGIA.
John Sr.: I was from a steel mill and coal-mining town in Pennsylvania called Johnston. At the time, we were blue collared people, and our parents weren't making the money to send us to college, so you basically had to find your own way. One of the ways [to go to college] was to play football … It was something that I liked from the time I was a little boy to now. I was just lucky enough to be good enough to go to school.
John Jr.: One advantage I had that my dad didn't have was I actually grew up around football. His father, my grandfather, was a foreman at a steel mill, so my dad learned a lot about hard work but not a whole lot about football. I had a neat chance to learn about both hard work and football. One of the best things for me growing up was living in the athletic dorm. I was around football all the time. I learned a lot from where I lived and from what my dad did.
YOU PLAYED AT GEORGIA FROM 1962 TO 1966, SO DURING THOSE YEARS WHAT WAS YOUR MOST MEMORABLE GAME?
John Sr.: Yes, I was basically redshirted in '63, which I thought was good for me because I was and still am the youngest guy to sign at the University of Georgia. I was only sixteen when I signed. Back in the day, we used to sign early. It was in December when we signed, right after our senior football season. I didn't turn seventeen until about twenty days before I graduated high school, so I was sixteen for most of my senior year. Anyways, my most memorable game has to be my last game. We had just won the SEC championship, and we signed a contract to play in the Cotton Bowl. We beat SMU 24-9. We were 10-1 that year (the lone loss to Miami 7-6). The Cotton Bowl was my most memorable game, and the game I'm most proud of because I made the Sports Illustrated All-Bowl Team. I almost wish I had another year of eligibility because I had gotten to the point where I felt like all of the practice and effort was finally paying off, and I was where I was getting really good.
DID YOU GO STRAIGHT OUT OF PLAYING INTO COACHING?
John Sr.: Yeah, I kind of got lucky there too. Once I ran out of eligibility for playing football I still needed one more quarter of school to graduate, so Coach Dooley allowed me to work on the freshmen team as a student assistant. After he saw me coaching, he thought I might have a future in coaching, so I went to graduate school and worked as a graduate assistant. After a year and a half of graduate school, Coach Dooley hired me for a full-time job as an assistant in '69, so I really never left Georgia.
DO YOU THINK THE STRENGTH AND CONDITIONING APPROACH HAS CHANGED OVER THE YEARS AND IN CREATING STRONGER PLAYERS DO YOU THINK WE'VE CREATED MORE INJURIES?
John Sr.: I think that that the torque on the body has created more injuries. Those abrupt starts and stops have definitely put stress on the body. Today the goal is to get a guy to the point where he is bigger, faster, and stronger. I think that the game of football has gotten faster in general. Now you have three to four wide receivers maybe even five, which is creating more open field collisions. Back in the 60s on into the 70s, teams were still running the ball 75% of the time. So nowadays you've got a receiver over here and another way over yonder, so they gain more speed, which causes a harder hit and leads to more injuries. Also the amount of games is increasing the injury rate. It used to be ten games, which went to eleven games, then to twelve, then to thirteen, and now up to fourteen and fifteen games in one season. There were some bad injuries in my time; we just never talked about them. Social media has enabled us to know pretty much everything that goes on now. Besides that we also have less guys on the team then we did back then. We used to have up to 150, maybe even 200 guys, where now we only have 85. This means there are fewer guys to share the work.
TELL ME HOW YOU CHOSE KICKING AND WHY YOU CHOSE GEORGIA?
John Jr.: Hamilton, I think you will understand this as well as anybody. Football is supposed to be fun, and whenever I went to the practices the guys that were having the most fun were the punters and the kickers, so I went to go hangout with them, talk with them, and mess around with them. Then, I kind of started to learn how to kick from those guys, and it was something I was just naturally good at it, so I kept working on it. That had a huge impact on me going to Georgia because while I was growing up, I was around them, and when I finally had a chance to go to college, it was kind of a big deal for me to go to Georgia, which I thought was a pretty neat opportunity for me.
GEORGIA FOOTBALL HAS A REALLY STRONG HISTORY OF REALLY STRONG KICKERS, SO WHAT DOES IT MEAN TO YOU TO BE PART OF THAT FAMILY AND CARRY ON THE LINEAGE OF THE GREATS?
John Jr.: I remember before was even your age, they had some really good kickers. There was a guy by the name of Allan Leavitt. Then there was another guy named Rex Robinson, and he was the kicker on the National Championship team. Then Kevin Butler, who kicked in the NFL for thirteen years. He kicked after Rex Robinson. There was also a guy who was from my cross-town high school rival, Cedar Shoals, and he kicked right before me. His name was Steve Crumley. Then I came to Georgia, and I was really, really fortunate to be able to grow up around a lot of really great kickers. It gave me a huge advantage. We also had our same kicking coach, whose name was Bill Hartman. Coach Hartman was great football player a long, long time ago before any of us were born, so he was a lot of fun to work with as a player. He was always a big encourager as coach, so I always enjoyed my time with Coach Hartman.
AS A BULLDOG OR AN NFL PLAYER WHAT WERE SOME OF YOUR TOP KICKING HIGHLIGHTS?
John Jr.: Well, when I was your age the University had a great running back by the name of Herschel Walker, so when I was your age, and I watched Herschel play, I just thought that was the coolest thing. He won a Heisman Trophy. Then a few years later, when I went through the University of Georgia, Herschel was already playing in the NFL. Once I got to the NFL he was still playing, so there were games where I was kicking off to him, and he was the kick returner. I kicked to him when he played for the Dallas Cowboys, and I was playing for the Carolina Panthers. That sure was a big, fast guy down there on the other end, and I was really hoping my guys would tackle him. I thought that was pretty cool to play on the same field with a guy like Herschel Walker. He was just a very special person, and that was very special moment.
WHAT WERE SOME GREAT PARTS ABOUT PLAYING IN THE NFL?
John Jr.: One thing that was neat for me was that I never thought I would have a chance to play in the NFL. I wasn't big and fast like Herschel Walker; I couldn't throw a ball; I couldn't play offensive line or anything like that. It was kind of neat that I had this little skill that I learned from being around a lot of those guys. It was a big thrill to play and keep playing after college. To have the chance to still play in the NFL until I was 42 was just a special experience. I got married, and had four children. When my kids came to watch the games, they hung out in the locker room and met all the players, and they were a part of what was going on. That was very special for me too.
TELL ME A LITTLE ABOUT YOUR ONE-DAY CONTRACT, SO YOU COULD OFFICIALLY CLOSE OUT YOUR CAREER AS A PANTHER.
John Jr.: Well, one of the funny things I asked our owner, Mr. Richardson, was where my signing bonus was. That made our owner laugh very hard because he wasn't planning on giving me a signing bonus for the one-day contract.
WHAT ARE YOUR THOUGHTS AND PREDICTIONS ON THE SMART ERA?
John Jr.: He has a neat opportunity with some of the games he's playing. He knows a lot about Georgia Football having been involved with it for a while. He's been in the SEC for a while, so he knows how competitive the SEC is. It says a lot when 93,000 people show up for the spring game. The expectations are very high that he's playing in a big, tough conference, but he's got a lot of good players, so that will help his transition pretty well. I hope he does very well!
John Sr.: Kirby is one of those guys that I think has paid his dues. Kirby seems like someone who wasn't wasting his time while he was learning to be head coach. I feel good about the guy because I know he doesn't lie to himself. That's the worst thing someone can do to themselves is get up there and make excuses about why we didn't play well on Saturday. He is ultra-dedicated. In his time working with Nick Saban, I think he picked up some intensity traits. You have to have the kind of Peyton Manning attitude, which is work, work, work. I ask some of the guys what is your job? For instance, your job is to do the best you can in school because when you get out in the real world everyone is going to expect your best. I just don't see how football is any different, so when the guys go to practice, we expect them to bust it and get with the program. It's the same with your school; they expect you to bust it and nothing else. I think that Kirby expects these guys to be the best, so he pushes them and pushes them. He also expects that from himself. Kirby is not going to take us straight to the top. Our league is too tough; we have got to give him some time. Kirby seems to have the discipline like Dooley. Kirby has a great staff, and Kirby is in all of it.
These two men are very special. They were so kind to do this interview, and I have great deal of respect for them. John Kasay Jr. lives in Charlotte, North Carolina, and is the athletic director at a local school. He took time out of his day to call me and answer some questions. John Kasay Sr. and I could've talked for days about Georgia football, and he lives right around the corner, so maybe we will! I would like to say thank you to both of these men for their time! It means a lot to me and all of our readers who enjoy reminiscing on Georgia football's past!