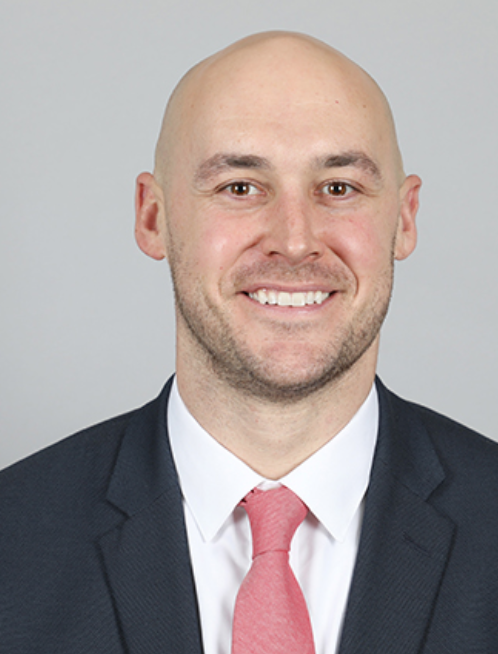 The fullback is a position sometimes overlooked, maybe not focused upon, but when in action, it is a deadly threat; one that, if utilized correctly, can wreak havoc on a defense. It is a threat unlike any other: a lead blocker, a power runner, a receiver out of the backfield, and off the field, a leader. This may be a hasty generalization, and not all fullbacks cover all of these fields, but I make this assumption because the fullback I grew up watching was, in fact, the intended threat a fullback is supposed to be. This is Shaun Chapas, a native of Jacksonville, Florida, alumni of Bolles High School, the University of Georgia's fullback from 2007-2010 (redshirted in 2006), 2011 draftee of the Dallas Cowboys, and then a true journeyman of the NFL as described by Shaun. In 2015, he came back to Georgia as an intern while he finished his masters degree in sports management. He has since worked his way up in the athletic department, now holding the title of Senior Director of Development. The University of Georgia is special and Athens, even moreso, but it is people like Shaun Chapas who come back to our community, giving back to our university, that make it the amazing place we call home.
Why Georgia?
Right around the time I tore my ACL in high school, I committed. Someone gave me the advice to pick a school that I love and would go to even if football was off the table. So, if I never played football again, would I really enjoy going to the school of my future? For me, Georgia was that place. It was where I could go even if I could not play football. I wanted to study business, and Terry (Business School) provided a great place for me to do that. The campus is also so beautiful, so if you add all of those things up, it really was a no brainer.
Favorite game (as a player)
The Blackout in 2007. When we ran out of the tunnel in those black jerseys, the crowd erupted, and it felt like the stadium was shaking. It was a pretty back and forth game for a while; then we ran away with it, but it just always felt like momentum was on our side.
Was working in sports always the plan after football?
I have always loved sports and working in athletics as a professional was the dream, but I never knew what the position might be. As I finished my masters in sports management while working as an intern after the NFL, I knew that coming back here was an excellent decision because I knew Georgia could open many doors in the sports world. Plus, there is no better place to come back to than Athens. Now, I am here, living the dream of working in sports.
Current position at UGA
My official title is the Senior Director of Development, which basically means I deal with furthering our athletic department in many ways. I get to interact with folks in all different types of industries and be a resource to them for how they can stay connected or get connected with the University. I get to be their liaison with anything they may need or questions they may have in regard to UGA. In turn, they help us by being great representatives of our institution as they do great things in their local communities, their states, our country, and sometimes even the world.
How can alumni get involved?
It is up to each individual in how much they want to be involved or uninvolved. We are always excited to meet with alumni, talk with alumni, and help them reach their desired amount of involvement. Whether it is coming to games, connecting with student-athletes and coaching them on how to conduct themselves off the field, or even offering themselves as a connection in the business world for these current student-athletes, soon-to-be working men and women. We really do have a tremendous group of alumni; there are so many great Dawgs out there, and it is such a powerful network of people that offer to help further our athletic program in so many ways. It sounds cliché, but it is the power of the 'G.'
How has the entire Bulldog Nation helped get the athletic program to where it is today?
It starts at the top. Any institution that has any success begins with great leadership. From President Morehead, to our athletic director Greg McGarity, to Coach Smart, to my direct boss Matt Borman, and many more.This leadership is what has allowed us to thrive. It has been tremendous to see our fan base, our students, our faculty, our donors, and our alumni just embrace athletics. I feel like we are all on this ride together, and I hope we continue to strive to reach that next level. I am so honored to be a part of it; I love it! The buzz, the energy of a college football town in the fall … there is nothing like it, and here in Athens, you can't beat it. The culture surrounding our athletic program is what I believe to be the best in the nation, and we cannot thank the entire Bulldog nation enough for what they do.
Any upcoming projects in the talks among the athletic department?
The expansion of the football operations facility is our number one priority at this moment. The pandemic has obviously made things quite interesting, so we are thankful that this current project is still in the works. It will greatly benefit us in so many ways, and I am so excited to get it across the finish line, but talk to me next year, and I can maybe fill you in on some upcoming projects.
As one of the most pleasant, well-spoken, cordial interviewees/players (according to Vance Leavy), what advice do you have for young student-athletes when dealing with the media?
First, Vance, thank you for the kind words. I really do think it is simple, however. Treat everyone with respect. Five minutes of your day is, ultimately, not that much in the grand scheme of things. There will be one day when no one wants to interview you or even cares about your autograph, so enjoy it while you can. Take advantage of the platform the media gives you because you never know who is listening, and it could one day be the start of a connection. Finally, represent yourself, your family, and the school well with what you say.
What has happened to the fullback at UGA?
Well, we fullbacks have become a dinosaur across the nation on the gridiron. Some may say we are this extinct breed, but I will always support the fullback nation. I plan to petition the return of my position, titled #bringbackthefullback! I will say, for Georgia, however, the first three goal line rushing touchdowns, a fullback was in. In addition, Jalen Carter lined up as a fullback, and caught a touchdown pass against Tennessee, so Coach Smart is maybe turning the corner, and getting us back involved. You see, I am taking mental notes to strengthen my case, so if you want to get together and brainstorm on some campaigning strategies, I am always open to making the fullback great again!
Predictions for the remainder of the season
I am cautiously optimistic when speaking, but I believe we will be in Atlanta on December 19th, and we will see what happens from there.