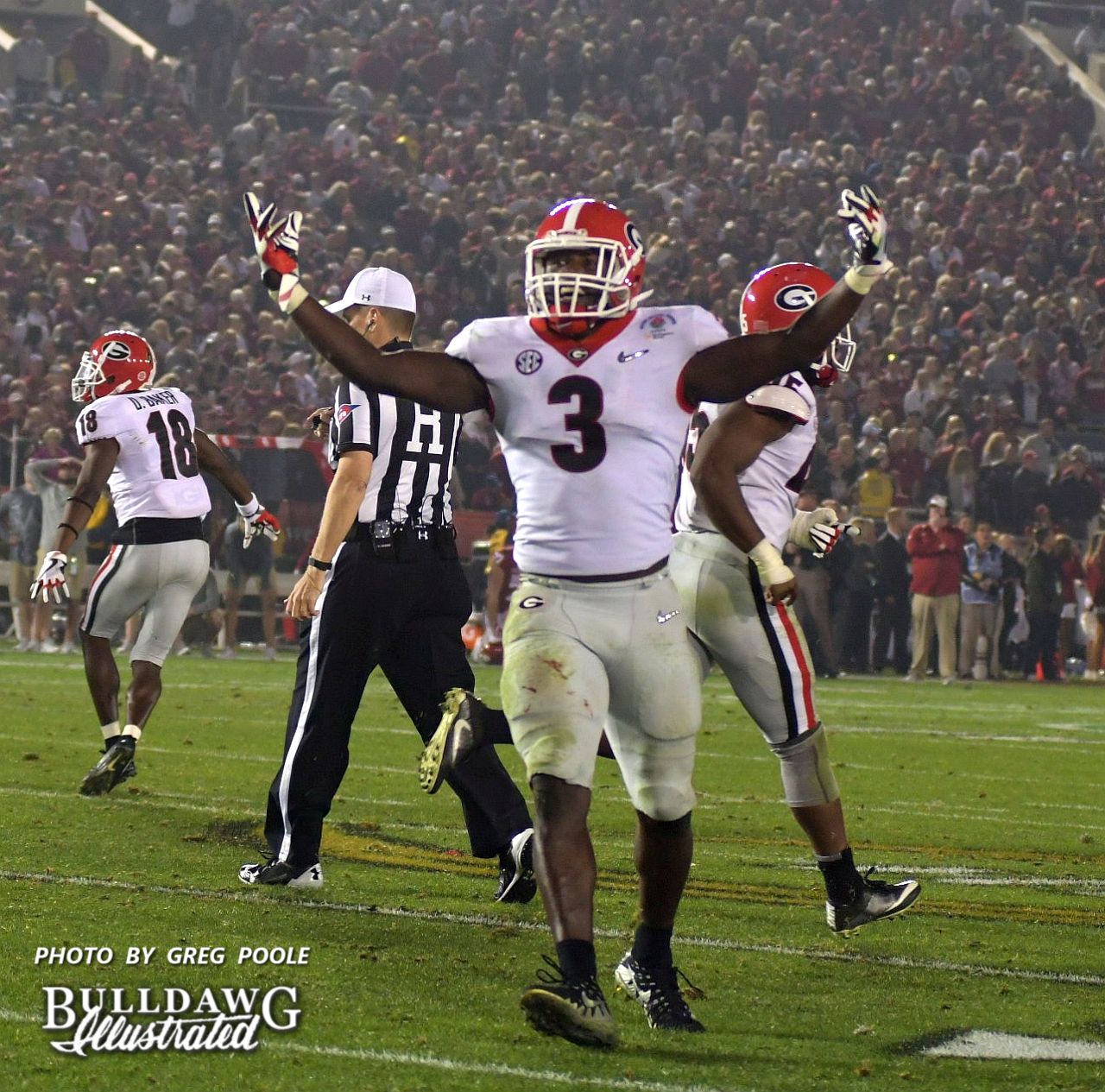 2018 Draft Dawgs
The University of Georgia's 2018 senior class is officially alumni to the great school we Dawgs love. If you don't live under a rock, you have probably heard of some pretty big names that belong to this class like: Sony Michel, Nick Chubb, Isaiah Wynn, and other incredibly talented young men. These names along with many more were a huge part in why the 2017 Southeastern Conference Champions are the Georgia Bulldogs. These names were catastrophically important in why 54-48, Dawgs on top, was what was left on the scoreboard after the 2018 Rose Bowl. These student-athletes are key factors in why the Dawgs appeared in the coveted College Football National Championship so… This senior class took their unbelievable skills to the 2018 National Football League Draft (the NFL for you Americans), where a number of Georgia grads were selected.
The "Pitbull"
Pitbull, a nickname coined by my friend, Maria Taylor, refers to former Georgia inside linebacker, Roquan Smith. In my opening paragraph, I focused on the 2018 senior class of Georgia football's finest student-athletes, but I failed to mention the junior, Roquan Smith, who was the first bulldog selected in the 2018 NFL Draft. The Bears of Chicago obtained the 8th overall pick in the Draft, and with that pick they selected our very own Roquan Smith. The 2017 Butkus Award Winner and First Team All-American might have been a junior, but he was an instrumental part in the Dawg's "Savage" defense. Racking up a stunning 252 total tackles over the course of his career, 137 of which were apart of the 2017-18 season, Roquan was highly regarded by all NFL teams, and I'm absolutely positive all of the coaches and owners would've liked to have him as apart of their franchise. In Chicago, he will be partnering with former Georgia outside linebacker, Leonard Floyd.
The Wynner
The anchor of Georgia's offensive line last year, Isaiah Wynn, is a flat out athlete. He was a man among boys in the trenches, maybe not in stature but in skill. He dominated! Standing at 6-2, 313 pounds, the New England Patriots selected Wynn with the 23rd pick in the Draft. Bill Belichick, head coach for the Patriots, won himself a great pick to protect his most prized possession, the GOAT himself, Tom Brady. Though seemingly a little small in terms of offensive linemen, Isaiah Wynn is one of the most experienced draftees. He started three years here at Georgia playing both guard and tackles, succeeding at both. In New England, he will play alongside former Georgia center, David Andrews. The two will form an insuperable "Dawg Wall of New England" (Yes, I came up with that on the spot). They could possibly make up the best offensive line in the game to protect the best quarterback in the game.
Half of the greatest running back tandem in college football history
The New England Patriots held two picks in the first round of the 2018 NFL Draft, so with their later first round pick, the 31st pick, they selected another Dawg, Sony Michel. Sony Michel… enough said. He needs no explanation. His feet do the talking for him. He's side-to-side quick, a downhill runner, an ankle-breaking jukebox, and a strong leader. He will be the perfect backfield complement to the late, great Tom Brady. Although Mr. Brady has won himself a plethora of Super Bowl rings without Sony, a running back like this wouldn't hurt the old soul. He's aging and needs some pressure relieved, so again, Coach Belichick, snagged another fantastic pick.
I have personally met the three athletes mentioned above, and I am speaking on the behalf of anyone who has ever had a conversation with them, they are the most down-to-earth, humble guys I've ever met. They are all great leaders, and I am sure they will succeed at the next level of their lives. Onto the next draftees…
The other half of the greatest running back tandem in college football history
With the 35th pick in the 2018 NFL Draft, the Cleveland Browns selected Nick Chubb. A familiar name around these parts; Chubb was an amazing running back for our beloved university. In fact, as mentioned in his title, he is apart of the greatest running back tandem in college football history. Alongside Nick was Sony Michel, and the two made up the super backs. When I say they were the greatest running back tandem in college football history, I mean they combined for the most rushing yards (8,382 yards) by any two running backs who played for the same university at the same time. Passing up on Penn State's running back, Saquon Barkley, for Oklahoma quarterback, Baker Mayfield, with the 1st overall pick, the Browns had to pick up a solid running back to hold down the backfield. Along with either Baker Mayfield or Tyrod Taylor, Nick Chubb will succeed and hopefully bring the Browns win drought to an end. Also, the Browns franchise has organized that Nick and Baker Mayfield will room together during the Browns rookie minicamp. According to Baker, they are getting along great and the topic of the Rose Bowl has not been brought up. He also made a remark on Chubb's speed, saying he didn't realize how fast he was until he saw him in person.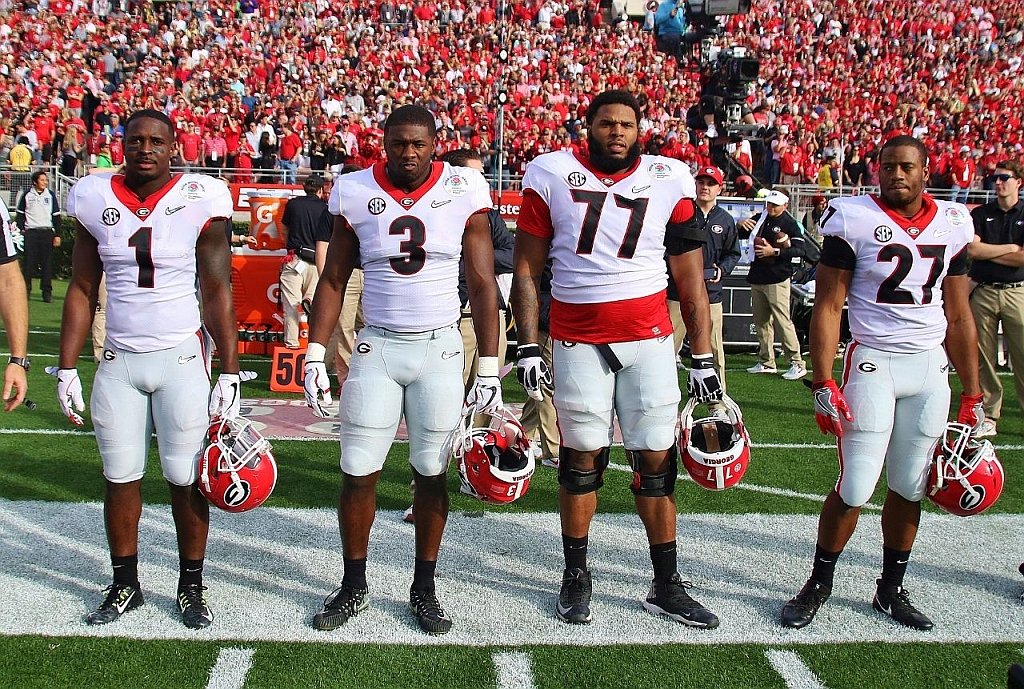 The Duo Dawgs
Just as God organized the animals in twos onto Noah's ark, so the species could reproduce, the programs of the NFL selected almost all of the Georgia draftees and free agents in twos also, knowing they would see production from the Dawgs.
Bears – As I have already discussed, Roquan Smith was selected by the Chicago Bears, but I didn't touch on the other Dawg selected by the bears. With the 224th pick in the 2018 NFL Draft, the Bears selected Georgia wide receiver, Javon Wims. Standing at 6-4, 215 lbs., he led Georgia in receiving with 45 receptions for 720 yards and 7 touchdowns. In high school, Wims played just one year of football, earning him no major scholarship offers. He began his college football career at Belhaven University, a small private Christian College in Jackson, Mississippi. He played just six games before fracturing his ankle. Following this, he arrived at Hinds Junior College in January 2015. At Hinds, he became a standout receiver and became one of the most highly recruited junior college athletes entering the 2016 college football season. In 2016, he came to Georgia with high hopes. He was immediately thrown into the wide receiver rotation, and the rest is history. As you can see, he is a hard-working kid which should carry him far in the NFL.
Patriots – I already mentioned the two Patriot draftees, Isaiah Wynn and Sony Michel, but I saved their dynamic duo statistics for this paragraph. One of the coolest fact nuggets in draft history is they were roommates here in Athens while they attended UGA, along with Nick Chubb, but they began their roommates "career" in high school at a Rivals Camp. They were also captains together last season, which showed to be very successful. This might defeat the whole purpose of the "Duo Dawgs," but since we're already discussing the Patriots lets go to the third Dawg who was apart of the 2018 Patriots class. Signed as a free agent, defensive lineman John Atkins agreed to a deal with the Patriots also. I mentioned the former Bulldog, David Andrews, playing for the Patriots, but Atkins, Wynn, and Michel will also have the opportunity to play with former Georgia wide receiver, Malcolm Mitchell, who is now a wide receiver for the Patriots. If you have not heard a beloved Athens native, Georgia Bulldog, and New England Patriot passed away recently. This legend was my friend, Andy Johnson. The night of the Draft I jokingly texted him that he started the Patriot Dawg trend. He replied, "Blind luck on my part." I beg to differ. So as I am discussing the Patriots, I'd like to take a moment to recognize Andy. He was a role model to me and many others. He might have been the greatest athlete to be born and raised in Athens, Georgia. We all love and miss you Andy. We thank you dearly for what you have done for Athens, the Dawg Nation, and the Patriot Nation. In the words of Babe Ruth, "Heroes get remembered, but legends never die." Thank you!
Browns – I previously touched on the fantastic Nick Chubb and the Browns franchise that took him early 2nd round, but I have not spoken on the one and only Trenton Thompson. The Browns signed him as a free agent following the Draft. After a standout 2016 campaign, starting 7 games, playing in all 13, and racking up a total of 56 total tackles, Thompson's 2017 season did not live up to what he had done during the 2016 season. He did undergo a major shoulder surgery in the offseason leading into the 2017 season, in which he had an "adverse reaction to prescription medication," causing him to withdraw from classes in the spring of 2017. Without a doubt though, if Thompson can stay healthy, he is force to be reckoned with on the defensive line.
Giants – The New York Giants selected our very own Lorenzo Carter with the 66th overall pick in the Draft. Carter, along with Davin Bellamy, Nick Chubb, and Sony Michel, were among the four major juniors who decided to return for their senior seasons in the 2017 offseason. With these four, an SEC Championship, Rose Bowl win, and National Championship appearance might not be apart of the Dawgs' recent history. Lorenzo Carter was an important, impactful part of the "Savage" defense this past season. As one of the edge rushers of this Georgia defense, he had 62 total tackles this past season and 166 total tackles in his career, including a game-saving fumble recovery in Notre Dame. Joining him in the Big Apple will be Georgia's cornerback, Aaron Davis. Davis signed with the Giants as a free agent. He snagged five career interceptions, one being from the 2017-18 season. He also made 184 career total tackles, 43 being this past season. One of Davis' major pluses is his intelligence on and off the field. In football media, they'd say he has a high football IQ. Davis majored in Finance, earning his bachelor's in the fall semester of 2016.
Lone Dawgs
Although it is really awesome that many former Dawgs are sticking with teammates, we have two others that will be playing without former Dawg teammates as of right now. So without further ado, let's go to the "Lone Dawgs." In Houston, Davin Bellamy will be joining the Texans franchise as a free agent. Although there were not any Dawgs picked by the Texans in 2018, Davin Bellamy will be joining some Dawgs who are already apart of the Texans franchise, like former Georgia safety, Corey Moore. Down to the homestate team, the Atlanta Falcons signed Georgia kicker, David Marvin. Same goes for Marvin, there are some former Dawgs on this team but they were just not picked up this season. On the Falcons, Marvin will be joining former Georgia safety, Quincy Mauger, former Georgia wide receiver, Reggie Davis, and former Georgia defensive lineman Garrison Smith.
In this article, we have discussed eleven Dawgs who are some of the newest members of NFL franchises. The crazy thing is we still have more to come. There are a few more Dawgs who are just on the verge of being picked up as free agents like Dominick Sanders, Cameron Nizialek, Jeb Blazevich, and possibly more. In the future, I believe this will become a common trend. The Dawgs are going to dominate the NFL for many years to come!