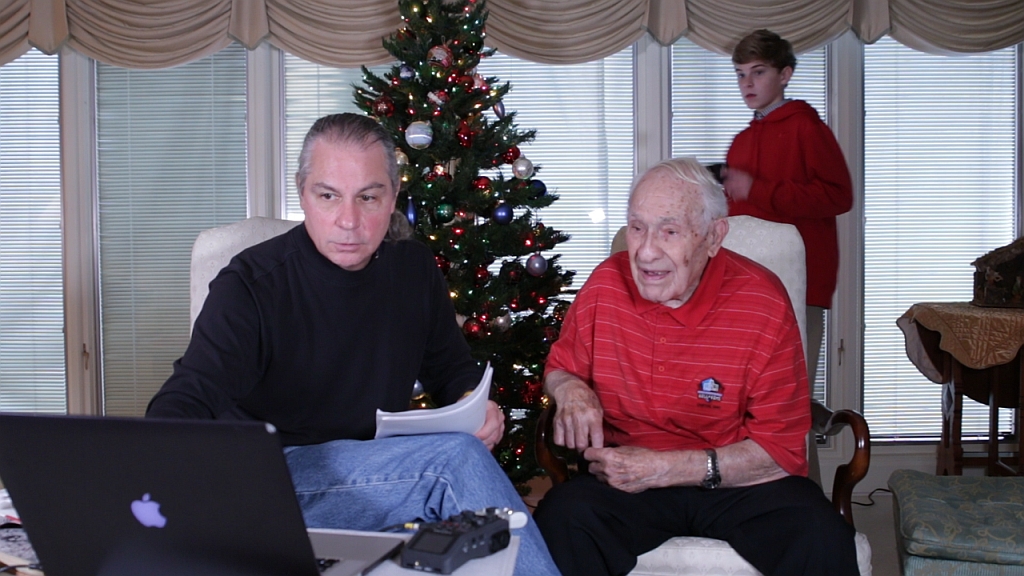 If you label yourself as a true Georgia fan, you must know of the legend, Charley Trippi. In fact, if you claim you are a college football fan, you should know this name, Charley Trippi.


He was one of the most amazing athletes to ever play here at the University of Georgia. He was inducted into the College Football Hall of Fame in 1959 and was inducted the Pro Football Hall of Fame in 1968. At UGA, his number 62 is retired. While he earned first-team All-America recognition in football, he also played baseball for Georgia. Mr. Trippi won the 1943 Rose Bowl's most valuable player award after his stellar performance against the University of California Los Angeles Bruins.
75 years later, I had the opportunity of talking with Mr. Trippi entering this 2017 Rose Bowl.
The archivist here at UGA, Mark Maxwell, wanted to do a special on Charley Trippi about his experience at the 1943 Rose Bowl. Mr. Maxwell invited me to join him for the interview with Trippi. At Mr. Trippi's house, Mr. Maxwell and Mr. Trippi discussed the '43 Rose Bowl while watching the colored film of the game. Throughout the interview, I snapped pictures of the two talking. Many of you would think the 96-year-old would have difficulty in remembering the game. Well, you're wrong. Mr. Trippi recalled almost the entire game. He also remembered the whole Georgia team roster and named a couple of the standout players from the Bulldogs' opponent, UCLA, along with giving us a little play-by-play on one of the fake punts Coach Wally Butts and the Bulldogs ran.
Mr. Trippi had some great remarks on the game.
For instance, when we were looking at the scoreboard on the game film we spotted the number of first downs each team had. At the time of Mr. Trippi's comment, Georgia had 16 to their 4. Seeing this, Mr. Trippi said, "We completely dominated the game. We finished the game with 24 first downs and UCLA finished with 5." He also had something to say about Coach Butts' strategy. It was really funny in that if something worked, he'd do it again, usually the very next play! In the game film, you'll see that we fake punted, succeeded, then did it again later in the game.
Here is some background of the 1942 season that led to the appearance in the 1943 Rose Bowl, statistics on the game, and the scoring summary. Oh, and I'd like to preface this paragraph with recognition. I completely accredit Mark Maxwell for these stats. He literally knows everything about Georgia athletics and gave me all of these little snippets of stats.
Let's start with the big story of the 1942 season. Heisman winner, Frank Sinkwich, entered the game with two bum ankles, so he did not see the field as much as he had in the regular season. Although he did not play as much as he and Coach Butts desired, he still received more press than anyone else on the team. In doing so, they made him wear 52, a different number than what he had worn all season (21), so people wouldn't recognize him. Now we can talk about the story of the game. Charley Trippi had an outstanding game and won the most valuable player of the game. He was a do-it-all athlete while he played in every phase of the game: offense, defense, and special teams. On special teams, he punted twice for an average of 49.5, booming one of his punts for 67 yards. On defense, he intercepted one of the four interceptions UCLA threw. Finally, on offense, he rushed for 115 yards on 27 carries while the entire UCLA team rushed for just 97, so he outrushed their entire team by 18 yards. He also passed for 96 yards on 6 completions.
To close out this article, I'd like to give special thanks to Mark Maxwell for allowing me to join him for this once in a lifetime experience. I'd also like to thank Charley Trippi for letting Mr. Maxwell and me interview him. Mr. Trippi is a magnificent man! Here's hoping our current Bulldogs also dominate the Rose Bowl like the awesome 1942 Georgia team.
---
Recent Articles by Hamilton Culpepper


[pt_view id="786b6cb2sw"]