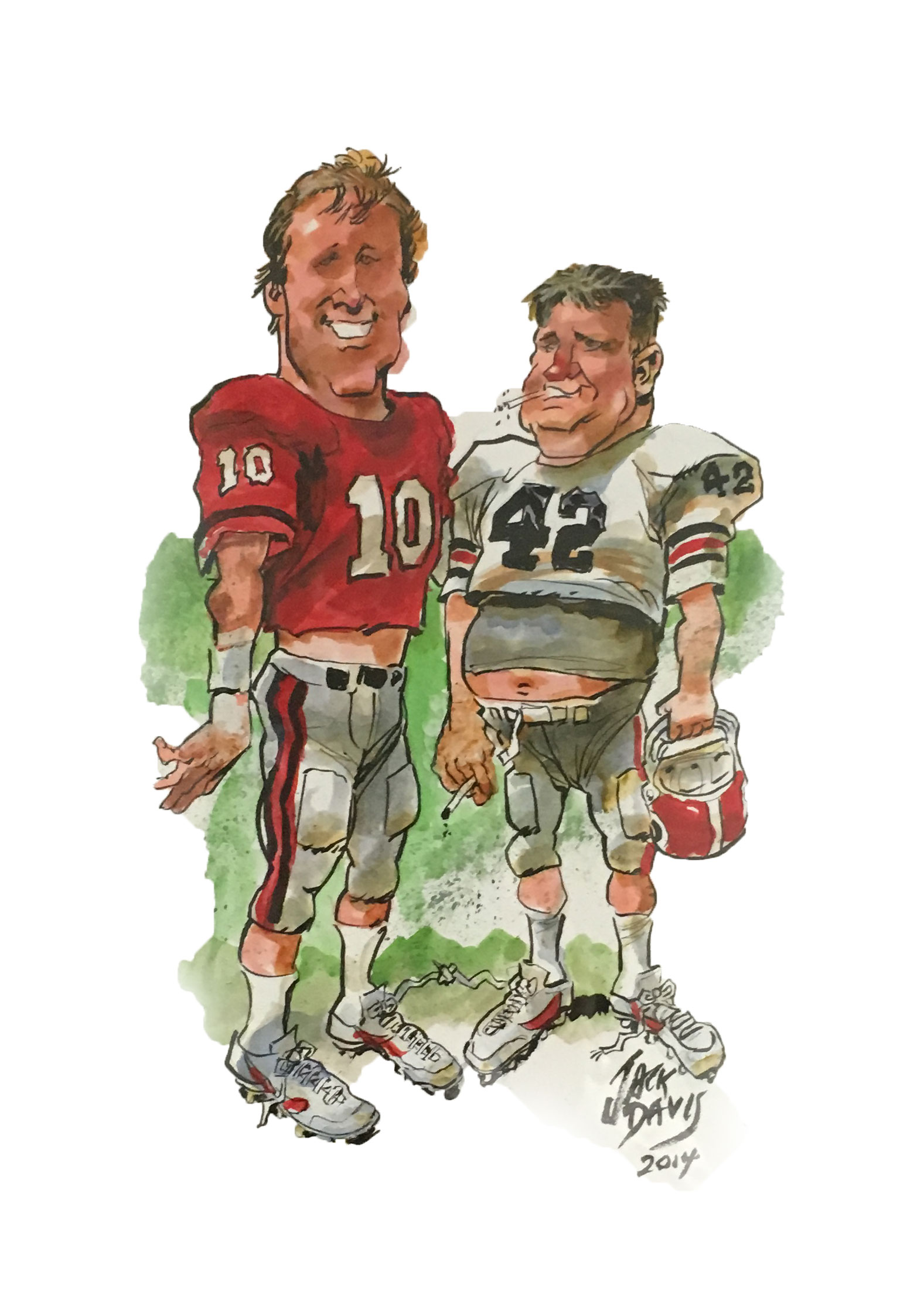 David Dukes and Leroy Dukes drawing by Jack Davis


David Dukes is one of the coolest people I know. You may think I'm biased since he is my uncle, but I do have a great deal of respect for him as a person and a Georgia supporter. David loves life, Athens, and most of all people! He was born and raised in Athens, where he continues to live today. He is employed by Benson Hospitality Group. He attended high school at Clarke Central where he was an all-American and all-state athlete. After high school, he attended the University of Georgia on a football scholarship.
I had the opportunity to interview Uncle David, and although he is family I still learned a lot.



What made you decide to go to UGA, even with many other schools recruiting you?
"I was fortunate enough to have multiple scholarship offers. The school you selected was the one that fit you best. My father had a lot of influence in where I should go. He knew I wasn't big enough to play after college and asked me to consider about post college life. He put me in that right mind set to make a quality decision. If you want to be successful in business, you need strong connections and relationships, so he strongly recommended Georgia knowing that would set me up for a quality life after college. UGA was also the school my dad played for, so I wanted to fulfill his legacy here. We were the first, second generation to play for Coach Vince Dooley. I met so many great people and created special bonds with teammates that I'm still in touch with today. We will celebrate our 30 year team reunion at the Nicholls State game. None of us look the same. Some of us have shiny tops now."
What was your favorite game as a bulldog player?
"Wow! Big question. There were many, but the one that probably jumps out most was my first game that I played in as a redshirt freshman in '84 against Ole Miss. I had to come in and relieve our starting quarterback Todd Williams who was injured in the 2nd quarter. That was my first action in Sanford Stadium. We were losing, but we were able to come from behind and win."
What does it mean to be a letterman at the University of Georgia?
"To me it is just an incredible honor. To be offered the opportunity to wear the red and black and represent the University of Georgia was very rewarding. When you are eighteen years old, and you sign a scholarship, you don't recognize what and who you're representing. As we age, the respect factor grows so much for the alumni base, what UGA is, and what it stands for."
Kirby is obviously a letterman, so what do you think it is going to be like to have a letterman as a coach?
"It enhances the culture of UGA having one of our own as the head football coach. Kirby will be the second [letterman who has returned as head coach], and in doing such it elevates the pride factor. Our student body and our alumni will fully support him. You look at the energy that surrounds the football program right now, and it is probably at an all time high."
How many regular season victories do you think Kirby will win in his first year?
"Oh! Putting me on the spot! I would like for us to win them all but I predict ten wins.  For the 2016 football season, we've got a demanding schedule, but if things go well, and we can avoid the injuries, I can see a ten win season. It's just who can protect the ball and how their special teams show. Our success will come down to avoiding key injuries and protecting the football."
What was it like to play in the Chick-fil-A Peach Bowl Challenge golf tournament with Kirby?
"First of all, it was an honor for Kirby to call and ask me to join him and represent the University of Georgia. Chick-fil-A did a tremendous job. Their hospitality is second to none, and the event was extremely well organized. The two day event was enjoyable and competitive but unfortunately we did not bring home the title. We tied for second and in doing so, we earned $55,000 in scholarship money for the University of Georgia. Hopefully, Coach Smart will extend the invite again next year so we can make a run at the title. It was a great experience to interact with all of the coaches, celebrities and Chick-fil-A partners."
Based on the golf tournament, who do you think is more competitive, you or Kirby?
"There is no question, I am. We had a great chemistry and worked very well together."
Let's talk about what it means for you to be back in your hometown after you lived in Atlanta.
"There was a purpose in coming back home. You appreciate Athens more when you move away. We take for granted so many of the benefits that Athens offers. The quality of life and living here is awesome. Evelyn and I are glad to be back in a community we love and closer to UGA, which we both enjoy very much."
What lessons did you learn from your dad in the hotel business and life in general?
"Enjoy life! Leroy was full of life and he made it a daily practice to get the most from it. His day started at 5:00 AM and he addressed everyone by saying 'Top of the morning!' I was able to grow in business outside of my family through Hanson Aggregates and Caterpillar. Now I'm engaged in the industry I grew up in, and I realize why my father loved hospitality so much. It was certainly because of the people, which is my favorite part as well. I not only love it, but learn something new everyday from our associates and guests."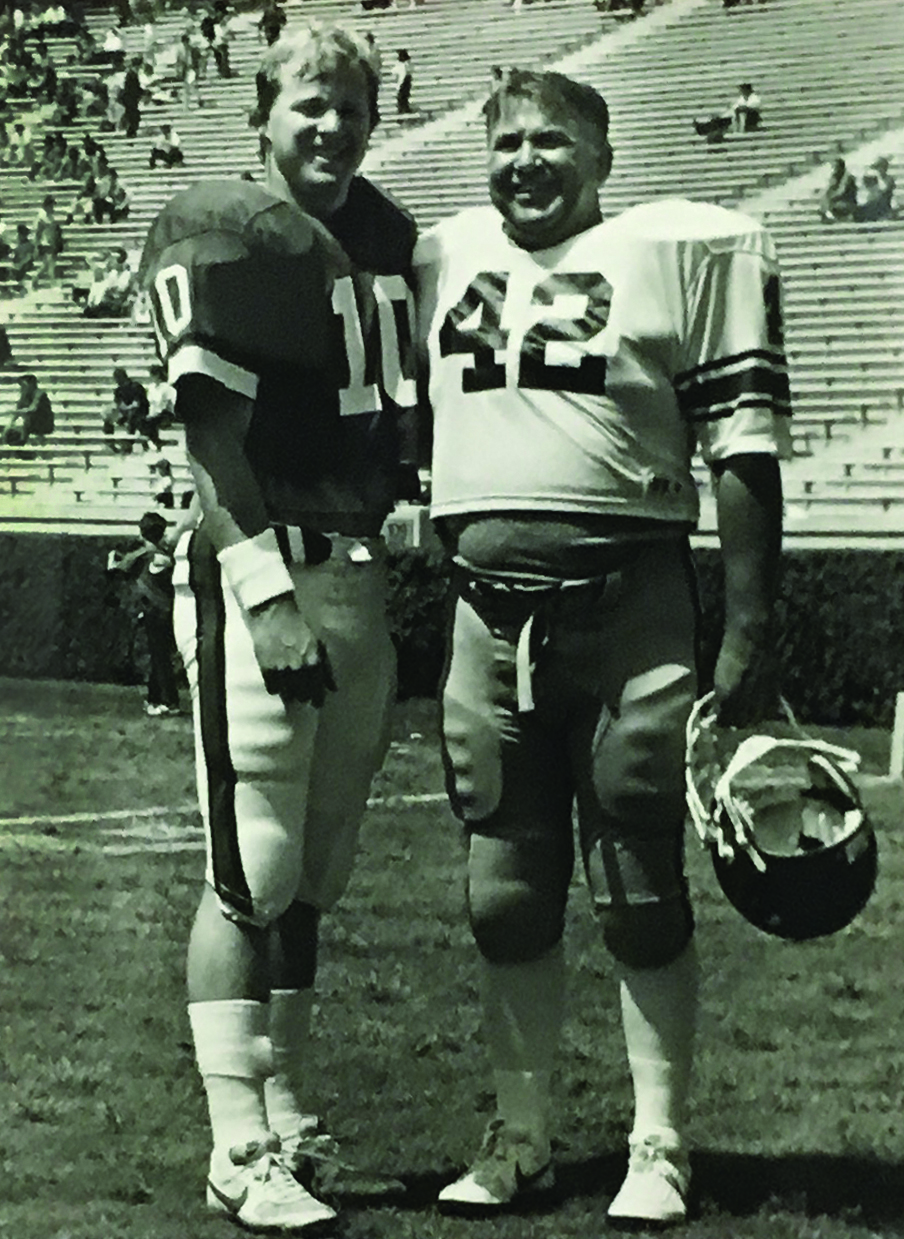 David Dukes and Leroy Dukes
Let's end with local Athens athletics, this year will be the fifty year anniversary of Clarke Central and Cedar Shoals' rivalry, so what was your record as a Gladiator against the Jaguars?
"We never lost! We were undefeated against them in football and baseball. We defeated them twice our senior year, first in the city championship, and then two weeks later in the region championship. It was a fierce rivalry, but it was a good one and we were fortunate we always came out on top."
What are your expectations for Coach Perno and the Gladiators this year?
"Well first I'm excited for David Perno. The Perno and Dukes families are exceptionally close. Donn, David's older brother, and I were inseparable growing up as we did everything together. We were competitive, had lots of fun and we pushed each other to improve daily. Clarke Central is off to a good start. They had a shut out victory for Coach Perno's high school football coaching debut. Coach Perno is excited about his competitive defense and his young quarterback Jack Mangle especially with Mike Gunn as his offensive coordinator. Coach Perno stated his team needs to build better chemistry to survive the new region schedule."
In closing, I had such a blast interviewing David. Even though David is my uncle I learned some new, really cool facts about him. David is an official Smart Dawg! I'm honored to be his nephew. Thank you so much Uncle Dukey for your time both on and off the field!
-Hamilton Culpepper