All of my interviews are super fun, but this one is particularly special. This issue is celebrating the 15th anniversary of Bulldawg Illustrated, and no better way to celebrate than to hear the history of this magazine from the horse's mouth my boss, mentor, and friend, Vance Leavy, the editor/owner/founder (with his wife Cheri) of BI. I have been writing for BI since I was in the seventh grade, and Cheri and Vance have helped me throughout this entire journey.
I'd like to give them a very special thanks for allowing me to write for them and encouraging me along the way. This statement from Vance perfectly sums up what this publication represents. "Unlike all the other media that have to sort of adhere to media protocol, we are a fan publication for the Bulldogs. Our allegiance is to support Georgia, so we look at it as stewards to get the Bulldog Nation fired up about the next game. Of course, when the winning is good, it's a lot easier."


Bulldawg Illustrated Background

Vance is a native of St. Simons Island where his family has been working in the newspaper business since 1902. In 2002, Georgia's football season was surrounded with hype because the Dawgs won the Southeastern Conference Championship. Well, around this time Vance was working at The Brunswick News and was running a social publication (with Cheri) called the Coastal Illustrated. Vance and some buddies had attended the NCAA Final Four for 10 years leading up to 2003. In 2003, they made the trip to New Orleans for the Final Four. They actually stayed in the same hotel as the Kansas Jayhawks. In the hotel, there was a publication called The Jayhawk Insider. This publication was all about the Kansas basketball team.
On the way home from the tournament, Vance began to think about a publication for the University of Georgia's football team. When he arrived back home, he proposed the thought to Cheri. With their background publishing, they had the wherewithal to do it. Cheri was the editor of Coastal Illustrated, and in the publication, they included photos of people at community events and other gatherings. There were also lifestyle articles, so she said if she was going to do it, they'd have to include some of this type of content rather than it being all sports. Bulldawg Illustrated was born!
Connections

As the creation of the publication was taking shape, they began to reach out to Georgia personalities for support. About a year prior to the beginning of BI, the Leavys got to know Jeff Dantzler. Vance said, "You quickly realized he [Dantzler] knew a ton about Georgia, so he was my next call." Vance recalled his exact words when soliciting JD to contribute to BI, "If you got the time, I got the dime." Coach Dooley was the athletic director at the time, and according to Vance he had a radio column that he did locally here in Athens, so for about the entire first year Coach Dooley was a columnist for BI. Two other great names in Georgia history that they got to know early on were Charley Trippi and Sonny Seiler. Mr. Seiler specifically loved what they were doing, and his story of Uga was much like the story of BI. They both have a love for Georgia football, and they began something to enhance the program and the true Georgia football experience. Coach Richt was also great to the Leavys. He was always willing to afford them a couple of interviews beyond what most news organizations were receiving. Another name Vance reached out to help BI was sports editor for The Brunswick News, Murray Poole. Mr. Poole was retiring from the paper about the same time as the creation of BI, so Vance asked him to see if he would continue to write for BI. Another contributor to BI through the years that Vance mentioned was Loran Smith, whose Rolodex of sports personalities and Dawg dignitaries added neat credibility.
The name

Coastal Illustrated was their St. Simons publication, so they just replaced Coastal with Bulldawg and the name was born. The publication's familiar and sincere fans, if you will, refer to the publication as BI as I have been doing throughout this article, but beyond the name is something really special and unique, the fan photos. "Even though the articles and whatnot were good, people like opening it up to see who we have taken photos of," Vance said. A photo without a name could be anyone." It is super important to Vance and Cheri to get the names with the photos because it unveils the personal aspect of the publication.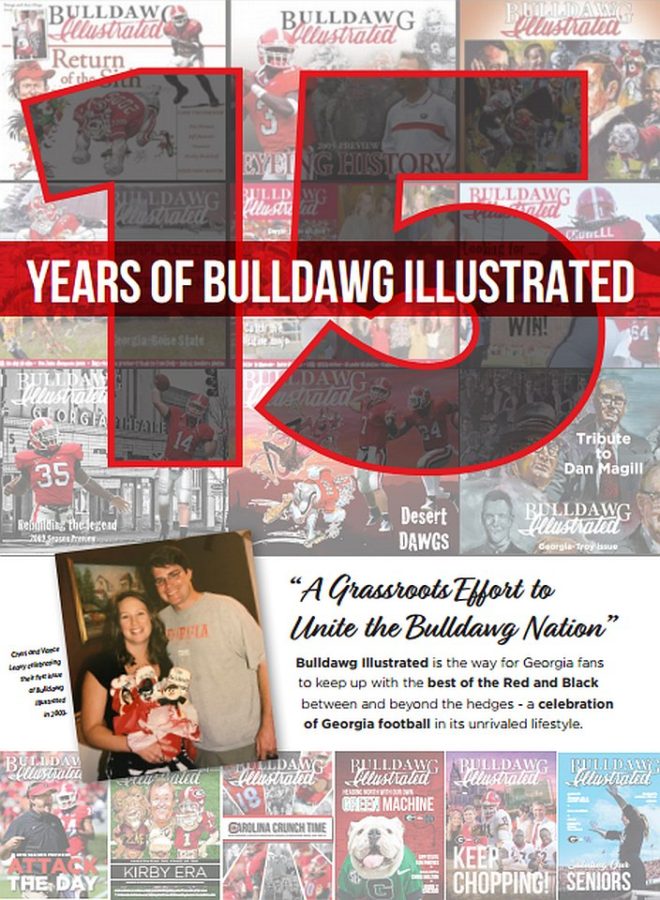 Support and thanks

Vance pronounced, "One thing I want to so get out there is we wouldn't have been around for 15 years if we hadn't had some unbelievable people that supported us from day one." Some advertisers who have been with BI since the beginning are the Farmers with Budweiser, the Leeberns with Georgia Crown, the Sea Island Company, Southeast Georgia Health System, Benson Hospitality, Heery's and Chris Lloyd with Hilltop Grille.
Vance added that Mr. Lloyd is the son-in-law of Jack Davis, the famous Georgia artist. Jack Davis is a name he couldn't leave out when thanking people. Jack did the covers for BI for over 10 years. "He was such a wonderful man, and he did it because he loved Georgia," recalled Vance.
There are so many more names to thank like Jeff Dantzler. Vance said in the past 15 years, he's only had to yell at Dantzler twice. Vance knows Jeff's work is important to him, and he always gets it done. Another person Vance would like to thank is art director, Hannah Groseclose. She joined the BI team recently, but since she has been on the team the graphic design has improved tremendously, including going to magazine format two years ago.
Some more people Vance would like to thank are his photographers Greg Poole and Rob Saye (and Chris Collins in the early years). Vance said these guys are always on top of it. Sometimes Vance and Cheri already have the cover planned out for the next week, so on the Saturday before they'll ask for a specific picture that fits the title, and Greg and Rob always come through. Vance also commended the dozens of covers his high school friend, Boyd Martin designed through the years.
He also mentioned current sales associate Caroline Kinney and former BI staffer Andrew Miller for their commitment to BI. And on the website front, Vance talked about Greg Poole being the glue for BI.com with the diligent help of Bob Miller and Katy Wildes on social media. Also, Vance praised all the folks who have delivered BI through the years saying doing it week after week is grueling work.
The final name he can't thank enough is his wife, Cheri. Vance said he is credited with being the editor, but together they are the editors. According to Vance, she is the one who is reading every single page, particularly back when he was doing the majority of the publication's design. He added that Cheri currently serves on the University of Georgia's Alumni Association Board. This affiliation has led to many features about accomplished alumni in every issue.
The 2017 Dawgs

Vance stated, "Just getting to the SEC [Championship] was gravy this year." His preseason predictions were for us to go 10-2, losing to Auburn and Notre Dame. He said, "In my mind, I thought we had a shot at it, but I don't think any of us were prepared for the way the team has come together so well." He is a huge fan of Kirby's philosophy saying, "I'm certainly not cheapening it [Kirby's philosophy], but it's pretty simple. You're going to play football the right way, or you're not going to excel in this program." Vance is also very impressed with the turnaround in all three phases of football … offense, defense, and special teams. He has especially liked our improvement in special teams, something that another BI contributor, Kevin Butler has stressed each week in his players of the game in every issue of BI. Vance is super thrilled with the opportunity of playing in the Rose Bowl, and he hopes, like no other, that we will come away with the sweet, sweet victory.
After 15 years, you can certainly tell the entire Bulldawg Illustrated team still exudes their love and passion for Georgia into every magazine issue they produce. And yes, their sports coverage is excellent, but at the core of each issue, is the saying Jeff Dantzler coined "you just never know who'll you see in Bulldawg Illustrated."


Here is the audio of my full interview with Vance Leavy:


---
Recent Articles by Hamilton Culpepper
[pt_view id="786b6cb2sw"]