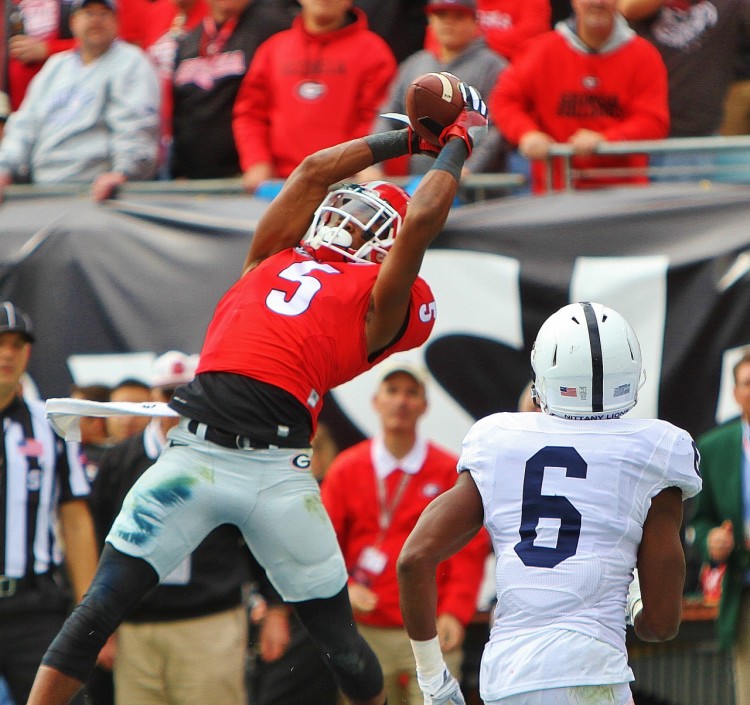 Seth Emerson wrote an article on Dawgnation yesterday about the issues Georgia is facing at wide receiver this season.  While I can't argue with Seth's numbers or his position, I think of all the question marks Georgia has for the 2016 season, receiver is the one we can worry the least about.
When Mark Richt was in Athens, getting elite talent to come to Georgia was never a problem.  Sure, there could have been more, but generally speaking Mark Richt brought in many elite recruits. And as we are painfully reminded each Saturday on the jumbotron, there are many Dawgs in the NFL with not much to show for it.
But of all the great players that Richt brought in, he never really brought in that many great wide receivers.  Sure, there was A.J. Green.  And Malcolm Mitchell was a heralded recruit and had a great career.  Way back when, Fred Gibson was convinced to come to Athens.
I don't say this to disparage any of the other guys we've had.  Recently, Tavarres King, Kris Durham, Michael Bennett, Chris Conley and many others have been very good players, but weren't, and were never going to be, the top level talent at their position.
Mitchell had a great career at UGA, and his absence leaves a considerable void.  Terry Goodwin could be a superstar, and Isaiah McKenzie is a dangerous weapon when deployed properly.
Outside of that, as Seth correctly stated, there are a bunch of "ifs" in the receiving corps.
But that doesn't matter.
I've long believed that good quarterback play makes mediocre receivers look a whole lot better. It's really a chicken and the egg argument.
It doesn't matter if you have a stable full of A.J. Greens, if the quarterback can't get them the ball, how effective are they?
I always think back to the 2005 season.  Georgia had to replace David Greene, Fred Gibson, and Reggie Brown.  The team's leading "receiver" that season?  Tight end Leonard Pope.  D.J. Shockley had, up to that point, one of the greatest seasons for a quarterback in UGA's history.  He did so with a very mediocre receiving corps.
Aaron Murray broke all kinds of records while at UGA.  2012 was the only year he had quality depth at the receiver position, which also was a year where the running game was at its best in his tenure.
Georgia has plenty of tight ends and tailbacks to throw the ball to.
The biggest problem at receiver that I see is not the depth or the talent.  It's the size.  As Seth briefly mentions:
Alabama and LSU also have the tallest average receiving corps 6-2 7/8 and 6-2 1/3), according to the Advocate's survey, while Georgia is tied for the fifth-smallest (6-foot and 3/4.)
We don't have, at least proven, the kind of receivers that block downfield and help make room for those long runs we've been accustomed to seeing.  Terry Goodwin and Isaiah McKenzie aren't going to be able to hold a block downfield like other guys previously here were able to do.
So quarterback play is paramount for receiver productivity.  There are questions there.  But a lot of that will work itself out if Georgia can run the football.  It all comes down to the running game.
The "ifs" we need to be asking are IF Chubb is back to his old form, IF Michel can recover quickly and stay healthy, and IF Holyfield can be a contributor.  If the answers to these IF questions are yes, then the offense will be fine.  Receiver issues or not.