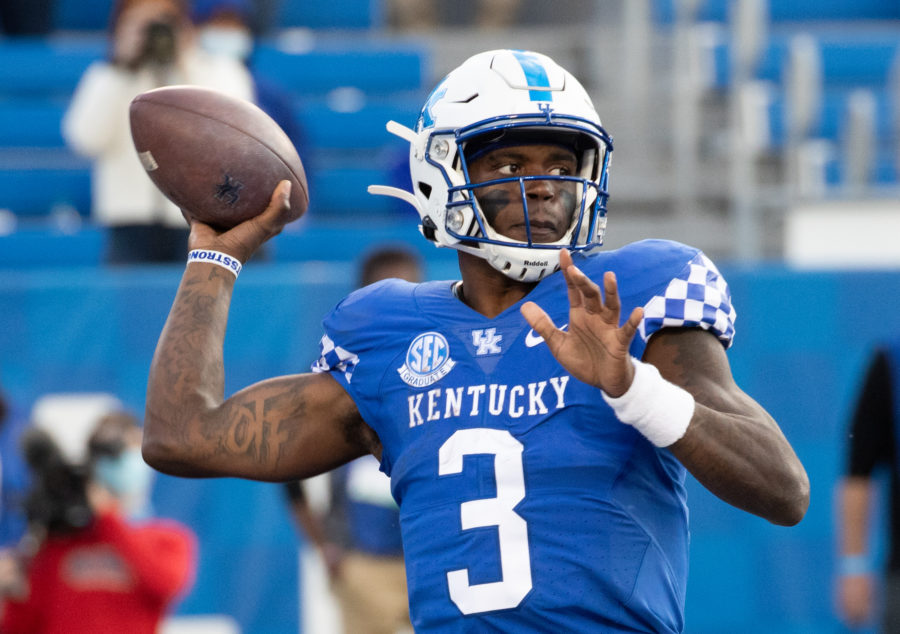 Terry Wilson (QB, #3)
Terry "Touchdown" Wilson is one of the most electrifying players in the conference because he has a cannon for an arm, and has the ability to take off at any moment. The 6-0, 202-pound senior quarterback has an up and down season so far, but he's still a player to watch. Last season, he missed most of the season with a torn patellar tendon in his left knee which required surgery. He was injured in the third quarter of Kentucky's matchup with Eastern Michigan last season. Since the start of the 2018 season, only two active SEC quarterbacks have had five games with a completion percentage of at least 70-percent (min. 20 att.), which includes Alabama's Tua Tagovailoa and Wilson. He started in 15 consecutive games leading the Wildcats to a 12-3 record, which is the best for any UK quarterback since 1993. Georgia's defense will be after him all game long but expect him to be able to make some plays if necessary.
Josh Ali (WR, #6)
For Kentucky to upset Georgia, they will need to rely on weapons like running back Kovisoey Smoke and wide receiver Josh Ali. The Wildcats might not be able to run the ball effectively so Ali will need to step up in a big way against the Bulldogs. Through four games this season, Ali has totaled 25 receptions for 290 yards and one score. He isn't one of the best in the conference, but is capable of making plays against Georgia defenders. The Hollywood, Florida native will have to find enough separation and get open towards the sideline. That is where he could have success, since Georgia's defense has given up several long touchdowns this season on blown coverages.
Drake Jackson (C, #60)
Besides Georgia center Trey Hill, Kentucky center Drake Jackson is regarded as one of the best at the position in the conference. The 6-2, 292-pound senior was named to the First Team All-SEC (AP and Athlon), Third-Team All-SEC (Phil Steele) and Second-Team Center (PFF) in 2019. He started all 13 games in 2019 and now has 33 consecutive starts at center. He helped the Wildcats set single-season school records with 3,624 rushing yards, 36 rushing touchdowns, and 6.3 yards per carry. He also has only allowed one sack last year while on the field. He will face a talented Georgia defensive line, but could give them trouble.
Jamin Davis (ILB, #44)
The Wildcats have a pair of linebackers in Jamin Davis and DeAndre Square, both of who rank in the top-15 in tackles in the SEC. Davis is regarded as one of Kentucky's best defenders because of his experience. Last season, he saw action in all 13 games with one start. He totaled 32 tackles, one sack, two quarterback hurries and an interception. His successful start to the 2020 season is credited to his willingness to learn, and improve in the offseason. The 6-4, 235-pound junior is fast off the line of scrimmage and has the ability to contain the Bulldogs' run game if the offensive line doesn't stop him.
Kelvin Joseph (CB, #1)
Kentucky cornerback Kelvin Joseph had to sit out last season due to NCAA transfer rules. He spent his first season at LSU in his hometown in Baton Rouge and didn't receive a lot of playing time, but his skills showed. Joseph played a huge role on special teams during his freshman year at LSU. Out of high school, he was one of the most heavily recruited defensive backs in his class. Now, he's one of the top players on Kentucky's defense. He will need to stop Georgia's passing attack, and shutdown receivers like Kearis Jackson and George Pickens. The 6-1, 192-pound sophomore has the speed and size to keep up with Georgia's speedsters.
Max Duffy (P, 93)
Kentucky senior punter Max Duffy is one of the best punters in the nation. In 2019, he won the Ray Guy Award, which is awarded to the nation's best punter. A native Australian, Duffy played professionally in Aussie Rules Football. Last season, Duffy racked up more than a dozen accomplishments and accolades as led the nation in punting as he averaged 48.1 yard per punt. He is Kentucky's career punting leader with a 46.3-yard career average. This season, he has a season long of 75-yards, which came against Auburn. Imagine if the Wildcats have to punt a lot, Duffy is a weapon that they want on their side to control field position.