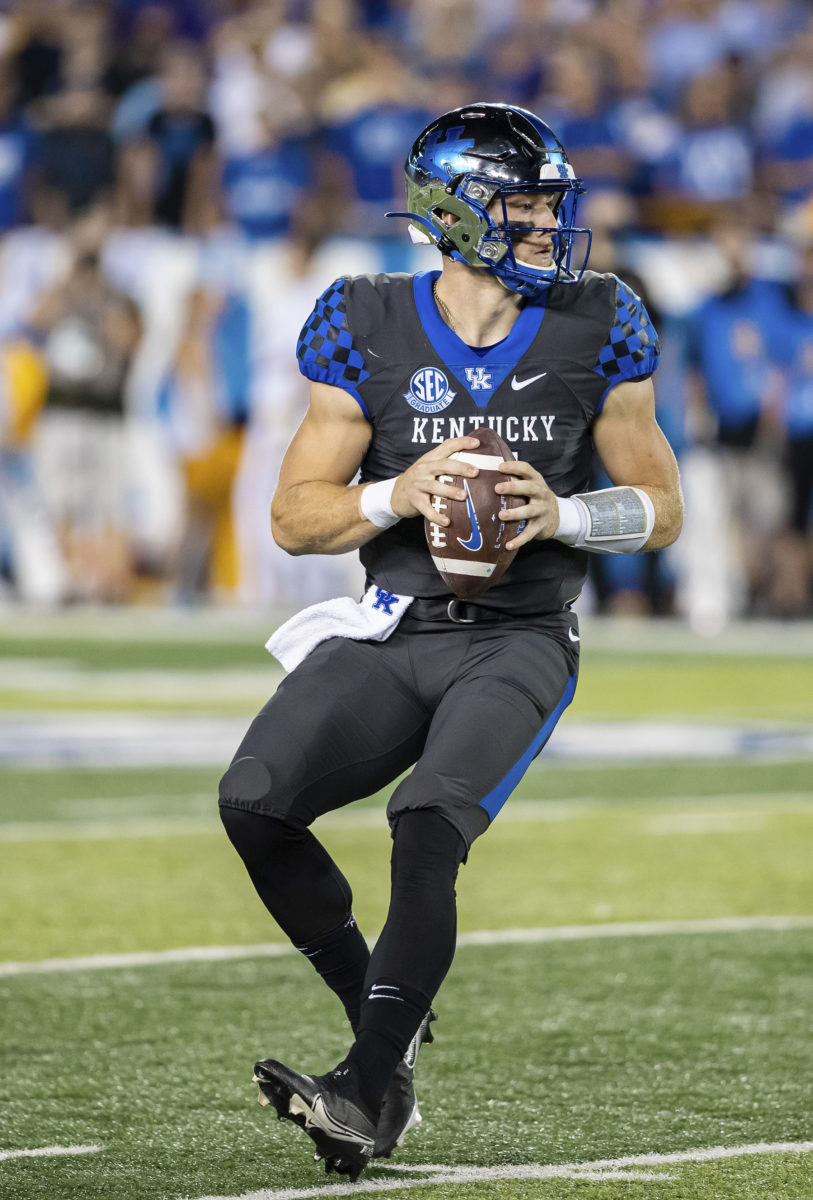 MARK STOOPS – Stoops has his team playing inspired football right now. The Kentucky Wildcats are out to a 6-0 start for the first time since 1950, when Bear Bryant was the head coach. Stoops' story is nice to see because of the time it's taken to turn the Kentucky football program around. Stoops arrived in 2013 and inherited a 2-10 football team, now he's got his team playing in one of the biggest games in program history when the Wildcats head to Sanford Stadium on Saturday to face No. 1 Georgia.
WILL LEVIS (QB #7) – Levis has done a sufficient job so far as the first year signal caller for the Wildcats. The Penn State transfer does not have any eye-popping stats but he's been a game manager this year for Kentucky, which is what they have needed him to do so far. He'll have to do more than just that to beat Georgia's defense though, including making plays with his legs. Levis is third in the SEC with six interceptions. If he turns the ball over against Georgia, it could get ugly fast for the Wildcats.
CHRIS RODRIGUEZ JR. (RB #24) – The junior from McDonough, Georgia leads the SEC with 759 rushing yards and also has five rushing touchdowns on the year. He scored Kentucky's first touchdown against LSU with a receiving touchdown as well, so look for the Wildcats to use him in the passing game. Georgia has the best run defense in the country but at times has had trouble with tackling. Rodriguez Jr. is a physical runner that could give the Bulldogs defense some problems if Kentucky is able to run him outside and get him into space.
WAN'DALE ROBINSON (WR #1) – Robinson leads the SEC with 527 receiving yards, which shows how impressive Kentucky's offense has been to have the leading rusher and receiver in college football's best conference. Georgia safeties Christopher Smith and Lewis Cine were banged up in the win against Auburn, so look for Kentucky to try some deep shots with Robinson streaking down the field. He's also fourth in the SEC with 37 catches.
J.J. WEAVER (OLB #13) – Weaver possesses elite pass rushing size at 6-foot-5, 241 pounds. Think of him as Kentucky's version of Adam Anderson, just a little bit less athletic. He leads the Wildcats with 3.5 sacks this year and also has six tackles for loss. It sounds like Georgia left guard Jamaree Salyer suffered just a minor injury against Auburn, but if he cannot play against Kentucky, the Bulldogs will have to gameplan even harder for Weaver.
DEANDRE SQUARE (LB #5) – Square is Kentucky's leading tackler with 45 total tackles and the anchor of the defense at middle linebacker. So far, Todd Monken has found a way to get the most out of his offense with both the run and pass game. Square will be tasked with taking that away.
Dan Issel is one of the greatest players in Kentucky history, earning All-American honors for Adolph Rupp, and then averaging 22.6 points per game during a distinguished pro career.
Led by head coach Paul "Bear" Bryant, the Wildcats of 1950 won the Southeastern Conference championship, posted an 11-1 record, and beat No. 1 Oklahoma 13-7 in the Sugar Bowl.
Art Still, a future NFL Pro Bowl star for the Kansas City Chiefs, was an All-American for the 1977 Wildcats, who posted a 10-1 record, highlighted by a 33-0 victory over Georgia in Athens.