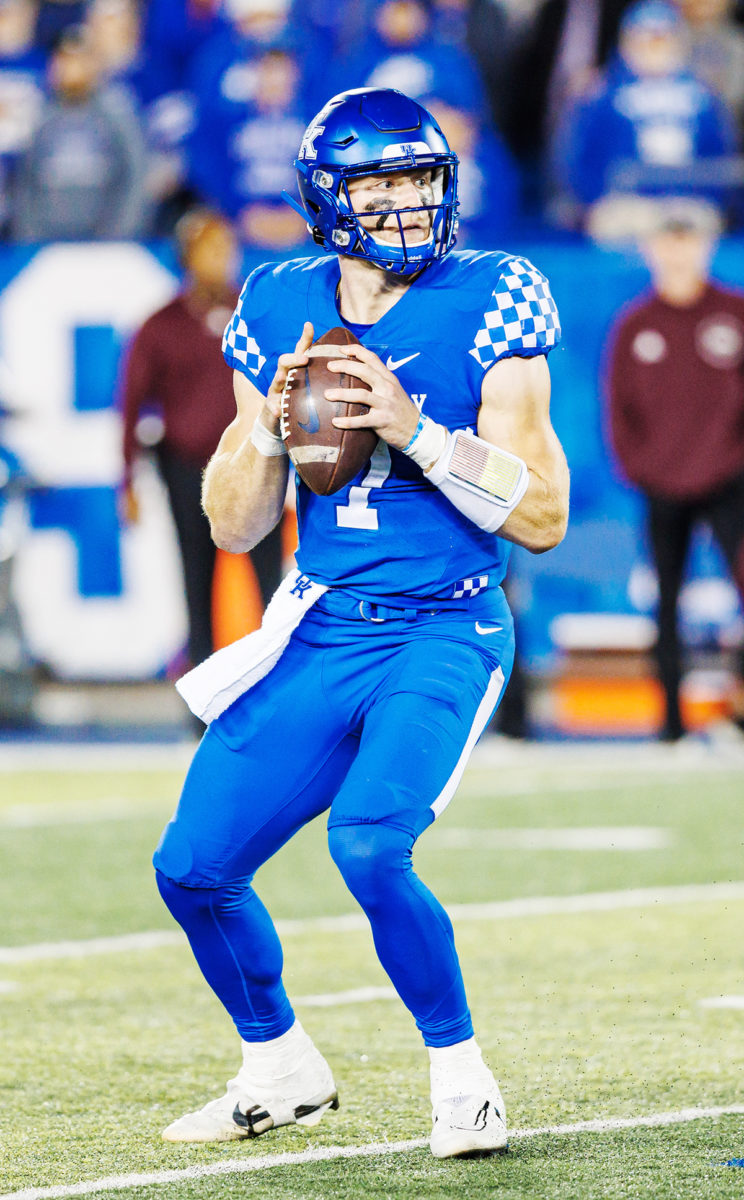 Mark Stoops (HC) – Despite a difficult 2022 campaign, Stoops has led Kentucky to new heights to which they have not been accustomed. The former defensive architect for the Florida State Seminoles is coming off a 2021 campaign where he led the Wildcats to 10 wins which included a Citrus Bowl victory over Iowa. Stoops is known for fielding extremely physical teams that are difficult to play against no matter their record. Despite coming off an extremely disappointing loss against the Vanderbilt Commodores, Stoops will have his Wildcats fired up to play the visiting National Champions.
Will Levis (QB #7) – The Wildcat quarterback is midway through a rather disappointing 2022 campaign. Levis came into the season with tremendous hype and Heisman expectations. Levis is still predicted to be a first-round pick despite serious struggles this season. The Kentucky quarterback is coming off a game against Vanderbilt where he threw for just 109 yards, no touchdowns, and one interception. Despite his struggles, Levis possesses a massive frame with a rocket arm. The Bulldogs seem to be coming into town at the right time, but they certainly will be aware of Levis' athletic abilities.
Chris Rodriguez Jr. (RB #24) – Rodriguez was one of the few bright spots in Kentucky's loss against Vanderbilt. The senior from McDonough, Georgia rushed for 162 yards and two touchdowns. Rodriguez was suspended toward the beginning of the season, but since his return, the running back has made Kentucky a much more threatening team offensively. Georgia, so far this season, has been impressive against the run, but Rodriguez is a bell-cow type back that will need to be limited in order for the Bulldogs' defense to excel.
Dane Key (WR #6) – Dane Key is a 6-3, 194-pound receiver from Lexington, Kentucky. The freshman has been a hometown hero for the Wildcats racking up five receiving touchdowns this season. Key has just over 400 yards receiving through the 2022 season and is a fantastic catcher of contested passes. The Wildcats will need to rely on their playmakers if they want to have any shot of knocking off the Bulldogs, and Key, despite his age, is more than capable of creating problems with his speed and pass-catching ability.
DeAndre Square (LB #5) – Square is a senior linebacker from Detroit, Michigan. The Wildcat has tallied 55 tackles this season, leading Kentucky's entire team despite being injured for a large part of the season. The linebacker is expected to return against Georgia and Kentucky will certainly need him against a dynamic Georgia offense. Square does a terrific job in pass coverage and he will need to against Georgia's NFL-ready tight ends. If Square is fully healthy against the Dawgs, he will likely lead the Wildcat's defense in tackles.
Jordan Lovett (DB #25) – Lovett was the fourth-leading tackler against Vanderbilt this past weekend. The defensive back from Radcliff, Kentucky has been a massive presence on the Kentucky defense. Lovett is 6-2, 202-pound and is already one of Kentucky's best tacklers. The talented freshman is coming into the Georgia game with 27 total tackles on the season and will be a player that Todd Monken will need to scheme around.