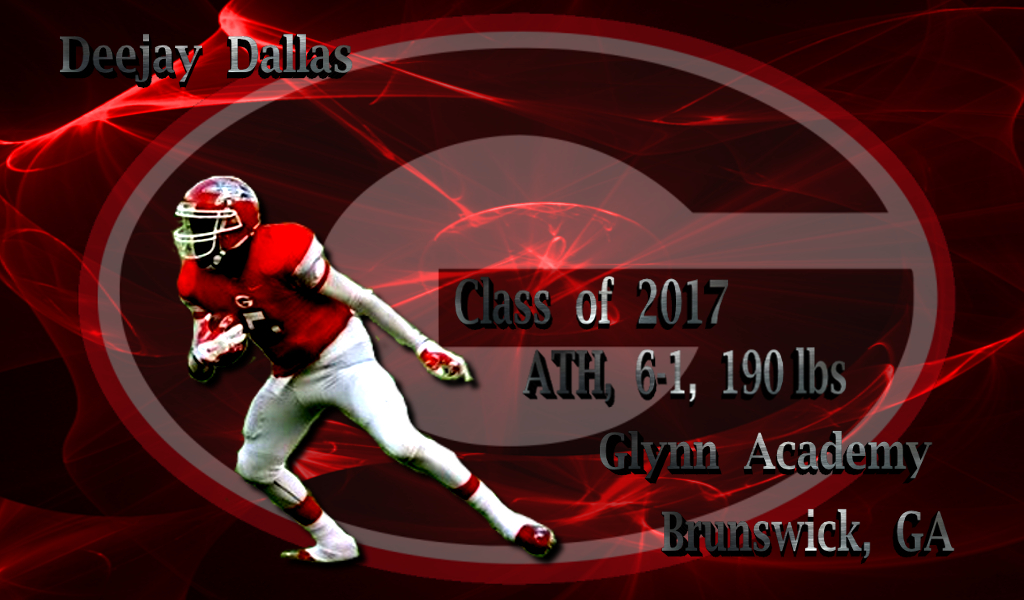 After committing to Georgia over the summer of 2015, but then decommitting just before Christmas 5 months later; will Deejay Dallas recommit to the Bulldogs?


The talented and multi-skilled athlete for the Glynn Academy Terrors out of Brunswick, GA was a terror for many opponents during the 2015 GHSA football season as Dallas caught, passed, and ran for approximately 1,964 total yards and 15 touchdowns last year, and did I mention he can play some defense too from the defensive back position in the secondary?

So it was no surprise when the University of Georgia came a knocking at his door with a scholarship offer, and during Dawg Night back on July 18th last summer, number 5 made a verbal commitment to the Bulldogs. That is … up until Coach Mark Richt was forced to resign soon after the final game of Georgia's regular season and a myriad of coaching changes took place on UGA's staff.

On December 7th, Georgia announced Kirby Smart as its 25th head coach, and just 9 short days later, Deejay Dallas announced he was decommiting from the Bulldogs and reopening up his commitment.

For nearly 2 months, news about Georgia's and Dallas' recruiting relationship was pretty quiet. In fact, one could call it cold, but as the Corso is so fond of saying "not so fast my friends!" Deejay came to Athens this past weekend for an unofficial visit with a number of other 2017 prospects including ATH Detravion Bishop, ATH Richard LeCounte, DB William Poole III, WR Shawn Smith, and ATH JaCoby Stevens to name just a few.

And how good of a visit was it? Pretty darn good according to DeeJay. He told Scout.com's Matt Debary it was a "9 out of 10:"

"I would rate my visit a 9 out of 10." Dallas said. "We talked about how I should take my time with the process and that made it my favorite part about my visit because it helped us get to know each other. It was my first time meeting with the coaches. I'm glad I was able to talk with Coach (Mel) Tucker and coach (James) Coley. They are great guys."

So does that mean that Georgia is back "in it" for DeeJay Dallas? Yes, but it is going to be a definite recruiting battle.

He was just offered by Alabama on the 16th of February, and he has picked up a number of offers since December including Florida State on February 1st, Stanford on February 3rd, Tennessee on February 6th to go along with offers from the University of Miami and West Virginia to name just a few of the over 18 he has currently. I expect Dallas to receive more as the 2016-2017 recruiting cycle goes on and counts down towards NSD 2017.

But Georgia definitely has a chance here, and right now I'd say it is 50/50. Hopefully, come Wednesday, February 1st, 2017, he will be signing is NLI to the University of Georgia. Unless … he enrolls early, and then we will see him in Athens on campus in January. Go Dawgs! Commit to the G!


---