This 2017 Georgia opener under the lights of Sanford Stadium wasn't always pretty, especially on the offensive side of the ball, but with a 31-10 win over the Appalachian State Mountaineers Saturday night, the Bulldogs can take a bit of momentum into next weekend's huge challenge in South Bend, Ind.


Especially when one considers Georgia lost starting quarterback Jacob Eason on the Bulldogs' third offensive series of the game when Eason sustained an apparent bruised knee when being tackled out of bounds on the Mountaineer sideline, the Bulldawg Nation should be pleased its team still walked out of the stadium with a 21-point win over an Appalachian State team that has proved troublesome for Power 5 teams over the last 10 seasons.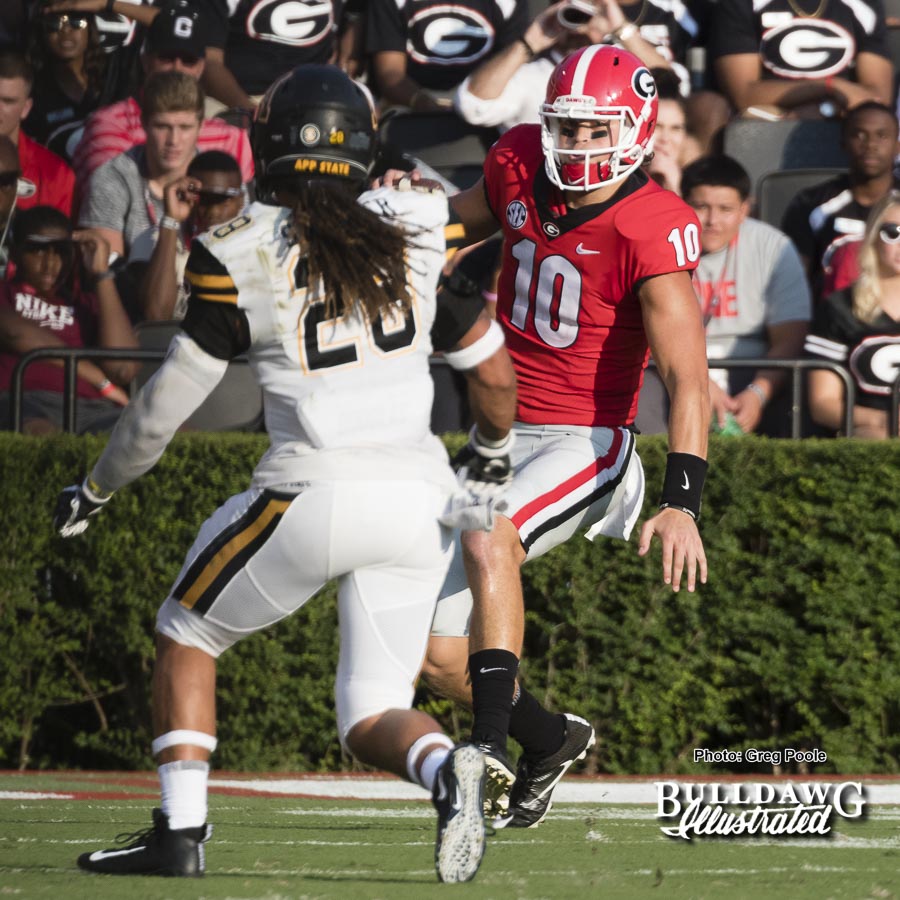 Of course, when Eason went down ‑- and he will get an MRI on his left knee this coming week – Kirby Smart quickly sent freshman backup Jake Fromm onto the field and here again, Georgia fans, you have to be happy with the way the Houston County product stepped up to direct the Bulldog offense. He completed the first two pass attempts of his college career to Isaac Nauta and Mecole Hardman and showed outstanding poise under fire in finishing the night with 10-of-15 completions for 143 yards including a 34-yard touchdown strike to Javon Wims.


Georgia, which went three-and-out in the first two offensive series when Eason was directing the attack, sputtered with its running game in the first half when the Bulldogs could manage only 94 yards on 16 carries. And almost half of that total was achieved on a 44-yard run from scrimmage by Sony Michel.


But after finally getting on the scoreboard via a 1-yard run by Nick Chubb with just 39 seconds left in the opening period, Georgia was able to build a substantial 21-0 lead at the intermission, thanks to the 34-yard pass from Fromm to Wims at the 10:40 mark of the second quarter plus a 6-yard touchdown run by Michel out of the Wild Dawg formation.


In the third stanza, the Bulldogs would boost their lead to 31-0 via a 23-yard field goal by Rodrigo Blankenship and an 8-yard, tackle-breaking scoring run by Chubb. And with the gang-tackling Bulldog defense stopping the Mountaineers at every turn, it appeared Mel Tucker's Georgia defense was going to pitch a shutout in their 2017 debut. But with Brice Ramsey getting his first taste of action in relief of Fromm at quarterback, the Mountaineer secondary picked off Ramsey twice, which led to a 20-yard touchdown run by quarterback Taylor Lamb plus a 43-yard field goal by Michael Rubino.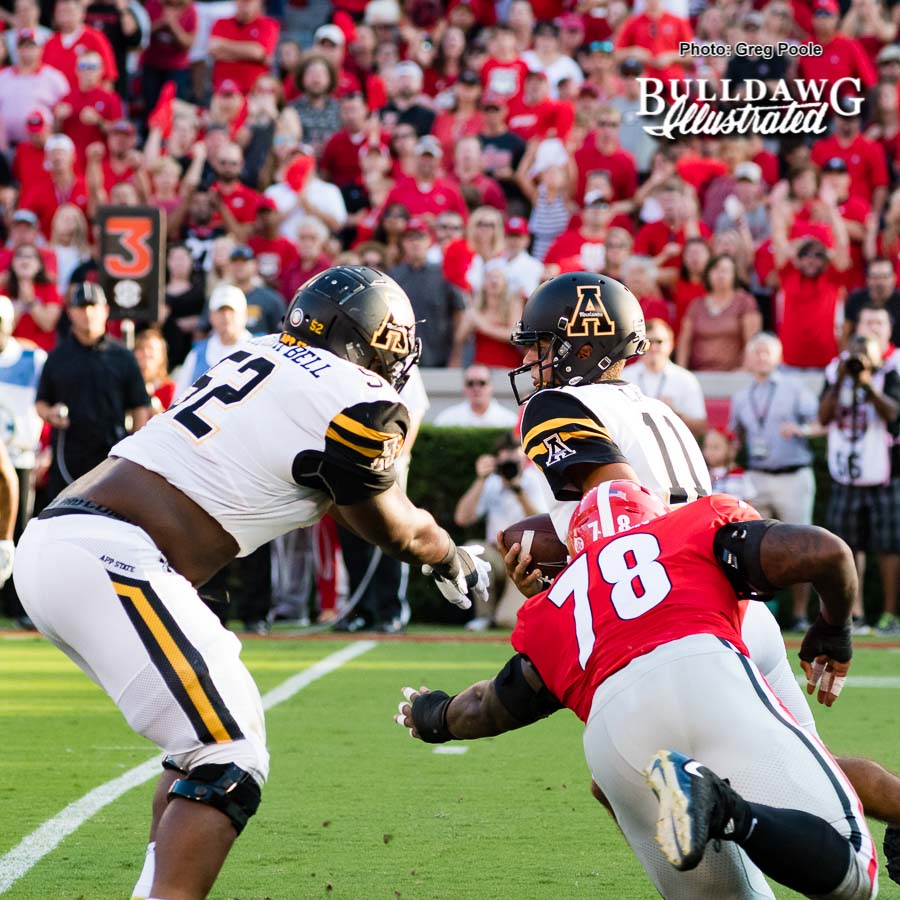 What did I take overall from opening night? Well, I think this Georgia defense is very much for real. Although Kirby, in his post-game press conference, lamented the lack of depth in the secondary, this Appalachian State offense, featuring QB Lamb and Sun Belt 2016 Offensive Player of the Year Jalin Moore, could do nothing against this Bulldog stop-em gang when the game was on the line. With the 10 starters back on defense from last season – when cornerback Malkom Parrish gets back – it's gonna be difficult for any team to move the ball consistently against this unit. If Kirby is indeed molding the defense into something similar to what he coached at Alabama, this bunch took a good opening stride into becoming that kind of defense in this first ball game. With linebacker Roquan Smith and tackle Trenton Thompson each recording six tackles and newcomers in the secondary Richard LeCounte and J.R. Reed following closely with five stops each, the Bulldogs checked the opposing offense to 136 yards rushing and 148 passing.


Offensively, it's difficult to make a concrete judgment after the win over the Mountaineers. It was certainly disappointing in the early going when the Bulldogs couldn't muster any running room whatsoever against the quick Appy State defensive front. But as the contest moved into the second quarter and then the second half, both Chubb and Michel began to hit the second level with their runs and as you look at the final rushing total of 221 yards, you have to say "not too bad," especially when we consider that every guy up front in the offensive line was starting at a new position in this season lid-lifter. Chubb ended the night with 96 net yards and two touchdowns on 15 carries and Michel showed 87 yards on 16 carries and one score.


And hey, how about that kicking game, Rod Blankenship kicked off into the end zone every single time with the Mountaineers only able to run one of those kicks out. And new punter Cameron Nizialek had a fine UGA debut by averaging 43.8 yards on five kicks, including a 53-yarder and two punts rolling dead inside the 20.


OK, final say, this was after all Appalachian State, an FCS team just two years ago, that the Bulldogs dispatched without working up too much of a sweat. We'll know a great deal more about Kirby's second Georgia edition late next Saturday evening when the dust has settled at Notre Dame's famous stadium.



---
Recent Articles by Murray Poole


[pt_view id="2fb799183g"]