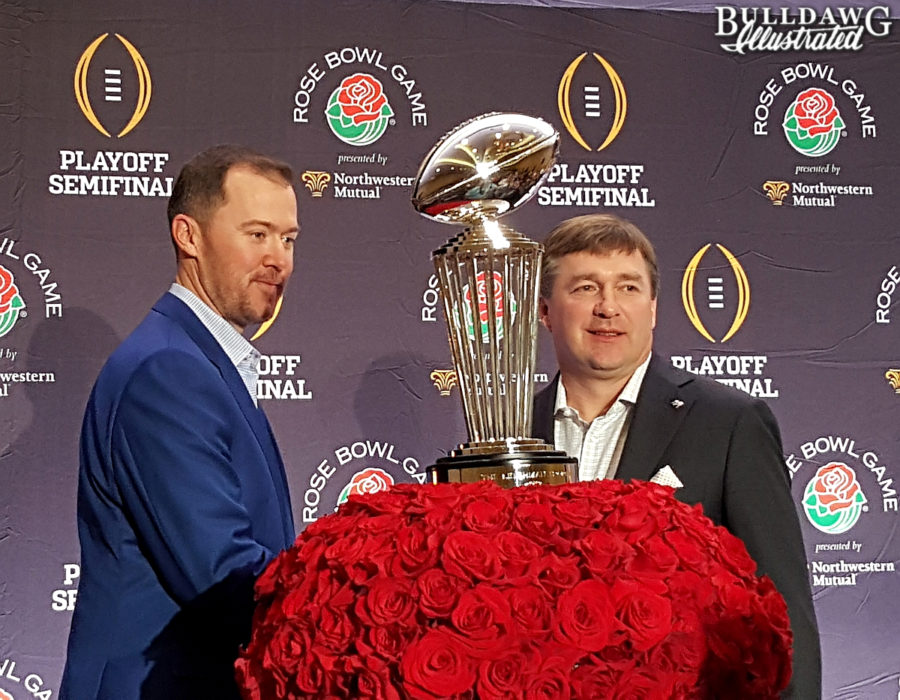 LOS ANGELES – Now, for sure, all the talking and pre-game hoopla and speculation has ended. Following the final Rose Bowl game press conference here Sunday morning with both head coaches, the huge College Football Playoff semifinal pitting the Georgia Bulldogs against the Oklahoma Sooners looms just more than 24 hours away in nearby Pasadena.

And you can be certain both Kirby Smart and Lincoln Riley were relieved after fielding the final questions in a session that lasted under 30 minutes in the LA Hotel Downtown media big room.
Final activity for the Bulldogs and Sooners is set for this afternoon as team pictures will be taken just outside Rose Bowl Stadium followed by a team walk-through on the field. For nearly every member of both teams, it will be their first look at the famous facility, prior to Monday's 5 p.m. ET kickoff.
"Yeah, it's been a great week," said Oklahoma's Riley in his opening remarks. "You'd always heard so much about the Rose Bowl, both growing up just as a kid, as a fan of college football, and then certainly getting into this business, and the great reputation that this game has."
"Now getting to experience the week, you can see why. The venue is incredible. Every detail by the Rose Bowl Committee has been taken care of to a T. Our players have had a great time, some great experiences that they'll remember for the rest of their lives. So we really appreciate the hospitality and the opportunity to be here."
"Like every team, especially in a game of this magnitude, you try to balance all the activities — having fun, not shortchanging our guys on that side of it, but also having great prep work and getting ready to play obviously a great team in Georgia," Riley said.
"So I feel like we've had a great week of practice. We're anxious and ready for the game to be here. It's been a long time coming, lot of build-up. I feel like our guys are excited, prepared, ready to play very well."
Smart also couldn't say enough about how the Bulldogs have been taken care of this past week and all the activities that have been available for the team to participate in.
"Yeah, on behalf of the SEC and the University of Georgia, I'd like to thank the Tournament of Roses," said Smart. "They've been a wonderful host. Like Lincoln said, first-class bowl game. One of the best I've ever been involved in. My previous experience out here (as defensive coordinator at Alabama) was a little different because we didn't stay really with the Tournament of Roses. It was a little different experience."
"But it's been tremendous," he said. "I think our players have really enjoyed it. They've done a good job of keeping them busy and giving them something to do, but also not to the point of being a major distraction from what is a really important game to our program. We have great respect for Oklahoma, the university, Coach Stoops, Coach Riley. They've got a tremendous program. I've always had a tremendous amount of respect for what they've done. It's been a place that has set a standard not only in their conference but in the country. So we're excited to get an opportunity to play a really good program in them. A lot of players last year, a lot of players this year have helped set a standard for what we want to play to at the University of Georgia, and we try each game to go out and achieve that standard."
Both Smart and Riley said, as the game draws near, their teams have been able to get back into a normal practice schedule leading up to kickoff, much like a game during the regular season.
"Yeah, I think it's a chance to finally get back on your normal routine, get the guys in a routine where they feel comfortable, and for yourself as a coach," said Riley. "There is a lot of build-up, lot of attention around this game, so I think it's just refocusing in 100 percent, getting on that routine, kind of settling down, getting away from all the noise, all the attention and getting ready to play your very best game."
"Yeah, very similar," replied Smart. "I mean, we get back into a much more normal routine of a game week, at least for the next 24 hours, because everything has been built in. There's been an event or there's been some kind of activity, where now the activity is the game. So the next 24 hours are much more normal for our guys. The most abnormal thing is they haven't had it in however many days it's been, 28 or 30 days. So it's good to get back to some normalcy for them."
Smart and Riley talked about the emotions surrounding likely the biggest game their teams have ever played in and how important it's going to be to establish the tempo you need to play at in the game's first 10 minutes.
"Yeah, that's always important, especially when you haven't played in a while" commented Riley. "But is that going to sit there and decide the game? Who knows? There's going to be ups and downs in this game, just like all games, especially when you play against great competition."
"So certainly you want to start fast, but you're going to have to be able to hang in there in this game," he said. "Both teams are good enough. I would suspect both teams are going to have some strong points in the game, some runs, and how you answer that, to me, is going to be a big key in this game."
"Yeah, I always think it comes back to the response," said Smart. "Because there are moments they've had this year, we've had this year and past years, big games. It's a momentum game. The college game is such a momentum game. There is so much emotion involved. A lot of the outcomes are dictated by how you handle what happens. Not necessarily what happens, but how you handle what happens. I think that's really important. Both teams have handled that well throughout the year because both have had some tough situations."
Someone asked Smart about the vast experience Oklahoma senior quarterback and Heisman Trophy winner Baker Mayfield brings into the game as compared to Georgia freshman quarterback Jake Fromm.
"Well, good thing for him is he's not playing against Baker," replied Smart, drawing laughter. "They're not on the field at the same time unless we put him out there at defensive back or something, which that would really concern me. So he doesn't have to do that."
"The good news is Jake has done a good job of using the people around him to help him," he said. "He's also played in some really big games this year for us, so he's got some experience. Traveling to Notre Dame the first time I was a lot more worried about how he was going to respond to adversity, to mistakes and things like that. Having seen him play throughout the year, play in our conference, play in the SEC Championship game, I think he'll have the confidence to respond the right way."
"Doesn't mean he won't have jitters. Baker played in this game two years ago, I think, and he was maybe a sophomore or junior. I'm not sure what year he was then," said Smart. "But you have to grow through that. You have to use the people around you. But we make sure he understands he's not in a statistical warfare with Baker Mayfield. We know Baker is a very good player."
The coaches were quizzed about the different style of offenses in the Southeastern Conference and Big 12 and what challenges that presents for the Bulldogs and Sooners' defenses.
"Yeah, I think there's challenges," Riley said. "There are certainly challenges when you play people out of conference that you're not used to playing every single year."
"I think the good thing for us defensively is at least from our offense they see a little bit of both. Not that it's exactly like Georgia. It's not. But it's not like we're just sitting and dropping back and throwing it 60 times a game from four wides and that's all they see. I think that's helped us defensively, giving us a good head start on it. Used to seeing some of the run game, the physicality, and we're hoping that that carries over."
"Yeah, I wouldn't argue that the two conferences are as far apart as maybe you make them to be," said Smart. "I think when you watch both conferences, the SEC has slowly morphed closer in more spread elements. When you look at what Missouri does, what Kentucky does and you start watching all these other teams, I think Auburn's — what is spread? We always have that debate. What is a team that can run the ball physically? Oklahoma runs the ball, they run the ball and they're physical at running the ball. So do a lot of teams in our conference. They throw the ball really well. They spread you out and make you defend all areas of the field."
"I think all offenses are trying to do that now. I just don't see the old traditional I-formation, which I think you may be making that synonymous with the SEC, which I don't think the SEC is that way. I think it's slowly grown to be more of a spread-out conference. Probably not the same offensive numbers, obviously, as the Big 12 is. But it's not as big a disparity as you think."
Smart was asked if it's hard to fathom that the Bulldogs' dynamic tailback duo of Nick Chubb and Sony Michel are in the final games of their splendid career at UGA.
"No, it's not hard to believe we're in the final stage," he said. "It seems like they've been there for 20 years. They've been playing for so long, and they've been such a special tandem and they have such a special relationship. I'm really excited to see those two guys. They've been really focused this week. They're two of the most driven guys on our team. The ones that don't get distracted, the ones that are in every meeting. They sit in every special teams meeting, even though they're not on it. They're in the front of the room, they're making sure guys are attentive."
"I mean, they're what you want to be the face of your organization and leadership in your organization," Smart concluded. "I give each of them tremendous kudos to the way they've managed coming back, being bought in, not being selfish, being patient, and doing a great job of leading our program. They'll be forever remembered as probably the best duo to play at Georgia."
Time to play some football!
---
Recent Articles by Murray Poole


[pt_view id="2fb799183g"]