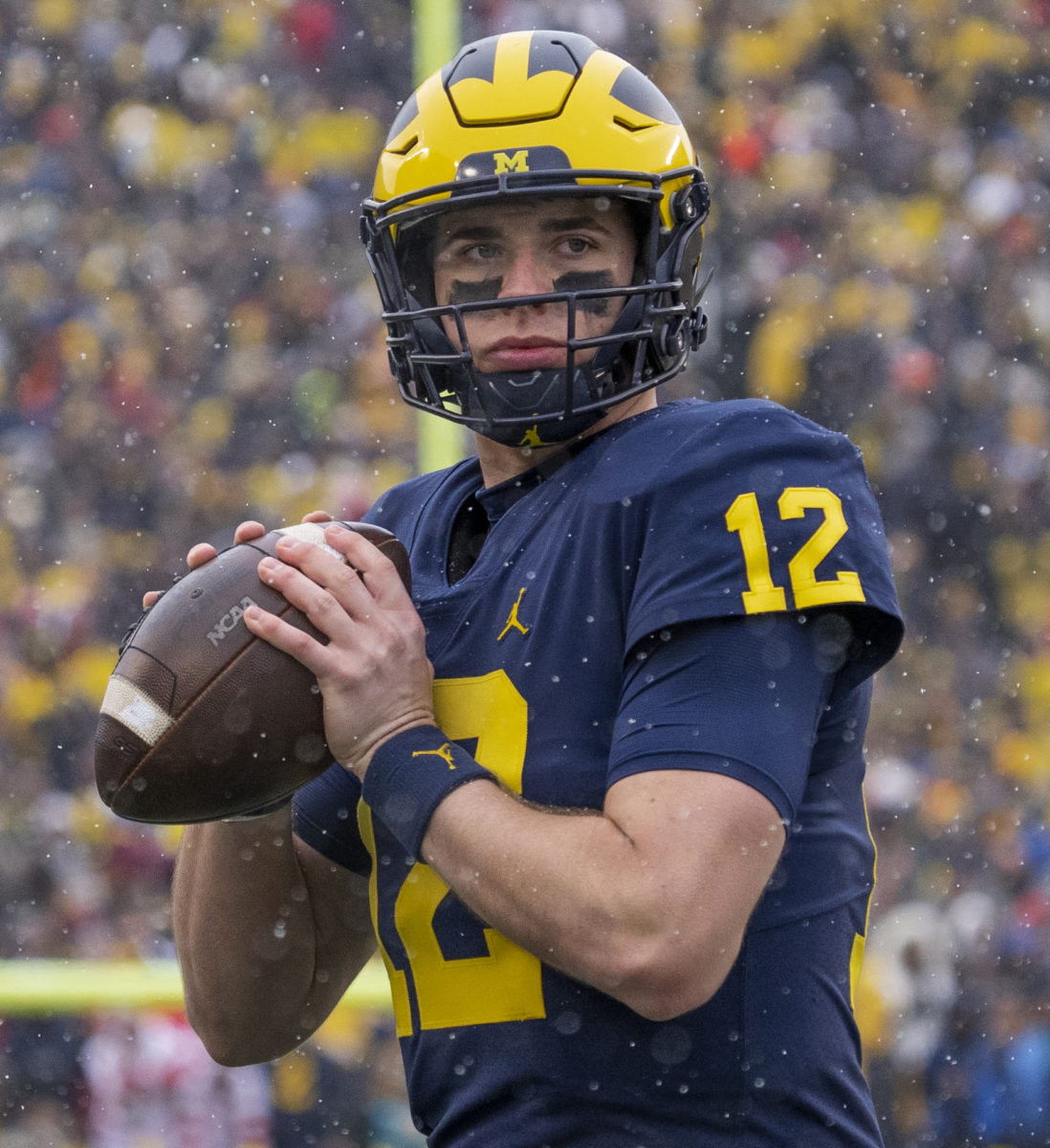 JIM HARBAUGH – (HEAD COACH) – Harbaugh has finally gotten over the hump, beating Ohio State and getting his Michigan squad into the College Football Playoff for the first time after winning the Big Ten. It is safe to say his name is off of the hot seat. His Michigan team has an old-school philosophy, with a good run game and a stout defense. Now, Harbaugh will square off with Kirby Smart in the biggest game of his career as head football coach at Michigan.
AIDEN HUTCHINSON (DE #97) – Hutchinson is almost guaranteed to be a top-five pick in the 2022 NFL Draft and could be the first-overall pick. He is currently third in the country in sacks with 14 so far this season and was named a Heisman Trophy finalist. He is explosive off of the edge at 6-foot-6, 255 pound and will pose problems for Georgia's offensive line that has held up well this season. If the Wolverines want to win this game, they will need Hutchinson to consistently put pressure on Stetson Bennett and force him to make quick decisions.
HASSAN HASKINS (RB #25) – Haskins might be the best running back the Bulldogs have faced all year. He leads the Wolverines in rushing with over 1,200 yards, which is good for eight-most in the country. Now, he will face one of the best rush defenses in the country led by Jordan Davis and Devonte Wyatt. This could be the most important matchup of the whole game. Look for Georgia's defense to send a message after a subpar SEC championship.
CADE McNAMARA (QB #4) – Luckily for Georgia fans, Michigan quarterback Cade McNamara is not Bryce Young. He is more of a game manager than a gun slinger but plays smart with the ball in his hands. He has completed 64.4% of his passes so far this year and also has only thrown four interceptions. McNamara has limitations, so if Georgia can shut down Michigan's run game and force him in long passing situations, the Bulldogs could make him pay.
DAXTON HILL (DB #30) – Hill is the Wolverines' best defensive back and is an athletic corner that will probably have to cover Georgia's best receiver on the field during the Orange Bowl. He has two interceptions this year to go along with seven pass breakups. Bennett will need to know where Hill is on the field at all times, especially on passing downs.
CORNELIUS JOHNSON (WR #6) – Michigan's receivers room is somewhat like Georgia's running backs, with a "strength in numbers" approach. While they do not have a standout WR1, Johnson has led the team this season in receiving yards and catches for the Wolverines. He has also scored three touchdowns.