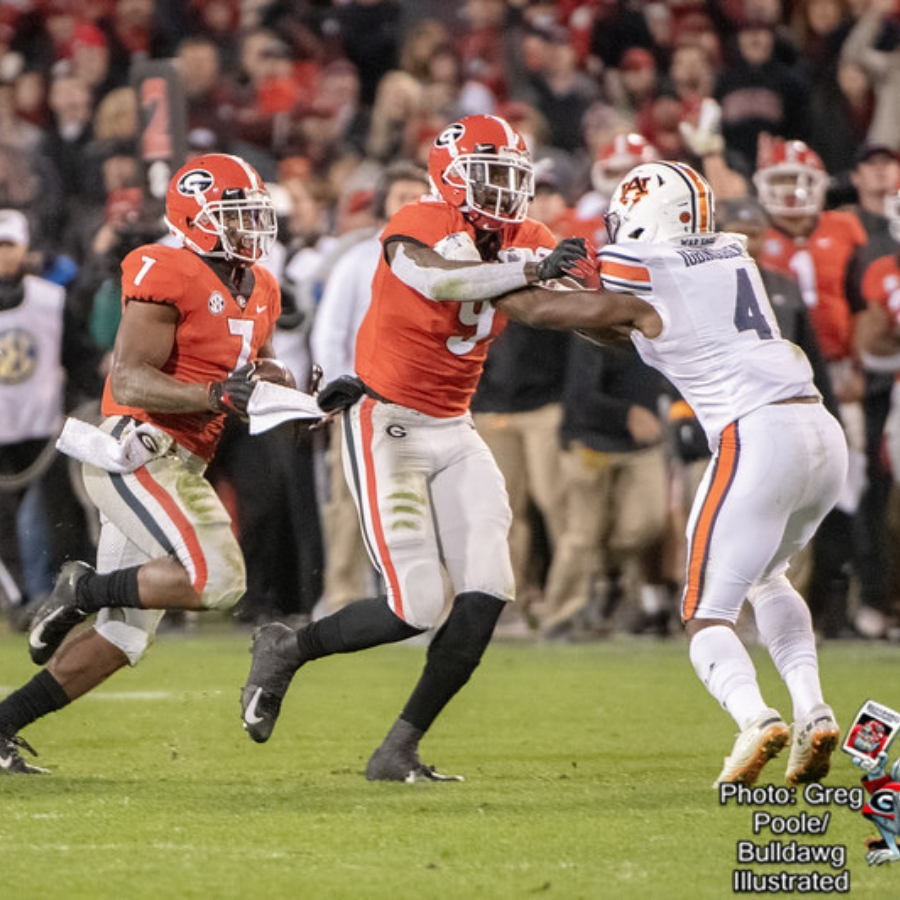 Georgia's freshmen and sophomores continue to show just how talented they are the deeper into the season they go. Last week, I did a piece on five guys out of the freshmen and sophomore classes that stood out to me. Here are five of the young pups who impressed me in the Auburn win. 
1: D'Andre Swift
Swift not only met his career high but exceeded it by 30 yards. He rushed 17 times for 186 times and one score averaging 10.9 a carry. He's 192 yards away from having 1000 yards on the season, and after the way he started, a lot of people probably thought he wouldn't get there. Every time he touched the ball he seemed to make something happen. Despite telling the media he was still getting over the foot injury he suffered in LSU, Swift looked faster than ever. His touchdown came off a 77-yard run, giving him two consecutive games with a 70+ run. The last running back to do that was Herschel Walker.  During that run, he had two critical blocks set by Jeremiah Holloman and Isaac Nauta and sent him to the house.
However, the most impressive part, he didn't have to make any moves, he just ran and ran hard. The way he runs full force at defenders and trucks them is so impressive and Heisman quality. Swift is hitting his stride at just the right moment in the season; he's going to be fun to watch in the next few weeks.
2: Devonte Wyatt
Wyatt came out hungry and on fire during the Auburn game. Even though only recording one assists in the game, he was all over the field and showed a lot of promise. Wyatts' so close to getting his first sack it isn't funny. His ability to get pressure and break through the opponent's offensive line is uncanny. Wyatt's going to be a good one once he gets it all together, and after the Auburn game, he is on the right track.
3: Adam Anderson
Anderson is another that is getting better every week. He recorded two quarterback hurries against Auburn, but he is another one that is on the cusp of having a break out performance.  Anderson is so fast off the edge, and his ability to track the quarterback impresses as well. He was close to two sacks during the game, and it wouldn't surprise me to see him get a lot of playing time against UMass.
4: Jeremiah Holloman
Despite not recording a catch during the Auburn game, Holloman makes a list because of his ability to block. He's a sophomore but blocks like he's a four-year veteran in the NFL. The key block for Swift's touchdown run set him as the best blocker at Georgia, in my opinion. Holloman's well on his way to becoming one of Fromm's favorite targets, and it wouldn't surprise me if he were the top receiver this time next year.
5: Jake Fromm
Since the LSU game, Fromm appears to be back to his normal self. He had another impressive game against the Tigers completing 13-20 passes for 193 yards and two touchdowns. Despite throwing an interception, Holloman still makes the list for his leadership. Fromm continues to grow and exude a lot of confidence on the field, but what impresses me is him helping Justin out when he goes in and still being a team player. He's a good guy, and it's clear he wants to do whatever it takes to win.