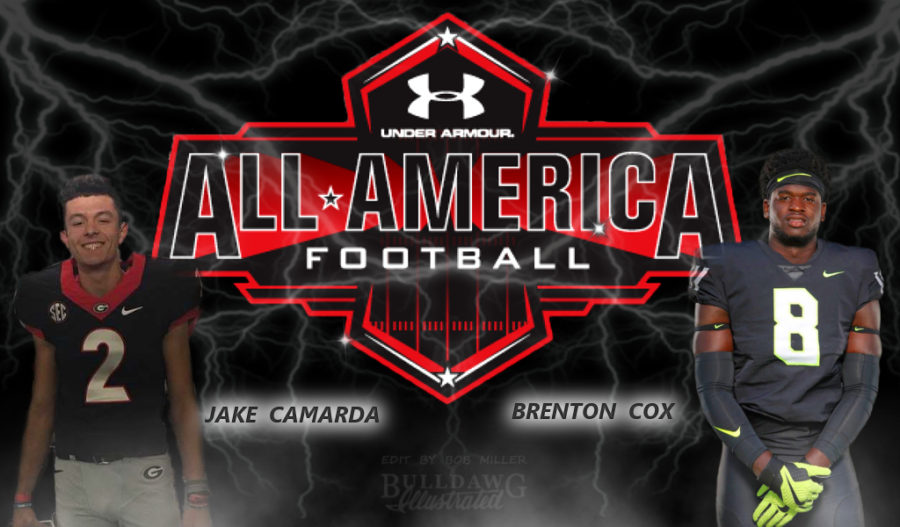 This past week some of the top high school football players from across the country made their way to Orlando, FL to compete in the 2018 Under Armour All-America Game, where Team Highlight defeated Team Spotlight 23-21 in a nail-biter on Thursday night in Camping World Stadium.


Trinity Christian School running back Maurice Washington out of Cedar Hill, Texas put on a show, scoring all three of Team Highlight's touchdowns, the first player to score three times in an Under Armour All-America Game, and then running back a kickoff for 63 yards in the second half. He would finish the night with 159 all-purpose yards and the MVP award. Washington is still undeclared and is considering a number of programs including LSU, Missouri, Nebraska, Ohio State, Ole Miss, Southern California, Tennessee, and Washington.
On the other side of the ball for Team Highlight, UGA signee Brenton Cox and Alabama signee Eyabi Anoma led a stout defensive line that held Team Spotlight in check during the first half of the game. Both Cox and Anoma had two quarterback sacks apiece. Cox ended up with two sacks, three tackles for loss and six total tackles for the game.
For Team Spotlight, punter Jake Camarda showed off his leg with several nice kicks on the night including a booming 56-yarder. Quay Walker had a good week in practice and showed his athleticism and speed in the game, including running a stride for stride in coverage with Penn State running back signee Ricky Slade on a wheel route. Walker only managed to record one tackle in the game, though.
UGA signees, quarterback Justin Fields and wide receiver Kearis Jackson, did not play in the game. Jackson is recovering from a dislocated wrist injury he suffered during the GHSA state football playoffs and Fields is recovering from a broken finger that he also suffered during Harrison high school's playoff run.
Here is a list of UGA commits, signees, and targets that participated in this year's Under Armour All-America Game:
TEAM HIGHLIGHT

Brenton Cox | No. 8 | 6 foot 4.5, 247 lbs SDE | UGA signee
Jacob Copeland | No. 5 | 6 foot 0, 192 lbs WR | undeclared
JaMarr Chase | No. 10 | 6 foot 1, 195 lbs WR | undeclared
Tommy Bush | No. 11 | 6 foot 5, 191 lbs WR | undeclared
TEAM SPOTLIGHT

Quay Walker | No. 4 | 6 foot 4, 220 lbs OLB | Committed to Alabama
Jake Camarda | No. 14 | 6 foot 2, 175 lbs Punter | UGA signee
Anthony Schwartz | No. 10 | 6 toot 0, 172 lbs WR | (Committed to Auburn at UA All-America Game)
INJURED, DID NOT PARTICIPATE

Justin Fields | No. 1 | 6 foot 3, 221 lbs QB | UGA signee
Kearis Jackson | No. 18 | 5 foot 11.5, 203 lbs WR | UGA signee
---
In addition to the game, four prospects announced their college choices on Thursday. Linebacker Nik Bonitto announced his decision to commit to Oklahoma, defensive end Tyreke Smith is headed to Ohio State, wide receiver Anthony Schwartz chose Auburn, and defensive end Jayson Oweh committed to Penn State. Smith's announcement was made before kickoff and Schwartz's was during the second break in first half. Bonitto's and Oweh's announcements were made during the second break and fourth break in second half.
It's a shame Fields did not get an opportunity to play as the rest of the quarterbacks struggled in this year's Under Armour all-star game. Florida signee Emory Jones and Stanford signee Jack West did not have the best week, and even Auburn signee Joey Gatewood was not all that impressive; although, he was the most consistent. That being said, I always tell my readers to take All-Star game performances with a grain of salt. It is just one game out of a player's career. The prospects only have a week to come together to practice and gel, and because it is an all-star game, the reps each player gets is limited. Still, Georgia fans should be excited about Brenton Cox and Jake Camarda as they both represented themselves well.
---
Recent Articles by Bob Miller
[pt_view id="83405b425p"]