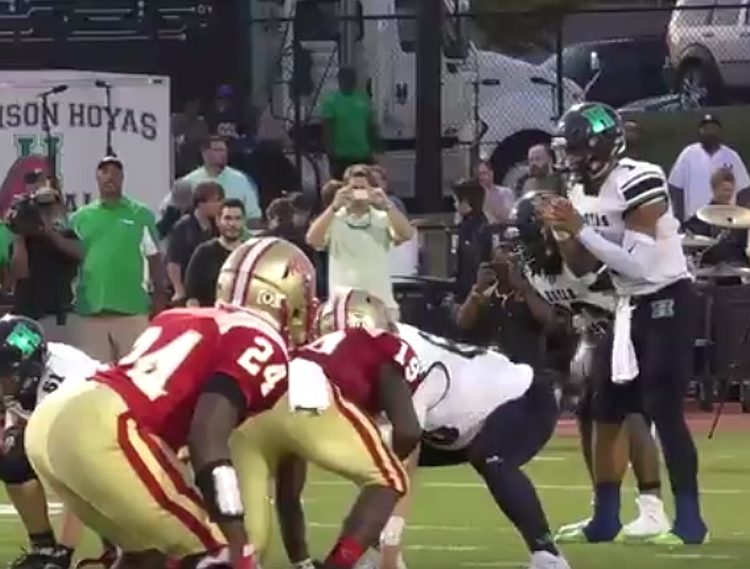 Friday night featured a match-up of colossal proportions in the Peach State between Class 6A Harrison High School and 5A Rome and a couple of big time 2018 prospects in Adam Anderson and Justin Fields.


It was a game between the No. 2 team in Class AAAAAA and the No. 1 team in Class AAAAA in the state of Georgia according to the Georgia Sports Writers Association rankings, but the fact that both teams were ranked near the top in the state in their respective classifications wasn't the main reason that this contest was highly anticipated. Rome won the 2016 GHSA Class 5A state title last year defeating Buford 16-7 with a staunch defense. However, on their run to the state title, the Wolves lost to Harrison 22-20 in a game called by lightning and inclement weather in the waining moments. 2018 FBS prospects, defensive linemen Jamarcus Chatman (currently committed to Tennessee) and JaQuon Griffin (currently committed to LSU) along with linebacker/defensive end Adam Anderson (considered one of the top OLB prospects) all returned for the Wolves from that staunch defense. So, that set the stage when Rome hosted Harrison and talented senior quarterback Justin Fields, who many consider the No. 1 player in the state of Georgia and potentially the country.


Last week, Fields led Harrison to a 44-14 season-opening win over East Paulding, going 11 for 20 for 228 yards and four touchdowns through the air and adding 12 carries for 153 yards and two scores on the ground, accounting for 36 of the Hoyas' 44 points. And while Fields flashed his athletic ability on a number of plays and accounted for all three of Harrisons' touchdowns on the night (2 passing, 1 rushing), it was not enough to overcome Rome's defense and Adam Anderson's three sacks and 1 forced fumble as the Wolves downed the Hoyas 33-21.


Friday's game marked Rome's season, home opener. The loss moves Harrison to 1-1 on the season. Next week, Anderson and Rome host Class 6A Drew High School (1-1). Fields and Harrison travel on the road again for another tough match-up agasint No. 10 Class 7A North Cobb (2-0).


A couple of YouTube videos of both Adam Anderson's and Justin Fields' highlights from the Harrison-Rome game from SEC Country are included at the bottom along with the following highlight clips from Twitter. Note: Harrsion and QB Justin Fields (1) in white jerseys and Rome and LB/WDE Adam Anderson (19) in red jerseys.


This Rome defense is making it extremely hard for the #1 player in the country, Justin Fields. Just a taste of the pressure he is facing… pic.twitter.com/uWxCZRhd5B

— Junior Baker NLR (@SouthernSwagg4) August 26, 2017
ADAM ANDERSON – HARRISON vs. ROME HIGHLIGHTS
JUSTIN FIELDS – HARRISON vs. ROME HIGHLIGHTS
---
Recent Articles by Bob Miller


[pt_view id="83405b425p"]