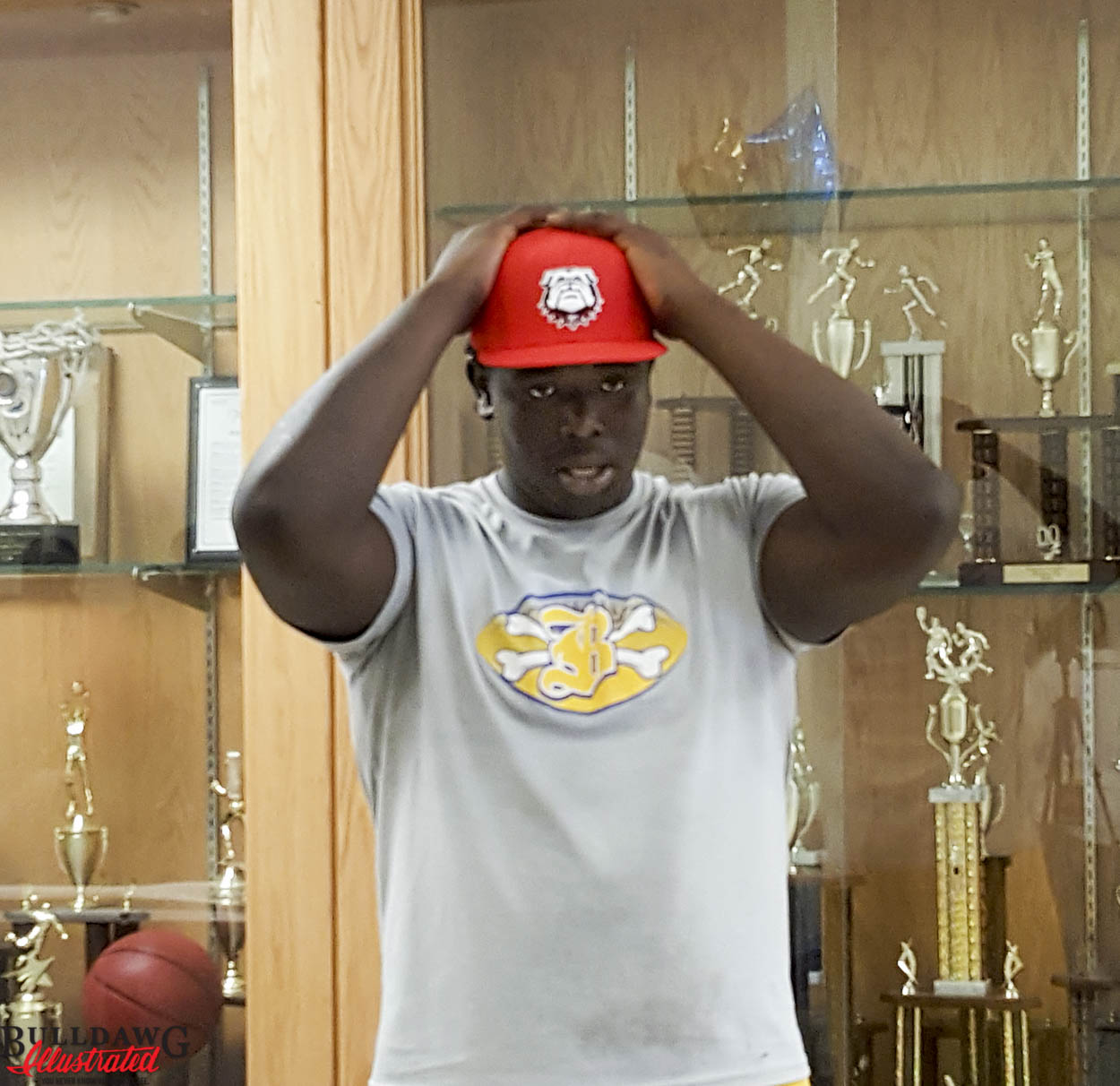 BRUNSWICK – In his press conference on National Signing Day this year, new Georgia head coach Kirby Smart extolled the virtues of his overall 2016 signing class but he also pointed to an area where the Bulldogs came up a bit short. That was in the offensive line where Smart said his newly-formed staff didn't land the numbers or the physical size Georgia needed to develop into a future championship contender in the Southeastern Conference.
So ever since that first Wednesday in February, the UGA staff has been zeroing in on bringing in quality O-linemen. For the 2017 Georgia class, Smart and company earlier gained commitments from such behomoths as Netori Johnson (6-4, 348) and Justin Shaffer (6-5, 356), both out of Cedar Grove High.
Now, Georgia fans can add to that growing list the name of D'Antne Demery, the four-star, 6-6, 319-pound tackle out of Brunswick High School, who chose the Bulldogs over Alabama on Wednesday at the conclusion of the Golden Isles Exposure satellite camp on the BHS campus.
And, clearly, Demery may boast the most potential of any Bulldog commitment out of the 2017 class to date. He's the 16th-rated offensive tackle in the country by 247 Sports and is ranked as the 13th best overall player in Georgia. Scout has Demery ranked as the No. 75 player in the nation and the No. 13 offensive tackle, as well as the No. 2 offensive tackle in Georgia. And ESPN has tabbed Demery, who appropriately has the nickname "Big Man," holding down the No. 17 spot among the country's prep offensive tackles.
The rising Pirate senior was recently named to play in the U.S. Army All-American game next January but first he will head for Beaverton, Oregon next month (July 5-10) for the finals of the Nike + Football The Opening, which includes the very top players in the country at each position. The event will be held at Nike World Headquarters in Beaverton.
Demery's commitment to the Bulldogs came inside the Brunswick High gym just after 1 p.m. today. He didn't compete in the satellite camp that included Georgia offensive line coach Sam Pittman and Bulldogs inside linebacker coach Glenn Schumann along with coaches from Ohio University, Central Florida, Mercer and other surrounding colleges.
Demery's announcement was quick and to the point as, sitting at a table with his mom and grandmother, he pulled out only a Georgia cap and put it on his head.
"Alabama was real close but at the end I thought Georgia was a great fit for me," said the soft-spoken Demery, who has captured numerous MVP awards at all-star camps the past several years. "I've been having Georgia on my brain and in my heart for a long time now.
"Coach Pittman was one of the big reasons I chose Georgia," said Demery. "He always stayed in touch with me and always was there for me. I also talked to Coach Smart a lot at camps and on the phone. I feel like I'm joining a great staff at Georgia."
Demery feels like he's come a long way since he was a freshman lineman at Brunswick High School.
"I feel like my body has changed a lot since last season," he said. "I've put in a lot of work to get this body and I feel like I'm in a great spot right now. Georgia has recruited me to play left tackle and I want to go up there and eventually get that starting spot."
Demery said he's excited about being one of the elite players chosen for the Opening finals in Oregon.
"I want to get out there and compete and show what I can do. Everywhere I go I feel I have something to prove. I feel like I am the best at what I do and I'm not going to stop, I'm going to keep pushing. I'm also excited about making the U.S. Army All-America team," Demery said. "It's a great opportunity to play in that game and I'm very blessed and thankful for it."
As he prepares for his final season at Brunswick High and then his future playing days in Athens, Demery knows he still has much work to do. "I just need to get stronger, get faster and push myself, learn how to stay with my drive (blocking)," he said.
His head coach at Brunswick, Larry Harold, couldn't say enough about his prize lineman and the kind of player and person Georgia is getting.
"D'Antne has come from a very humble beginning," said Harold. "And he's very coachable, he listens to everything my coaches say. It's just great to have a young man, especially now days, that wants to listen.
"I've had several college coaches tell me that, barring injury, that kid should play in the NFL for 10 years. D'Antne is just so long and athletic and they love him so Georgia's getting a great prospect. D'Antne's motor was non-existent before we got here," said Harold, who came to Brunswick after also coaching now UGA inside linebacker Roquan Smith while at Macon County. "I would say he had about a half tank so we're pushing him to be full throttle this year. And Coach Sam Pittman is going to get the rest out of him. His ceiling is high. He's a guy you can push very, very hard. Yesterday, our coaches were amazed. We did wind sprints and he wanted to do 10 of them and he led the team in every one so he's becoming a better letter and we keep pushing him every day.
"I'm going into my fourth year as a head coach and I've coached two Division I – three when you count Shawn Smith (BHS receiver who has committed to South Carolina) – and there's coaches who have coached 40 years that haven't had that opportunity," related Harold. "It's just a blessing from God to have that type of talent, not only that but just great young men. I've seen Roquan go from a freshman to now speaking at camps and giving advice to young kids and D'Antne Demery go from being a laid-back kid to a more aggressive kid and being a great role model off the field. I'm not only getting great players but great young men who are going to help society one day."
Harold is expecting big things from Demery in the Opening finals next month.
"D'Antne, when he goes to the Opening, he says he wants to come out on top and when he says something he goes out and does it. That's what he did at the MVP camp. That's the elite of the elite, the top five linemen in the country, and D'Antne said he wants to be the best and I believe he will do it. The stage is never too big for him. I came from a similar background as D'Antne," said Harold. "A single-parent home with people telling me I'd never make it. Like I tell them, through hard work and God I've made it out of my circumstances to become a head coach and a leader of young men. And these kids are also going on to be winners, not only on the football field but in life."