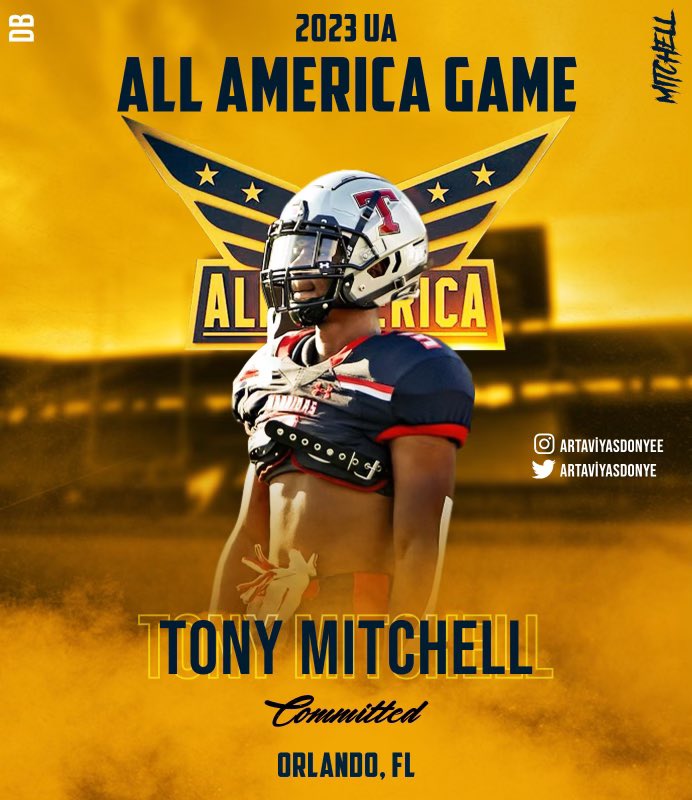 The amount of 5-Star talent that will be converging on the town of Athens, Georgia, in the early part of June is absolutely absurd. 2022 and 2023 prospects have been deprived of on-campus visits due to the COVID-19 global pandemic and the subsequent, seemingly never-ending, NCAA dead period, and come June 1st, many plan to hit the ground running and make up for lost time. One of the most talented prospects of any class is 5-Star cornerback Tony Mitchell from the Alabama powerhouse program of Thompson High School. Mitchell has alerted Bulldawg Illustrated that he will be making an unofficial visit to the University of Georgia on June 3rd.
There is no doubt that the Alabama Crimson Tide will do everything in their power to keep such a talented defensive back within the border of Yellowhammer State. Georgia getting one of the first visits from Mitchell is significant and shows that this recruitment is far from an open and shut case for the Tide. At 6'2″ 180 pounds, the physicality and versatility, along with the fluidity displayed in Mitchell's sophomore film, are phenomenal. Thompson has been able to move Mitchell all over the field, playing him some at free safety, at nickel corner, and as a press corner on outside receivers as well. While Mitchell is not the track star that Tyson Campbell was out of high school, the overall mannerisms, instincts, and style of play of Mitchell remind me of the Campbell with tremendous having length and being more than adequate in run support.
There is no doubt that June 3rd will be a key date for the Dawgs in terms of having a chance to make up some ground in the recruitment of Tony Mitchell. Kirby Smart, Dan Lanning, Jahmile Addae, and company will have an opportunity to show off the brand new $80 million facilities that Georgia is slated to open up in May. In general, Georgia excels with on-campus recruiting. The visit will be impactful on multiple fronts as Mitchell is one of the more connected players in the class of 2023 and has relationships with several major targets for Georgia.
For more recruiting news like this, make sure to subscribe to the RBU Podcast on the Bulldawg Illustrated YouTube Channel, or by using the player below.