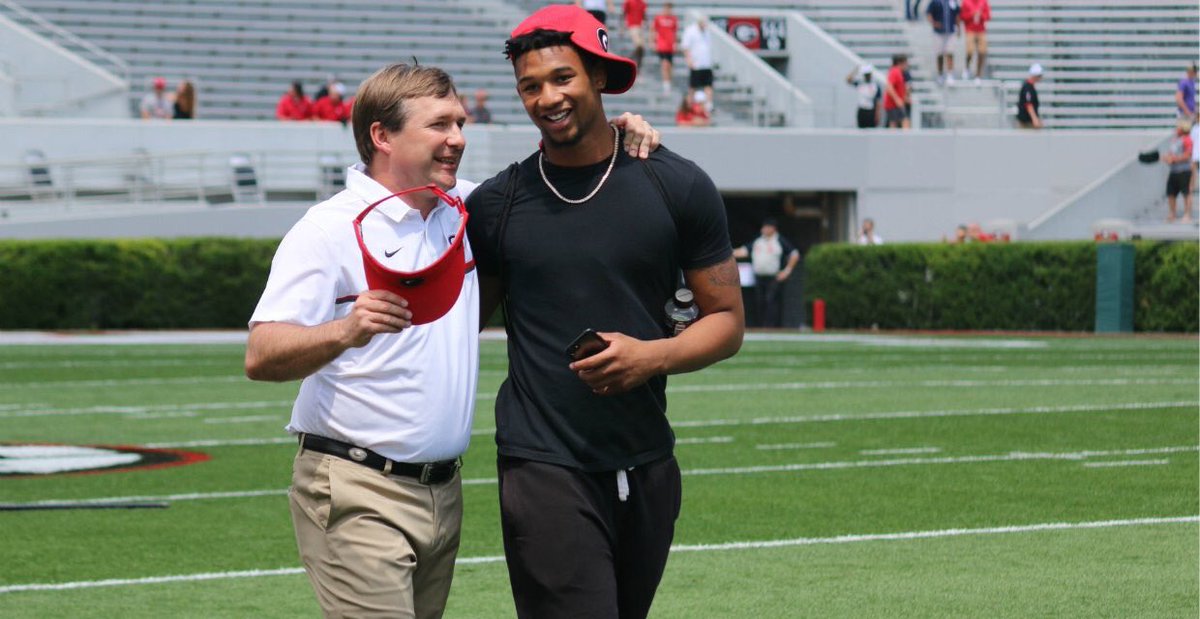 Georgia heads into May sitting with three verbal commitments for the 2018 recruiting class while fans see programs like the University of Miami with 18 commitments and the number 1 ranked class or SEC rival LSU with 16 commitments and the second-ranked class currently (team recruiting rankings according to 247 and Rivals). The outlook and perception for the 2018 class by many is one of concern. The question is whether or not Georgia's 2018 recruiting class can rebound from a slow start?

Yes.


Where do the Bulldogs stand compared to last year?

The good news is that May got started off on the right foot for the Bulldogs as they picked up a commitment for the 2018 class from Hapeville Charter Career Academy cornerback Chris Smith on Monday, May 1st. That is the second year in a row that the Dogs got a commitment on the first of May. Last year, class of 2017 signee Trey Blount announced his commitment to Georgia. And while it may not alleviate the fans' outlook and perception, I would like to point out that Georgia entered last May in the 2017 class recruiting cycle with the following:


Richard Lecounte III committed to UGA on 12/15/2015, enrolled early at UGA
Breon Dixon committed to UGA on 12/25/2015 de-committed 08/21/2016, signed with Ole Miss
Jadon Hunter committed to UGA on 01/25/2016, signed LOI with UGA
Justin Shaffer committed to UGA on 02/15/2016, signed LOI with UGA
Xavier Jenkins committed to UGA on 02/18/2016 de-committed 07/14/2016, signed with Savannah State
Jake Fromm committed to UGA on 03/03/2016, enrolled early at UGA
William Poole III committed to UGA on 04/16/2016, signed LOI with UGA
Netori Johnson committed to UGA on 04/19/2016, signed LOI with UGA
Trey Blount committed to UGA on 05/01/2016, signed LOI with UGA


Georgia had nine commitments last year at the beginning of May for the 2017 class. That is just 7 more verbal commitments at this time last year for the 2017 recruiting class compared to the 2018 class this year. But if you notice, two of those nine commitments ended up de-committing and signing elsewhere, and Trey Blount ended up being the Bulldogs only commitment for 2017 in May of last year. That means that of the 26 commitments from Georgia's 2017 class, 19 came into the fold between June 1, 2016 and when the last LOI was turned in on National Signing Day, February 3, 2017.


However, there are a couple of big differences between the 2017 and 2018 recruiting classes. The first is who the Bulldogs had committed at this time last year and second, the amount of top talent in the Peach State for 2018 that has committed elsewhere.


Why does the 2018 class just not seem as 'exciting' as the 2017 class?

The 2017 class had very vocal leaders like Jake Fromm, Netori Johnson, Richard LeCounte III who not only played big on the football field in high school but also had big personalities to match. So far, the 2018 class doesn't have that big personality or leader(s), and I'm not sure if there is a 'Richard LeCounte' or 'Jake Fromm' type of personality out of this group fo 2018 prospects for the Bulldogs. That is not to say that a vocal and energetic leader will emerge among this group, but it just hasn't happened yet.


Even bigger than that big personality and leadership, though, is the number of Georgia's top-25 state talent that have already committed to play for programs outside of the Peach State. Eleven of the top-25 Georgia prospects have done so. Now, three of those top-25 players from Georgia are quarterbacks according to 247 and Rivals – No. 1 Trevor Lawrence, No. 3 Justin Fields (who Rivals has at No. 12), and No. 4 Emory Jones (who Rivals has at No. 3). And with Georgia already having sophomore Jacob Eason and freshman Jake Fromm on the roster, it is unrealistic to expect them to keep all those talented 2018 QBs home.


Outside of QBs, though, 8 other top-25 Peach State players have committed (9 according to Rivals) to programs like Clemson, Florida State, LSU, Michigan, Notre Dame, and Ohio State. Most notably out of those is Adam Anderson, who flipped his commitment from UGA to LSU on G-Day, and Brenton Cox who picked Ohio State over the Bulldogs just a few days later. That leaves 14 (or 13 according to Rivals) uncommitted top-25 Peach State prospects for Head Coach Kirby Smart and the Bulldogs' coaching staff to sell staying at home and playing for Georgia too.


Is there any good news for 2018?

The good news is that National Signing Day 2018 is still about 9 months away, which means the Georgia coaching staff has a chance to flip any of those players committed elsewhere. The trick for programs like Miami and LSU that already have a large portion of their 2018 recruiting classes committed is keeping those guys committed until they either enroll early or sign those LOIs. As you have often heard me say on the comments' section here at Bulldawg Illustrated is that college football recruiting is a marathon and not a sprint. It is not so much about where a team is at in the spring with their recruiting as it is where they are come fall and how schools finish down the stretch.


Plus, the Bulldogs lead for players like Pace Academy's Jamaree Salyer, who is ranked at the No. 2 player in the state and the No. 1 offensive guard in the country by both 247 and Rivals. The Dogs also are leading for Houston County's Trey Hill, who is ranked as the No. 2 offensive guard in the country and the No. 6 or No. 8 player in the state by 247 and Rivals respectively. UGA is also favored by Kearis Jackson, an athlete/wide receiver out of Peach County ranked as No. 10 player in the state and No. 14 WR by 247, the No. 25 player in the state and No. 23 athlete by Rivals.


The player rankings will also change to some degree between now and NSD 2018 and like you have seen in the previous couple of paragraphs will vary depending on the recruiting service. For example, 247 currently has Tucker High School linebacker Michael Harris and wide receiver Josh Vann in their top-25 state of Georgia prospects with Harris at No. 23 and Vann at No. 11 while Rivals Harris at No. 52 and Vann at No. 31 currently. But I don't see Kirby Smart and the Bulldogs duplicating the success they had in the 2017 class at keeping a fence around the Peach State for the top talent for 2018.


In last year's class, the Bulldogs signed 10 of the Georgia top-25 prospects according to Rivals, 13 of the top-25 according to 247. What was really impressive about UGA's 2017 recruiting class was the number of the Georgia top-15 prospects that they brought to the Classic City, which was 8 per Rivals and 9 per 247. The Dogs signed over half of the Peach State's top-10 prospects. Compare that to 2018, where the Bulldogs could sign 2 to 3 of the Georgia top-10 and top-15. I still think UGA will sign around 6 to 7 of the Georgia top-25, and it could be more than that if Kirby and company are able to flip a couple of those already committed elsewhere. That is respectable, but just don't expect the same numbers for 2018 that we saw in 2017.


When will we start to see things turn around for Georgia and this 2018 class?

While Chris Smith may not be ranked in the Georgia top-25 prospects for 2018 and is currently rated a 3-star prospect, his announcement to commit to UGA on the first of May was big. He is underrated in my opinion and I expect his ranking and rating to get better over the next several months.


One date that fans who follow college football recruiting should circle is June 27th. One of the top running backs in the 2018 class, Zamir White, has scheduled to make his commitment announcement on that Tuesday. All signs point to 'Zeus' picking Georgia and if that indeed does happen, it could be the spark that is needed to jump start the red and black recruiting machine. Last year, the Bulldog picked up 7 commitments for the 2017 class over the summer from June 1st to August 31st, and I would not be surprised to see at least four and possibly a couple of more 2018 prospects announce their decision to commit to Georgia this summer.


The Dogs could enter Fall Camp with around 7 to 9 verbal commitments, and don't be surprised if they have a good season with some red and black mojo flowing, for them to close with a strong 2018 class. I still feel that Kirby Smart and the Georgia coaching staff will guide the Bulldogs to around a number 7 to maybe as high as a number 5 place in the 2018 team recruiting rankings when it is all said and done and the dust settles from the facsimiles of LOIs on NSD.


---
---
---
---
Recent Articles by Bob Miller


[pt_view id="83405b425p"]