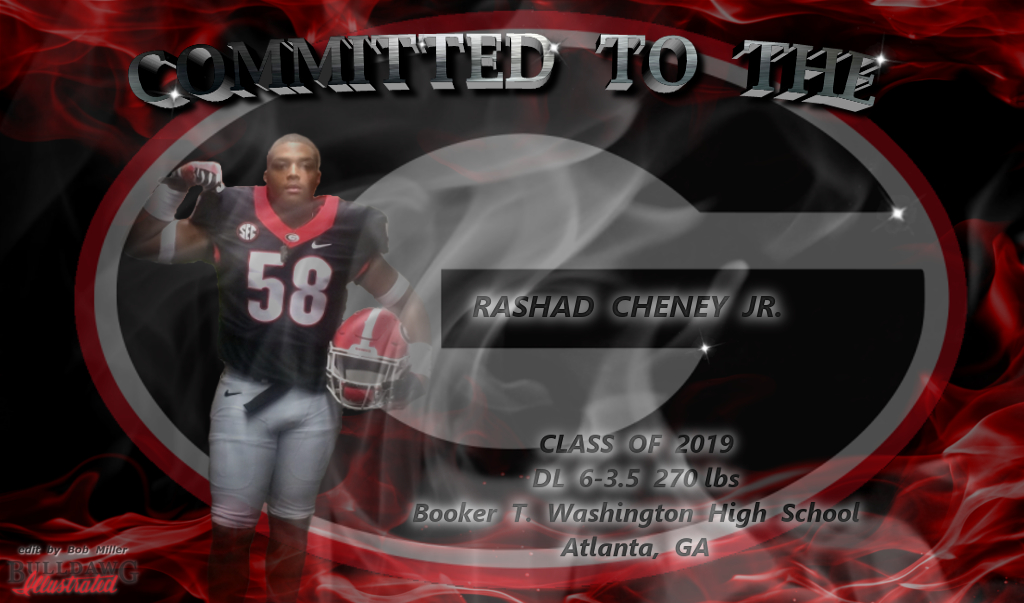 The Bulldogs picked up their third commitment for 2019 with defensive lineman Rashad Cheney Jr. announcing his verbal commitment to the University of Georgia on Saturday.

Rashad Cheney or 'Bubba' is a 6 foot 3.5 and 270 lbs prospect at Booker T. Washington High School out of the Atlant, GA metro area where he plays on the defensive line and offensive line in the trenches for the Bulldogs varsity high school football team. 'Bubba' has also played some at TE and show his athleticism on the basketball court as well. He just received an offer from Georgia back on Valentine's Day and the Bulldogs were one of the first schools to offer the talented rising junior.
Georgia also has Luke Griffin and Nolan Smith committed for 2019. Smith is a 6 foot 2 and 210 lbs weakside defensive end out of IMG Academy, Bradenton, FL but likely will be an outside linebacker at the college level. Before transferring to IMG, Smith played at Calvary Day High School out of Savannah, GA. Luke Griffin is a 6 foot 5 and 285 lbs offensive tackle out of North Murray High School from Chatsworth, GA.
Rashad Cheney Jr.'s highlights:
2016 Sophomore Season Highlights – CLICK HERE
2016 Freshman Season Highlights – CLICK HERE